back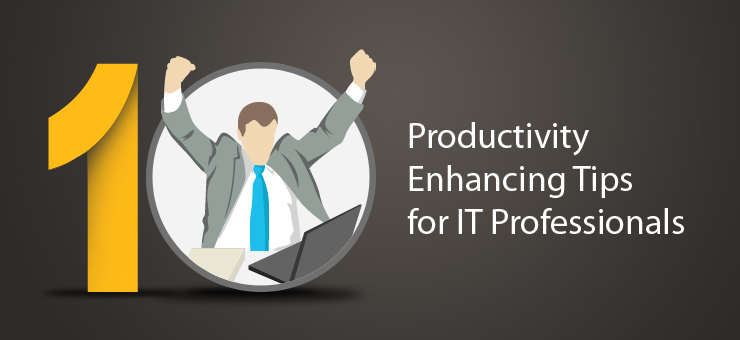 HRD
10 Productivity Enhancing Tips for IT Professionals
IT professionals often find themselves productive at the beginning of a new task but slowly they start losing interest. It is the lack of planning that diverts their attention to other tasks relegating the task at hand. Moreover, they often find themselves caught in monotonous task that creates boredom, thus, affecting their productivity.
Here are 10 productivity enhancing tips for IT professionals:
1. Create a to-do list
Planning is an essential part of the job. Note down your tasks on a writing pad so that you don't have to recall them time and again.
Use a mobile application to create a to-do list that makes your life easy. There are a number of applications that help you to do that. Please click here for some of the best to-do list apps. The biggest advantage of to-do list is that you clearly see your tasks in one go and cross-mark the completed tasks, thus, giving you a visualization of progress.
List both your personal and business tasks together to maintain a balanced life.
Go through the list again for rectification in case you can save time by cancelling an unnecessary meeting.
Avoid making long lists as it diminishes the whole purpose of making a list.
2. Reward yourself
As an IT professional, life can get very dull, if you don't celebrate your achievements.
Rewarding yourself gives you peace of accomplishment.
As a human nature, you need some motivation to finish an important task.
Reward yourself differently for both short-term and long-term tasks.
If you are hitting the gym daily for a week, reward yourself with your favorite sweet dish. Forget the calorie count.
If you complete a major project, you can reward yourself a movie at the cinema.
3. Prioritize your task
You often find yourself surrounded with multiple tasks at hand. The ability to choose and complete tasks in the order of their importance helps you to prioritize your task.
An organized person is the one who knows which task needs to be completed first.
Depending upon the course of the project, you need to be able to differentiate between urgent and important tasks. The best way out to decide is by asking yourself what if you don't do it today, tomorrow or this week.
Priority has a different time horizon depending upon the title of your job. An IT professional with daily coding job might set priority on a weekly basis, while a person at managerial level might have to revise his priority on a daily basis depending upon the progress of the project.
In the cases where you fail to prioritize your task, you are struck with overload. Prioritize the tasks in your to-do list with an estimated time to be taken by each.
4. Set deadline
You often find your tasks stretching endlessly and it gives you exasperation for that reason. The whole schedule gets upset and you start lagging in almost every task you take up, thus, forming a blot on your efficiency.
To avoid such dreadful situation, clearly define your objective and deadline for every task whether small or big as it helps you to keep everything organized.
Realistic deadlines need to be time-specific, measurable and action-focused.
Avoid taking any task lightly whether it is important or not.
When you set a goal, it becomes easier to work towards it. You plan your tasks accordingly. Moreover, deadlines help to push your limits against time and deliver the best possible result.
5. Track your time
Setting a deadline is easy but to follow it is equally difficult, if you do not monitor your time regularly.
Time tracking helps you to keep a check on the cost so that it does not overshoot the budget.
You can figure out the tasks that consume the maximum time so that you can improve your productivity.
Wasted time can be easily pin-pointed so that you can get rid of it in subsequent tasks.
It helps you to maintain timesheets that keep a record of time taken by each activity to serve as a benchmark in future and the same can be shared with your team members and colleagues.
There are many applications in the market that help you to keep a track of time.
6. Do not waste time
Are you one of those IT guys who waste their time sitting on the desk?
Time waste can be indulging in unproductive tasks quite often and for long.
It consumes your energy and leaves you exhausted for completing other productive tasks
It can be in the form of checking Facebook updates frequently, playing Angry Birds, chatting with your online friends or chatting with your colleague about last night's TV show.
If you wish to take a break, it is better to get on your foot and walk around the office than sitting on the desk only. For an IT professional with computer-oriented job, it becomes further more important to take a break.
7. Don't put your task at the backburner
We are often in a habit of procrastinating tasks which we don't happen to enjoy or are not comfortable doing it. Quite often the problem is with you than with the task itself.
Inability to make decision is another reason for procrastination.
Some professionals even think that they'll be loaded with further requests to do the same task, if they complete a challenging task.
Procrastinating critical tasks is harmful for your project.
Getting away with this habit is necessary to avoid overload at a later stage.
Recognize when you procrastinate i.e. when you start ignoring an important task.
An organized person will never procrastinate because they are well-aware of their priorities.
8. Rejuvenate
Job profile of an IT professional often gets monotonous and starts affecting your health especially when you are doing overtime on a regular basis.
Make sure that you take out enough time for sound sleep and have a balanced diet filled with fruits.
Make it a point to hit the gym near your office daily. Find an office buddy who accompanies you to the gym so that you both motivate each other.
Use steps wherever possible. Even if you are located on the top floor of the building, walk up some floors and take the elevator for the rest.
Walk down to the office if you stay nearby.
9. Delegate responsibilities
Delegate responsibilities to make sure that your project is completed on time.
Be careful to whom you delegate a particular task. The individual chosen needs to be self-motivated and dependable with the required skill-set.
Avoid delegating critical tasks of a project.
Closely supervise the assignment in the beginning; let the employee prove his capability. Test the decision-making ability of your employee.
Clearly explain the instructions while delegating. If the instructions are detailed then it is better to type them out for reference
Define the criteria for performance measurement so that there is no confusion at a later stage. It also acts as a motivation to achieve goals.
Be readily available for your team and coach them whenever you deem necessary.
10. Avoid multi-tasking
Most of us feel that multi-tasking increases our productivity.
The truth is that it reduces the quality of work and reduces our ability to focus on one task at a time.
Multi-tasking causes wastage of both time and energy.
Avoid multi-tasking to feel more satisfied with your work as it helps you lower your stress level besides garnering appreciation for your work from your boss.
Keep a check on multi-tasking by concentrating more on the task in hand.
In the end, nobody bothers about how much work you do, what matters is the end product
Conclusion
I'm sure if you follow the above tips wisely, you will notice a visible change in your productivity level. Always remember, irrespective of your workload, it is important to lead a balanced life. Spend enough time with your family and friends. A successful person is the one who leads in every sphere of life.
How do you maintain your productivity level at work? Please share your experience.
Subscribe to our Newsletter