back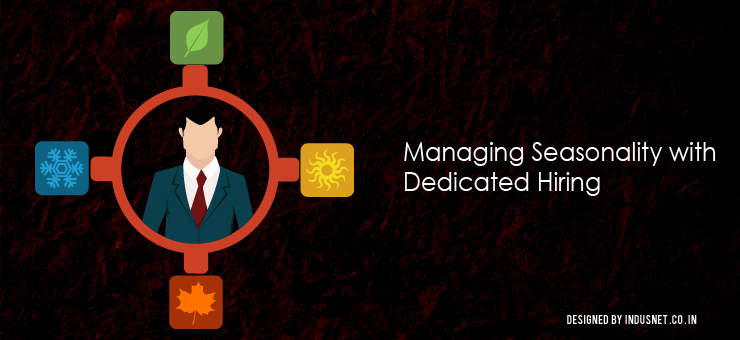 Managing Sesonality with Dedicated Hiring
My earlier post talked about how seasonality impacts your business.
Dedicated Hiring allows you to change your cost structure depending on the business realities. One important feature of this service is that it allows you to change the cost structure based on sales volume and at a notice of less than 30 days.
In order to understand it benefits, see the graph below:
 
Â
Â
Â
Â
Â
Â
Â
Â
In the above graph the shaded area represents that profits that your business can made even in the case of slow business seasons. Since you have the ability to switch costs "On" or "Off", it ensures that you can cut down the costs to match the current revenue levels.
Illustrated Example
Total Cost of operating your business consists of two things:
Employee Cost + Operational Expenses
Employee Cost = Recruitment Expenses + Salaries, Wages and Bonus + 401(k) + Insurance + Employee Welfare Expenses + Vacation Costs
Operation Expenses = Software Expenses + Communication + Travel + Rent + Legal + Office facility maintenance + Computer equipment maintenance + Electricity + Recruitment and Training + Office supplies
Here is an easier method to calculate the cost of running the operations. Take the employee's base salary and multiplies it by 1.25 to cover employment taxes and benefits.  Then multiply that number by 1.75 to cover rent, equipment etc.Â
Some management personnel are needed and some of the employee time is spent in non-billable technology development, multiply that number by 1.25.  Thus a full functional managed employee costs about 2.7 times the base salary!
Here is how you can benefit from Dedicated Hiring:
1. You need to pay only a fixed fees per month for actual work that is done – there is no other operational expense. Â
2. The employee cost is lower and can be managed based on business volume. Thus, this is a triple benefit i.e. lower costs, scalable manpower and no operational expenditure.
3. You don't need to hire in-house resources for the non-core area. Dedicated Hiring allows you to manage these jobs in a more flexible way. For instance, if you specialize in Enterprise Applications and you have a infrequent request for a web design, you can get it done through Dedicated hiring program.
4. Ad-hoc maintenance requests on projects can be easily managed through this program as well. Your prompt attentions to these post-delivery requests are important to ensure repeat business and it can especially difficult if the resources have been re-deployed to other projects. In such scenarios, Dedicated Hiring can be of great help.
5. Overflow jobs can be easily be outsourced by this way and it can be directly be managed by you. This is probably the most hassle free of dealing with outsourcing projects that require variety of skills and it saves time as you do not have to go through complex and time consuming selection process.