back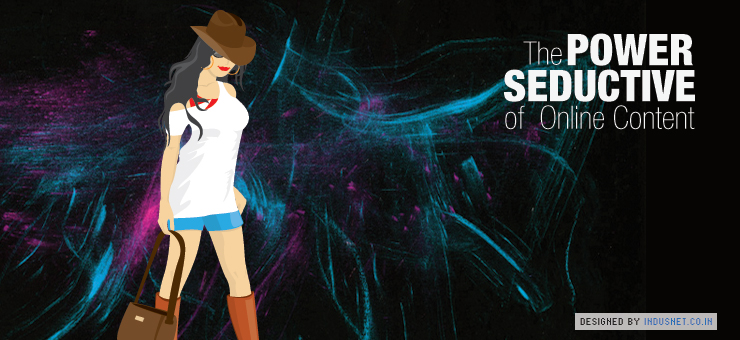 The Power of Seductive Online Content
It is a well known saying that a person seduces his partner's mind before he even makes any advances. Content that is attractive, seductive or titillating can immediately draw traffic and bring attention to your larger body of work. Seductive content, whether in text or images can immediately increase your brand's worth because, as the good old professor of economics told us always, sex sells. Certainly, seduction is worth it.
Attractive and seductive content sells
https://www.calstatela.edu/faculty/abloom/giselle/antoniobanderas2.jpg
Content that is seductive in nature cannot stand on its own, and it has to be supported by great products and services. All of us know that Axe perfumes and deodorants have survived for decades using this good old ploy to ensnare teenage boys and making them buy bottles of cheap perfume. While those with slightly better taste in perfumes may not really prefer Axe, the company certainly manages to grab a lot of attention because of its seductive advertisements.
Luxury brands, such as Givenchy, Yves-Saint Laurent and others have all used chiseled models to display perfumes and they know that the first glance is usually visual in nature, and we as human beings respond to attractive content. However, no product or service can stand on its own if seductive content is not supported by good products and services. With that in mind, it may be a good idea to take a look at various scenarios in which seductive content may be utilized:
Images
Videos and Film
Color
Textual Content
Advertisements
Seductive images
A company that does not understand the importance of alluring images should really get hold of a marketing agency that can help it better. Almost every company can make use of seductive images. Even the most corporate company can hire well dressed male and female models of any age in order to appeal to various age segments. If you hire models, ensure that you hire both male and female models from every age group and race possible. Do not hire very thin models that encourage anorexic body ideals and make sure that ethnic representations are adequate. 

Seductive videos and film
Corporate videos and films should make sure that models represent products and services appropriately. A model who does not 'look' like your product will not be able to 'seduce' your target audience. Every product and service has a character and its target demographic has certain characteristics too. Seduce your target audience by hiring models that are likely to be appreciated by the target audience. 

Seductive colors
When you are not making any films or publishing images, ensure that you use strong colors. Colors can have a seductive role to play in our minds. Use bold colors such as red, black, green and purple. Do not use grey, brown and other colors that may be 'boring'. Again, it is important to ensure that your website is not a riot of colors. That is not seductive and will appear clownish.
Seductive text
can textual content be really seductive? Well, it certainly can be. A good writer will know how to seduce the reader by playing into their minds. It is important to hire a writer who knows what the target audience wants and what sort of language will enamor them. The best idea is to ensure that your textual content is not tawdry, but classy and seductive at the same time.
Seductive advertisements
Like the Axe advertisements mentioned above, there are a number of opportunities to make ads creative and seductive at the same time. A seductive ad will attract a viewer's attention and help your products and services be noticed. 'Sex sells' is an age old saying that advertisers have confidently been using for centuries. You can continue to do the same as long as your models represent everyone, does not offend anyone and is tasteful in nature.
http://media2.intoday.in/indiatoday/images/stories//2012november/katemoss_660_110612113055.jpg
Writing content for the web
may sound like a daunting task but writing, filming, capturing images and every other medium requires the content to be attractive and seductive. As long as seductive is classy and not tawdry, you are in a safe zone. When you are in doubt, always speak to other colleagues so that you do not cross the line from being classy to tawdry.