back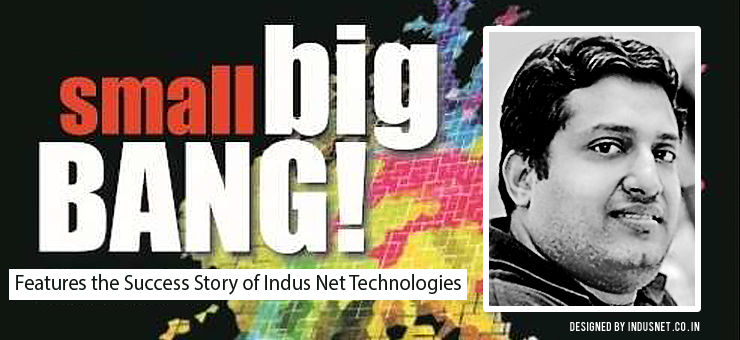 Inside Indus Net
News @ Indus
"Small Big Bang" Features the Success Story of Indus Net Technologies (INT.)
Indus Net Technologies(INT.) continuously creates value for its clients as "to create value" is one of the key visions envisaged by Mr. Abhishek Rungta while establishing the company in the year 1997. Based on the core philosophy "customers who pay for X should get more than X", it is this vision that makes the CEO and Founder of Indus Net Technologies & his team keep the organization "one step ahead of competition". Recently, the success story of Mr. Abhishek Rungta and in turn, INT. got featured in a book named "Small Big Bang!", published in September, 2014 by the famous India based publishing house Grey Parrot Publishers.
It's an immense pride for INT. to have got featured in this book that includes the story of 30 diehard & successful entrepreneurs from different parts of the country of India. Penned down by 26 students, who were selected for this remarkable role from 13 Indian Institute of Managements (IIMs) based across the country, the book was published under the editorialship of Mr. Ratan Mani Lal, an experienced writer, commentator and teacher. The one who made the inspiring story of INT. known to the entire world through his chapter in the book "Small Big Bang" is Mr. Deepak Thomas. Apart from being a student of IIM, Calcutta, Mr. Thomas is a nomad at heart and always looks forward to exploring new places that he has never visited earlier.
Deepak Thomas, in this book, has very nicely narrated how INT. was founded as a company and how it covered its glorious journey of 17 years. While describing the nitti-gritties of our success story, he didn't forget to highlight how Mr. Abhishek Rungta got inspired to be an entrepreneur, how he learnt about the intricacies of business, how he gradually became adept to run a business, how he founded his company and how Indus Net Technologies got global recognitions. The story even includes a detailed synopsis of Mr. Rungta's childhood, educational life, early career, hobbies, personal life etc. To be precise, Small Big Bang not just portrays how Abhishek Rungta is as a human being and as an entrepreneur but it even shows the world how his expert leadership helped INT. to grow from a company with a mere deal of INR. 13,000 to a company with a turnover of USD 6 Million within a period of 17 years.
While interviewing Mr. Abhishek Rungta, Deepak Thomas understood how much passionate our CEO is about learning and upgrading his key skills as it is this conviction that can help one create value for clients. This is the main reason the author has named the story as "He Creates Value – One Step Ahead of Competition". He concluded this inspiring story by writing "The journey that Abhishek took to reach the pinnacle is, in itself, quite an achievement. The characteristic that stands out about him is his tenacity in building his company. No obstacle seemed to impede him."
Small Big Bang is an inspiring story and is a must-read for all, especially, for those who aspire to be a successful entrepreneur. However, the book even educates one about how to balance personal and work life.
Here is a chance to go through the entire story:
However, the full-version of the book is available for purchase at Amazon.
Subscribe to our Newsletter