back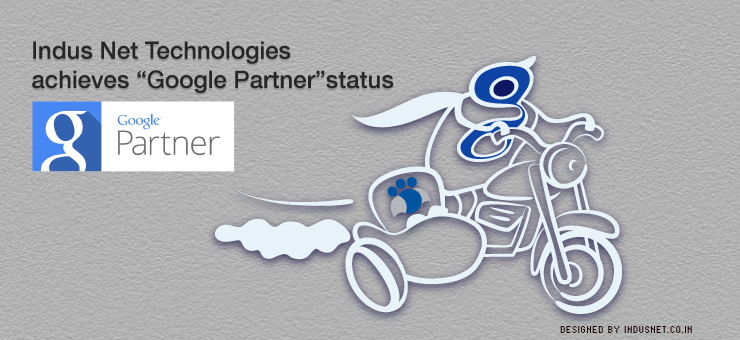 Inside Indus Net
News @ Indus
INT. achieves "Google Partner" status
One of the most prestigious moments for all of us at Indus Net! We have been recently recognized as "Google Partner". We, as a pioneer Internet strategy company in India, once again have been able to meet the new partnership criteria of Google, the search engine giant.
It is a testament of our high level commitment towards SEM (Search Engine Marketing) services. It is known to all that achieving this status means being described by the search engine giant as the "best" and "trusted online expert" on their Google Partner page. Being announced as an official Google Partner even means that Google recognized us to be a healthy company and to have a number of happy clients & customers. By honoring our company with such a high-esteemed status, Google actually proved that we as an organization and the professionals working here always use best practices and follow fair policies when it comes to search engine optimization.
We are immensely proud to be certified as a Google Partner. Further, being eligible to use Google's badge for our website is itself a testimonial of our dedication and commitment towards quality. Interestingly, Google, the search engine giant only allows those companies, which are actually trusted by their clients and offer best quality services including PPC (Pay Per Click) management services, earn this honor and use Google Partner badge. In fact, through this partnership program, Google reviews whether a company adheres to best practices and even evaluates its performance with that of other companies of similar category.
By introducing this new program, the search engine giant is even hopeful about witnessing an increase in the number of companies resorting to best practices. This new Google partnership program would not just encourage companies around the world to work hard towards gaining this success but would even help SMEs (Small and Medium Enterprises) to get duly recognized for the effort they put in.
All in all, this recently achieved status of Google Partner has become a testament to the given fact of a highly effective and ROI focused internet marketing service delivery model for our client base, providing them the maximum value addition, extra competitive edge & maximum return on their online marketing investments.
Subscribe to our Newsletter