back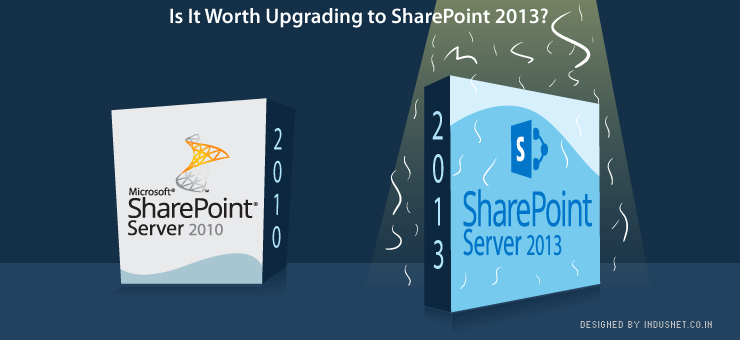 Technology
Is It Worth Upgrading to SharePoint 2013?
SharePoint 2013 comes loaded with a number of features that make it second to none. Most of its earlier features are polished to cater to the needs of tech savvy individuals or in a larger sense, to keep up with the latest advancements in technology. This effort of SharePoint 2013 to keep itself in tune with the changing times has helped it to strike the right chord with a large section of people.
Let us take a look at the various changes incorporated in this version and how they are beneficial to businesses.
1. Device Manager
This new web-based tool helps you manage Master Pages, Composed Looks, Devices, Reusable style templates and a lot of things at your fingertips. This tool, in a way, comes in the ambit of a wide variety of designers' expertise so that they can render their services promptly. While it is far-fetched to say that novices are thoroughly encouraged, this tool helps in a way. The services of a seasoned SharePoint designer are not rendered ineffectual as the knowledge gained by them and skills honed over the years are irreplaceable.
To have a peek into the device manager tool's usability, here is an example. It simplifies the process involved in the transformation of an HTML page into a Master Page. This reduces your dependency on an expert designer in that you can have him create an HTML and CSS design and pass on the remaining work of integrating the HTML into a functional master page by using the Device Manager to your lesser skilled team.
a. Device Channels
The Design Manager provides your team with enough tools to make SharePoint available on many portable devices that are available in the market. They can specify different master pages for different types of devices such as Windows Phone, iPhone, Surface and iPad. There are no issues of compatibility surfacing in this version of SharePoint.
2. HTML5, CSS3 and other good stuff
Cross browser and device support are the main requirement nowadays. SharePoint 2013 works great on all the recent browsers in the market such as Internet Explorer, Firefox and Chrome. The device channels in the Design Manager make device support a reality and the native use of HTML5 is also encouraged.
3. Community Site and Community Portal
A new site template called Community Site is a new feature added to SharePoint 2013. This is something on the lines of Yahoo Answers, wherein discussion is promoted among the members. The top answerers to the various questions posed on this Community Site get the privileges of badges and points. This rating system promotes healthy discussions among the members on various topics relating to SharePoint. The discussion in this forum can be informative.
The Community Portal Site Collection template automatically aggregates community sites for easy viewing and access. You can create Community Sites (Groups) for each subject matter and then create the Portal to see and access them. In each of these groups you are likely to have engaging discussions and be acquainted with the Subject Matter Experts that you were oblivious of.
4. The new Search experience
A noticeable difference in SharePoint 2013 is the new 'Continuous Crawl' option for Search. This translates into your leveraging search all the time and you can trust the results for accuracy.
The issues that were endemic to SharePoint 2007 and SharePoint 2010 are sorted out in the 2013 version. The earlier versions of SharePoint were not user-friendly in that the user had to style the content aggregated from different location using XSLT language, it being difficult. SharePoint 2013 uses a friendly interface by using the Content Search to create a search based query to aggregate unlimited content. Using continuous crawl, the results appear almost instantly.
5. Apps and apps store
SharePoint 2013 introduces the concept of apps and users are welcome to add an app on their SharePoint site and easily access other applications or backend.
Conclusion
The overall experience combining the Apps, Search, Devices, Design Manager really enhances the user's ability to manage a publishing of pages environment. This is irrefutable evidence to the fact that the euphoria surrounding SharePoint 2013 is not hype and it lives up to the technological wizardry and business benefits that was expected from it.
Subscribe to our Newsletter