back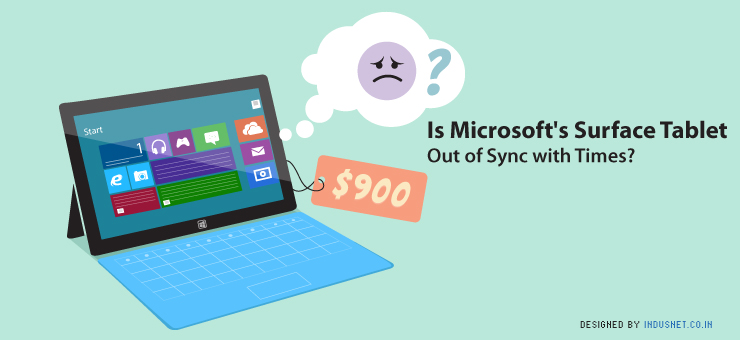 Mobile
Technology
Is Microsoft's Surface Tablet Out of Sync with Times?
Microsoft's Surface RT has often received mixed reviews from tech critics. Its successor Surface Pro was showed off to the public at CES 2013 in Las Vegas, and the response was quite favorable. However, the device has quite a few issues as well. Many also believe that the Surface concept itself is out of sync with times, and it may not match its competitors' sales in the market. Before we see what is bothering Microsoft and its products, let us take a look at what Surface Pro has got to offer to its users. The Surface Pro, according to one reviewer, is Microsoft's attempt at building the archetypal Windows 8 device. By combining good features of Metro and Desktop, Surface Pro is an excellent device that works like a regular computer, along with the mobility of a tablet.
Specifications of Microsoft Surface Pro
The Surface Pro comes with an Ivy Bridge Core 5 processor, 4GB RAM and a storage of either 64 GB or 128 GB. At 10.9 inches, the display is larger than iPad's and the machine has a number of ports such as microSD, USB 3.0, mini Display Port and others. The device also comes with a kickstand just like Surface RT. However, the processor also increases the weight of Surface Pro, and it is heavier than Surface RT. What confuses many people is that the Surface Pro comes with a stylus and an eraser, something that Microsoft's rival Apple would look down upon. The Ivy Bridge Core i5 processor will generate a lot of heat, and Surface Pro being a tablet, will not probably be able to handle all the heat like a desktop or a laptop.
Surface Pro Is Expensive for a Tablet
The entry level Surface Pro shall cost $900, which is one of the most expensive price tags for a tablet. Moreover, people have begun to say that the Surface Pro has a poor battery life and is not suited for mobile usage as much as its competitors. The price factor aloe can make many people to think twice before buying the Surface Pro, as iPad Mini and the new iPad are both cheaper than Microsoft Surface Pro. Also, there are several cheaper Android tablets available out there, which do almost the same things as Apple's iPad or Microsoft's Surface. Unless somebody is very fond of Windows 8 ecosystem, they may prefer buying a full-fledged laptop or ultrabook along with a cheaper tablet.
What Ails Microsoft Surface Pro
It is ergonomically difficult to do all things in one device. A tablet is meant to be a tablet and a laptop/desktop meant to be one. When the boundaries are blurred and designers try to force a product that is a cross between a tablet and an ultrabook, many people may simply go ahead and buy a tablet they are familiar with, and a high functioning ultrabook or desktop that is available at a cheaper cost. Microsoft in all its earnestness has decided to take on the tablet sphere with its Windows 8 OS, but people simply associate Windows 8 with desktops and laptops, and Windows Mobile 8 with smartphones. Ideally, Microsoft should have let the tablet remain a tablet, and reduced its size so that it is not difficult to lug around.
The Stylus and Eraser Are Not Great Ideas
Moreover, a stylus and an eraser are virtually unnecessary and from a design point of view, inconvenient for the user. Of course, people may find it stylish and attractive to use a stylus in the beginning, but what a stylus can achieve can be achieved with gestures, finger tapping on a virtual keyboard and other such technologies which already exist.
With that in mind, Microsoft's Surface tablets do seem out of sync with times, as people use tablets for their mobility and ultra books /desktops for their high power and the comfort of using them on a table. While the idea seems great, and the products looks pretty good too, Surface Pro may not find mainstream acceptance like its competitors – Apple's iPads and Android tablets. The future may require Microsoft to concentrate more on mobile operating system and ensure that there are enough applications in the marketplace to compete with Apple's App Store and Google Play. The future will also force Microsoft to consolidate its PC business and focus on building mobile technologies that are in sync with times.
Subscribe to our Newsletter