back

Emerging technologies
Mobile
Mobile App
Modern Lifestyle
Technology
How Super Apps Can Be Your Next Big Move
"There's no Skype, no Facebook, no Twitter, no Instagram, we use WeChat. OK tell me your WeChat number!" – Higher Brothers, WeChat
In early 2015, a Chinese documentary titled Under the Dome roped in 200 million views in a span of 3 days. The striking point over here is the fact that the 103-minute documentary didn't release in a single theatre.
More than 40% of viewers saw the movie on…wait for it…WeChat.
With over a billion monthly active users, WeChat is a phenomenon that hasn't been replicated anywhere else so far in the world. However, a couple of unicorns are planning to give them a run Alipay, a Chinese payment platform and Go-Jek, a transportation app from Indonesia.
Super App is a new challenge on the block for global acceptance. It is neither really an app nor an Operating System for smartphones. It is a Super App.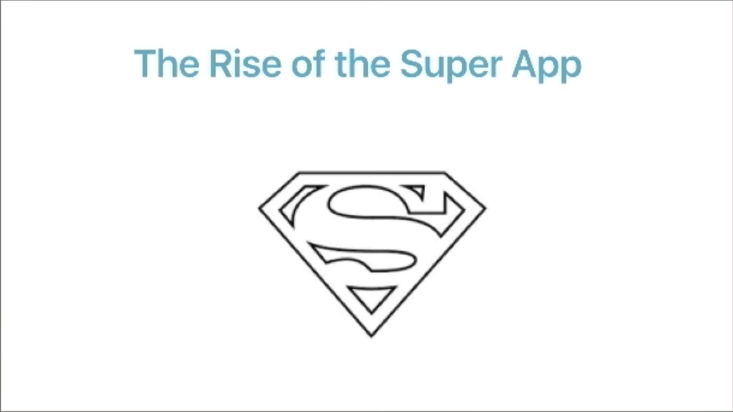 From a slide of "Rise of the Super App: Mobile-First Product Ideas from China"
What exactly makes for a Super App?
"A Super App is many apps within an umbrella app. It's an OS that unbundles the tyranny of apps. It's the portal to the Internet for a mobile-first generation." – GoJek
In 2010, Mike Lazaridis, the Founder of Blackberry, shared his amazement with the possibilities which a 'Super App' constitutes, "…representing a new class of mobile applications that make you wonder how you ever lived without them."
More often if not always, it is likely to be operated at the intersection of logistics/hyper-local delivery, commerce, payments and social. To start the journey of becoming a Super App, a minimum of two of these functions are necessary. However, evolving into a conglomerate of apps will be the best way to become a Super App. The idea is to scale fast once you have a user's buy-in and add multiple services to gain loyalty.
Once you have direct offerings, the next logical step is to open the app up to third-party companies to build on a loyal user base. Now, you don't build separate apps. Instead, you can host your offerings on a single Super App. Gradually the Super App becomes the OS.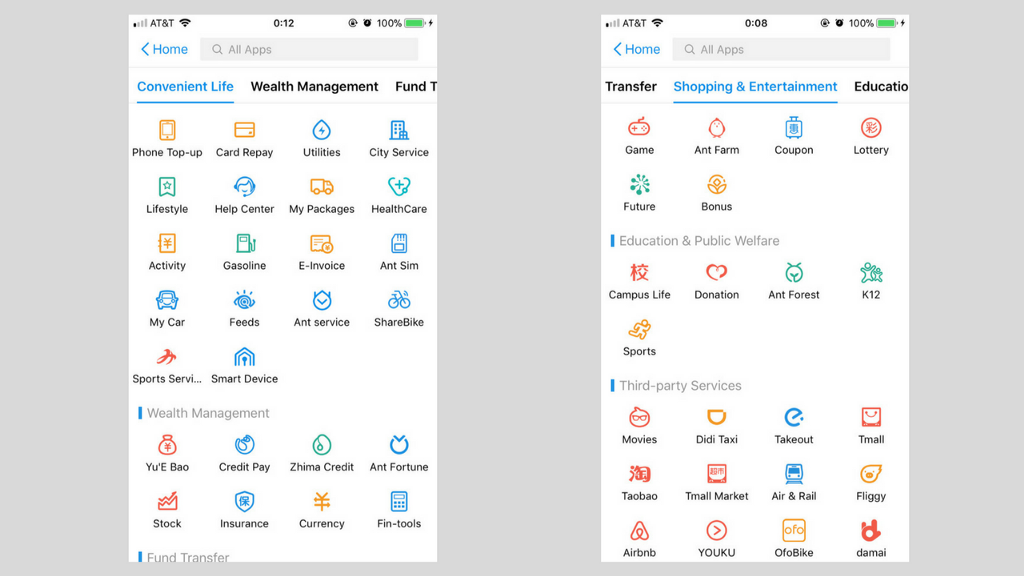 Screenshot of Alipay iOS app
Right at the screen above, you will see some of the most required services like city service, pay utilities, buy movie tickets, book a room via Airbnb. Among them, you can see other kinds of services like Fund Transfer and Third-party Services that can look irrelevant for many users. These are all in ONE APP!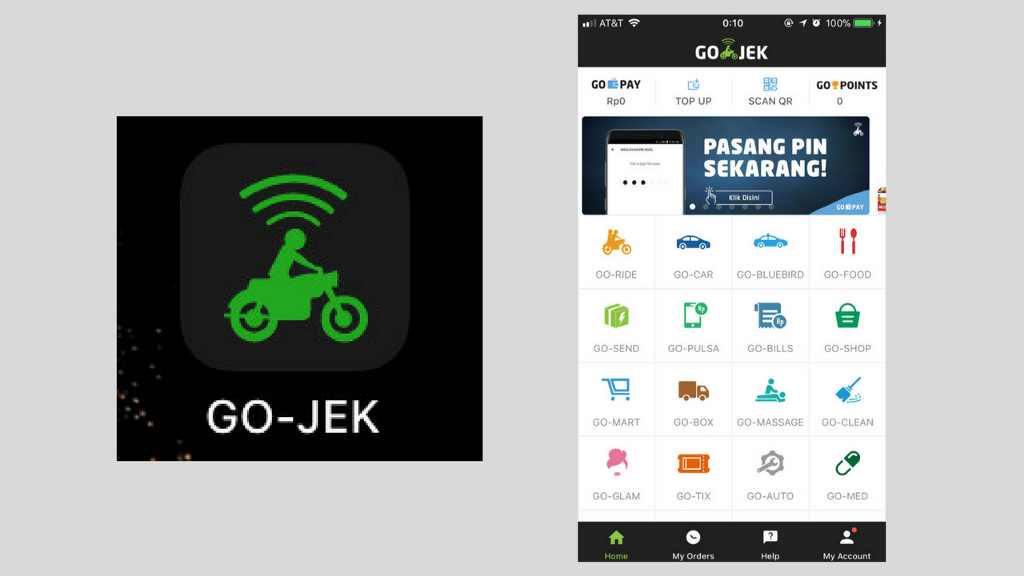 Screenshot of GO-JEP App!
But why a Super App?
Remember India's 'Good Morning' message phenomenon? Every day, India's mobile users send a 'good morning' image to their friends and family. According to a WSJ report, "These images have an overabundance of sun-dappled flowers, adorable toddlers, birds and sunsets sent along with a cheery message." As a result, one in three smartphone users ran out of space daily, according to a Western Digital report.
A report by Statista shows that there are roughly around four million apps available between just the Google Play store and the Apple App Store, and the glut is painful for countries with limited smartphone memory and a saturated market. A Super App corrects this imbalance. It sits on top of a mobile OS by shrinking the time taken to complete a specific task and in turn, increase productivity. For the next billion users, it also adds UX elements that make it easier for users to get accustomed to mobile phone usage.
Do you think it's easy? Well, no, ask Facebook.
For about two years, Facebook's Messenger tried to build the WeChat of the West without much success. It remains to be seen if they can do it in the current climate.
In case, you are struggling to identify if Super App is what you need? Then ask us today, say us a "Hi" today at info@indusnet.co.in
Subscribe to our Newsletter