back

AI & MI
Automation
Big Data
Data Analysis
Data Analytics
What Is Data Enrichment And How To Implement It?
Data enrichment is a procedure where third or first party data is added or merged owing to datasets that you are using already.
Data enrichment has created a buzz and rightly so, for its ability to enable employees to answer a larger question set, with the availability of more data. It also enables employees to answer questions with far deeper insights as compared to data that is non-enriched.
It also boosts the experience of the customer greatly, since enriched data enables any business to predict the needs of a customer suitably, while keeping the relevance of the brand intact.
One of the examples of data enrichment is known as lead scoring.
Data Enrichment Types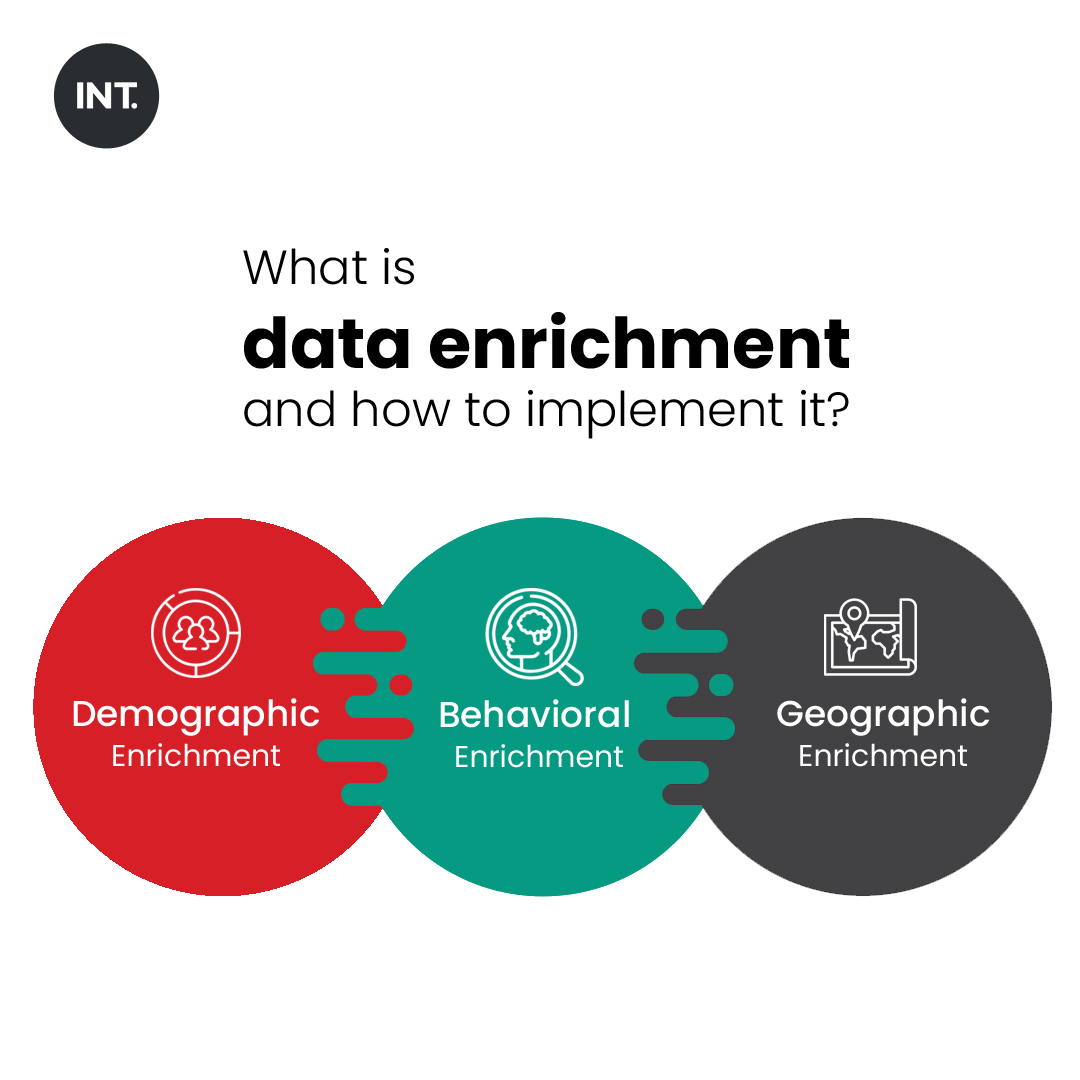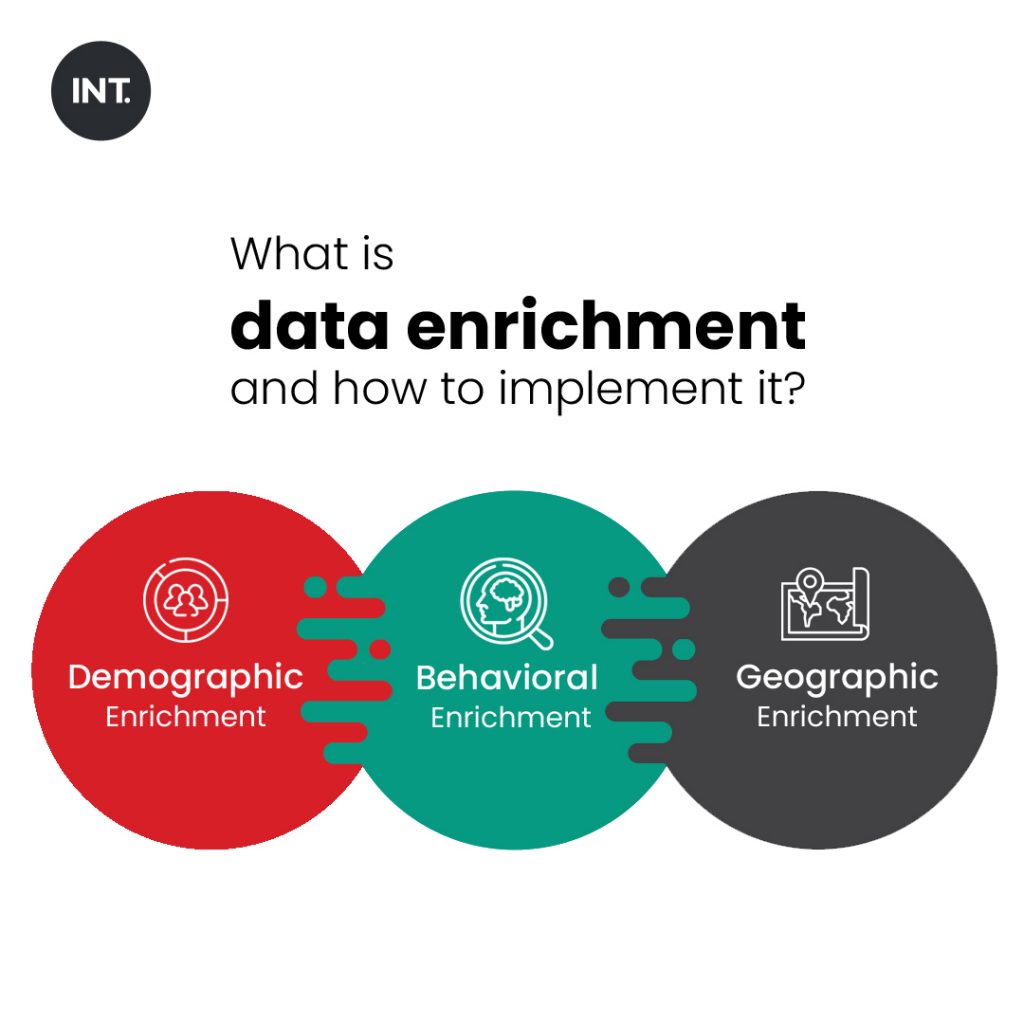 There are varying data enrichment types in terms of data source volumes. Here are the commonest types that you should know more about:
Demographic Enrichment
Enriching any demographic data enables targeted messaging to specific categories. This helps businesses create more relatable messaging and advertising for customers. Demographic enrichment of data also helps organizations personalize their messaging for employee sizes of other entities.
Behavioral Enrichment
Enrichment in this case equates to the addition of behavioral patterns of consumers to user profiles. These additions help in identifying interest areas for customers, along with the journey leading towards buying decisions. You should enrich behavioral data since it helps in ensuring the effectiveness of marketing and advertising campaigns. This also ensures better justifications for marketing-based budgets.
Geographic Enrichment
There are entities which enrich such data for targeted messaging solutions across varied groups. This makes sure that users can view relatable content as per their time zones, countries, and cities. Companies can view IP-addresses while checking user locations.
Why is Data Enrichment Necessary?
Data enrichment enables companies to ensure that data remains dependable and useful for the end-user.
Whenever data is enriched by any organization, it gains more value as a result. Here are some of the advantages in a nutshell:
Enrichment Enhances Accuracy Levels
Enrichment has a vital role to play in enhancing higher utility for raw data. Via enrichment, businesses ensure the addition of missing and extra data to original consumer datasets. Companies can gather valuable data with enrichment.
Data Enrichment Helps in Targeting the Right Consumers 
Whenever data stays updated and accurate, companies may customize marketing campaigns for their users. Data enrichment helps data segmentation, particularly if recommendations and advertisements become more relevant for the user base.
Through data enrichment, better customer records can be developed, letting the business move ahead. Enriched data may also enable growth in conversions for marketing and advertising campaigns, along with outreach efforts in terms of sales, thereby scaling up the prospective ROI for customers.
Better Customer Experiences
Data enrichment enables businesses to maintain relevance to their users, with advertisements that are tailored to their requirements.
When there is personalized messaging for users, it not only enhances customer relationships, but also indicates to users that one cares for their requirements, while understanding them in the form of clients alongside.
Organizational To-Dos
You need to answer these questions first-
What is your core goal behind enriching data?
Do you wish to enhance data accuracy and quality levels?
What does your business specifically need to gather?
What data is relevant for your business?
Should you choose real-time data enrichment or anything that is warehouse-based?
What tools or systems will help you prepare data better?
What do you need to keep your data updated?
Once you have the answers marked, it will help you proceed with your eventual data enrichment objectives without any hassles.
About the author: Dipak Singh is a thought leader and data cruncher, currently, he heads the Analytics Wings at INT. To know more do check out his LinkedIn profile here.
Subscribe to our Newsletter