back

Digital Buzz
DigitalSuccess
Celebrating 25th Year Of Innovation & Resilience
Established in 1997, INT. is the brainchild of our CEO Abhishek Rungta. A global consulting and digital IT service, INT. is home to over a thousand employees who are working tirelessly to deliver next-generation digital experiences to clients. From getting rid of bluffs to making digital simple and jazz free, INT. is soaring high.
The journey started in 1997 when the internet has still not grasped the Indian population like today. What started as a website building startup by one man in '97 is standing 750 strong today.
From web development for SMEs to specialized enterprise tech consulting, the journey of Indus Net Technologies has been quite extraordinary.  In the last 24 years, we have grown into a leading organization that has established itself as a trusted technology solution partner by delivering unrivalled value through pioneering and cutting-edge technologies.
Few companies from the dot com era had the foresight to temper their pace in anticipation of the long journey that lay ahead. The journey of INT. is a testament to the resilience, dedication and society-first principle and adaptable long term strategy and leadership.
From  $0.68 to $9 million business, INT. has always kept its solutions relevant for the evolving generation.  In the last 24 years, INT. has catalyzed major changes that have led us as one of the major IT service companies in the Eastern zone of India. Kolkata being a non-IT place, thriving in the heart of it was a challenge, but we did it and transformed the outlook!
Our primary focus was always on offering simple and sustainable solutions. INT.'s consultative & collaborative approach is analytics-driven. Also, our entrepreneurial zest and legacy have helped us formulate enterprise-grade scalable products that translate organizational ambitions into a successful reality.
At, INT. we have always strived to understand the emerging need of global clients. Responding to new-age capabilities, INT. has ensured success to many market leaders such as Mattel, Fox Sports, MasterCard, Cipla, Statoil, Ageas, Tesco Underwriting, John Lewis Insurance, SREI BNP Paribas, SBI General, PepsiCo, Cadbury, KPMG and many more. On completing 24 years of thrilling adventure, we are excited to share our journey with you.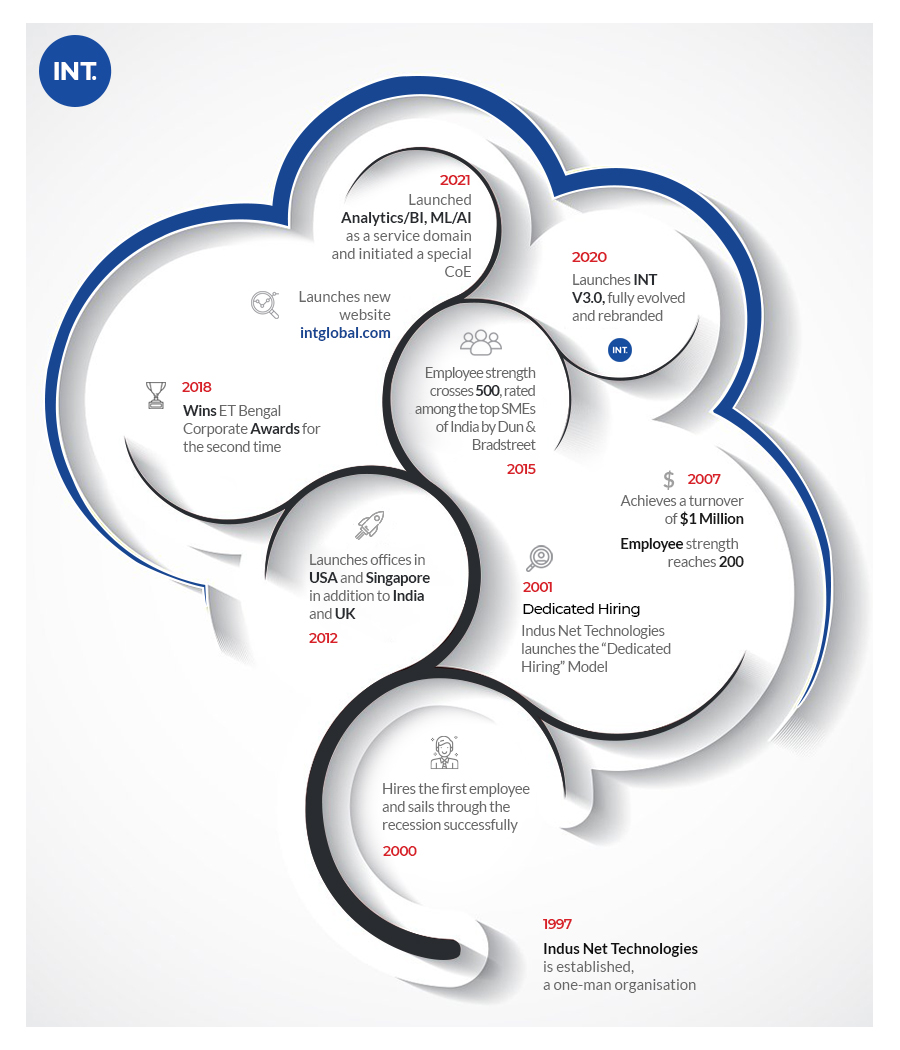 In all these years INT. has evolved and changed in its dynamics, structure, culture, value system and stayed relevant in the market through four such major changes in over two decades:
Phase 1: 1997-2002 – Experiment

Phase 2: 2002-2008 – Scale and become an outliner

Phase 3: 2008-2012 – Evolve capabilities and resilience 

Phase 4: 2012-2020 – Develop and prove enterprise capabilities across digital (INT. Ver. 2.0, 2.1)
Now, we are in the next phase of INT. where we are evolving as an enterprise-grade technology partner for enterprises, which help them value creation at the confluence of technology, analytics and marketing. 
This is INT. 3.0- A world of minimalism, simplicity and sustainability.  An INT. that can match and surpass the best in digital. An INT. which is ambitious and bold, and has arrived at the big stage. An INT. with learning, adaptation and sustainability. An INT. that "Makes Brands Matter".
Subscribe to our Newsletter