back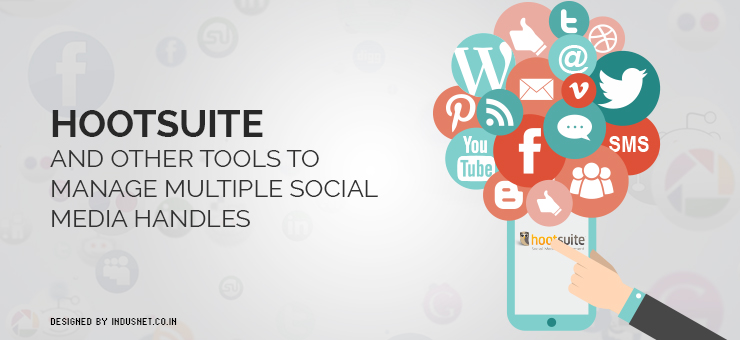 Digital Marketing
Internet Marketing
HootSuite and Other Tools to Manage Multiple Social Media Handles
Social media marketing has a pivotal place among marketers. Consumers love to engage with marketers on social media because they are free to express their concerns and learn more about products amid entertaining and relaxed environment. However, managing all social media tools at once becomes a little difficult. There are many tools that empower a marketer to manage multiple social media handles. One among them and the most popular is Hootsuite.
The following article will focus on features and usability of Hootsuite in detail and a few other tools, in short, to manage social media handles.
Hootsuite
Hootsuite is a comprehensive tool for managing all your social media accounts through a single dashboard. With its ability to manage more than 80 social media platforms including Facebook, Twitter, Instagram, Google+, YouTube, LinkedIn and many more applications, it becomes one of the most powerful tools to address all your social media management needs.
Hootsuite integrates social media platforms of your choice and manages them through a single dashboard. You can even group social media platforms of your choice and manage them through multiple dashboards.
Hootsuite can integrate with Microsoft Dynamics CRM. This integration allows businesses to incorporate all social interactions of customers and track them through Hootsuite dashboard. This facilitates user identification and lead generation. The social data collected can be added to Microsoft Dynamics CRM and get a refined view of each customer.
[php snippet=1]
It swiftly operates shared social media accounts for collaboration of teams and organizations. It is proficient to assign conversation to team members. Collaboration can be enhanced through the integration of SharePoint in Hootsuite. This enables businesses to utilize social media content across teams and quickly resolve customer issues. Moreover, users can bring data from Sharepoint sites to Hootsuite dashboard & use it along social media data from Facebook, Twitter etc.
Another handy tool for collaboration is Yammer. Integration of Hootsuite with Yammer facilitates real-time collaboration among employees while engaging with customers on social media. This enables employees from different departments to work collectively in real-time and quickly respond or act upon social interaction with their customers.
Hootsuite dashboard has a powerful Compose Message tool that allows you to create a message and shares it with selected social media platforms. Autoschedule feature in Hootsuite allows you to publish content at a predefined time and platform. This feature gives you more time to find and share relevant content rather than worry about time of posting.
Bulk Scheduling allows you to keep your social media platforms active. It is useful when you have a lot of content to share on a regular basis. However, this feature is more suitable for Twitter because this method only supports text and link posts.
Hootsuite is highly effective to create and launch social media campaigns like contests, user-generated galleries, sweepstakes etc across multiple platforms. It enables you to create interactive promotions for the target audience, generate leads and engage them more with your business goings-on.
This feature simplifies social media marketing and is suitable for businesses of all size. It can integrate with Facebook's latest page features like shopping, service and call-to-action buttons. Apart from that, users can select campaign type according to their need from its intuitive and easy-to-use interface.
This feature gives you a fair idea about your social media actions and results of your social media campaigns. Analytics act as an eye-opener and make it easier for you to do the follow-up on your efforts. It gives you deep insight about user engagement and social media activities so that you can realize and create what works best in the interest of consumers and your organization.
Hootsuite Analytics enable extensive monitoring of data to generate printable reports for your business. Analytics reports compile and visualizes data from different social media platforms. Depending upon the module selected, reports contain a specific set of data.
Hootsuite's powerful mobile application has made it convenient for users to manage and control social media anytime and anywhere. Hootsuite app is available for both Apple and Android platforms. It allows you to manage multiple networks, schedule posts, and track content performance. It further enables you to geo-locate your posts to share favorite places and engage with nearby followers.
It is very important for a marketer to know what's being said about his brand. This ability helps you to understand what customers and competitors are talking about your brand. It forms an integral part of online reputation management because you can only reform your reputation once you know where you are lacking.
Furthermore, Hootsuite allows you to track key phrases and terms across teammates' posts so that you can interfere when necessary and take stock of the situation. This helps users to precisely respond to customers' needs and bring in new customers.
There are multiple plug-ins for Hootsuite and one among them is Hootlet. This is a brilliant plug-in for Hootsuite that simplifies the process of sharing content with your followers. Hootlet is easily accessible through a quick-launch button atop web browsers. The moment you come across interesting content on the web, clicking Hootlet shortens URL and inserts a small snippet of relevant text from that website into your social media message.
Hootsuite securely manages your content syndication needs
Hootsuite is an excellent tool to take care of your content syndication needs by publishing on multiple platforms apart from hoards of other benefits. It is used by businesses of all sizes, agencies, and enterprises. Security is of prime importance for Hootsuite users because reputation and assets are all at stake. Secured logins, profile protections and permission levels enable a strong security layer across the organization.
Hootsuite minimizes the time you spend to manage multiple social media accounts. Post scheduling, conversation monitoring and rapid response to customer queries and comments make Hootsuite one of the most sought-after tools for social media management today.
Few other noteworthy apps
Buffer
Buffer is another very useful tool for social media management. It offers support for leading social media platforms like Twitter, Facebook, LinkedIn, Google+ and Pinterest. It provides excellent customer service and its regular updates ensure a fine user experience.
The key features of Bufferapp include the easy-to-use interface, post scheduling functionality, analytics, RSS feeds, ability to share all web pages easily, and ability to add images.
Bufferapp is accurate in its performance and hardly disappoints you. You can easily rely on it for post scheduling and multi-posting. It is easy to repost popular tweets for future use especially when your content is evergreen. Post scheduling in Bufferapp is more effective than in Hootsuite. Bufferapp offers queue ability that allows you to queue web pages to be shared into your predefined queue. Teams can efficiently manage all scheduled posts from a single dashboard thereby facilitating collaboration within teams.
Bufferapp can seamlessly integrate with Chrome make it easy to share anything while browsing. It also has the auto-fill capability that lets you fill selected text into the post through the browser extension.
Another interesting aspect of Bufferapp is revealed through its integration with tools like Tweriod and SocialBro. It helps you to determine the best time to engage with a particular network. Accordingly, you can schedule the same post for different networks to be posted at different times at one click.
Bufferapp lets you use gif images and offers image creation tools. Its feature called Pablo enables users to make pictures containing information or quotes. Moreover, Bufferapp allows you to attach pictures to posts that you like.
AgoraPulse
This social media marketing and CRM suite is par excellence tool for social media marketers to manage Facebook, Twitter and Instagram accounts.
Agorapulse is intuitive and helps you to generate reports. It has a solid reporting material with rich visual graphical support and is easily comprehendible.
Agorapulse can schedule posts effectively on different social media platforms. It promotes collaboration within the team with a simple and friendly user interface.
Manage customer responses
Agorapulse enables you to respond to all comments and manage all customers irrespective of their number. It manages tags for posts and comments. It is highly suitable for organizing contests on social media.
It provides a strong analytical solution with an ability to extract PowerPoint report. Agorpulse can easily integrate with different Facebook applications and gives you more insight into your performance and customer response.
It is an effective tool to calculate the impact of your social media's reach. It helps you to identify what marketing efforts are working in favor of your brand. Thus, it enables you to build both your business and brand.
SproutSocial
SproutSocial has an edge over Hootsuite or Buffer when it comes to access control. It enables you to control user access to different social media accounts with ease. SproutSocial's queue button enables you to upload a number of posts to a variety of platforms. And it has a strong customer support team. Following are some of its potent capabilities:
This ever expanding social media manager delivers strong reporting and metrics that helps businesses to improve social reach and impact. Its Twitter reporting is very good. SproutSocial gives you regular updates about what customers are talking about your brand on social media which is important to follow up from PR and branding perspective.
SproutSocial is highly capable of managing message load on social media. It makes it easier for a team to respond to customers and empowers manager to monitor what each team member is contributing through smart inbox graph and other reporting features.
Manage customer interactions
Sprout Social has a feature that enables you to manage one on one interaction with your audience in one social inbox. Besides that, this application gives recommendations about customers important for your brand, target leads, and identify customers missed out of meaningful communication.
Sprout Social offers strong web analytics. Its dashboard allows you to precisely view social activity, assign tasks, review analytics and interpret instantly about your brand's online activity. Moreover, it even integrates with Google Analytics to make things easier for you.
IFTTT (If This Then That)
IFTTT has a smooth user interface. It shows popular recipes with an option to browse other recipes in the notification panel. Recipes denote a specific set of conditional tasks. For instance, if your favorite blog posts something, you should get an instant notification. Likewise, you can create different recipes. Recipes help you to instantly share content that you like. You can create posts using specific hashtags for Twitter.
IFTTT may appear to be a slightly complex application. However, its inter-app connections deliver amazing results. IFTTT sorts posts, uploads images, and notifies about particular connections. This tool helps to save a lot of time. Apart from that, it can integrate with Hootsuite and Bufferapp and make those tools more productive.
Conclusion
Many marketers incorporate multiple social media handles in their social strategy to engage with the audience because every platform offers a unique set of advantages. It is understandable that under such circumstances a lot of distinctive data is generated across various social media platforms. However, it becomes extremely difficult to manage this information load. Moreover, it consumes a lot of time to manage each social media platform individually.
Subscribe to our Newsletter