back

Data Analytics
Customer Segmentation: How To Do Market Segmentation To Acquire New Customers In The Insurance Sector
It is no secret that the global insurance industry is characterized by cut-throat competition and aggressive marketing outreaches to onboard more new customers. At the same time, despite adopting aggressive sales-funnel strategies, insurance fails to build that fabled consumer connect.
Customers mostly remain confused about choosing the right insurance company and plan amidst a thousand options. Most companies also focus on lower prices as their key selling points. This leads to a scenario where insurance companies emphasize more managing costs/prices, lowering customer engagement and service quality, and enhancing their customer churn simultaneously.
What is the best way for the insurance sector to acquire more new customers without adopting a price-first approach? What is the best solution for building better customer engagement strategies and relationships throughout the process?
The answer lies in customer segmentation in insurance.
Without suitable customer segmentation datasets, it is near impossible to tailor services/offerings to suit particular customer types or demographics. This is needed for ensuring that personalized touch and a broader service range to attract and retain consumers while understanding what they require in terms of assistance.
What Is Customer Segmentation?
By customer segmentation, we mean the practice of sub-dividing customers into multiple groups. Each group shares its own set of features, attributes, objectives, and requirements.
This is the ideal way for insurance companies to come up with tailored products, services, and solutions for each group, ensuring better engagement for a wider range of customer groups.
Types Of Customer Segmentation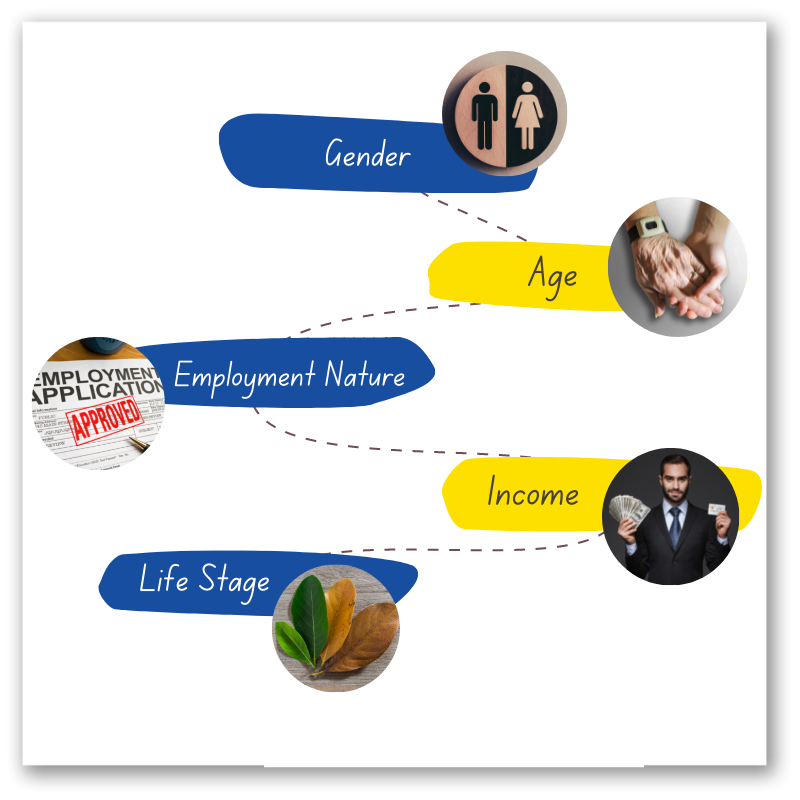 The conventional segmentation formula includes categorizing consumers based on parameters like gender, age, employment nature, income, and life stage among others.
However, in a hotly contested insurance sector, there is a need to revamp the entire perspective towards segmentation with a customer-centric operational model, one that continually finds out newer parameters and keeps changing the framework likewise.
Sounds confusing?
While a specific consumer group may have some similar traits or attributes, it does not always equate to the same objectives, needs, and perspectives amongst individuals. Today's customer is a smarter one, looking for hyper-personalization as per his/her specific requirements and stage of life. This is only possible with dedicated market research and ever-evolving segmentation.
Why It's A Win-Win Proposition
Is customer segmentation in insurance worth it? It does have long-term advantages for insurers. Once segments are built, they can help in generating hyper-personalized solutions for a wider number of consumers.
Segmentation makes it more convenient to build marketing material and insurance products alike. Insurance companies benefit from putting a vast chunk of consumers into more manageable and operational groups which helps them launch campaigns directed at specific audiences on time.
This fosters better engagement, leading to superior product branding and higher customer satisfaction at the same time. It also helps insurance companies up-sell products or get more renewals into the door.
Marketing campaigns may also be automated for tapping specific consumer segments with suitable solutions, based on the achievement of newer and bigger landmarks/milestones.
And that is only the tip of the iceberg; segmentation helps insurers identify more prospects who share similar needs, traits, and features. Hence, many un-leveraged segments may be unearthed as a result. They can also focus on products that have a specific need/demand in the market, avoiding the expenditure of more energy/resources on those that do not cater to any specific segment/group.
Segmentation can help in finding trends in the market while stimulating better strategies to cater to existing demand.
Insurers can come up with segment-wise offers for enhanced retention and higher customer satisfaction, chalk out segment-wise pricing strategies and get more people to recommend their businesses to like-minded people. Behaviour-related consumer data (group-wise) also help insurers identify possibilities of risks or opportunities and come up with timely responses.
For example, suppose a consumer group is identified through data, which has a bad experience with getting their claims processed, and in this case, the insurer can follow up with a timely message which states that these consumers can call the helpline for getting future claims resolved quickly or coming up with any other mechanism that nips potential issues in the bud before customers switch to other companies.
This is only one out of several such possibilities and case studies that may arise in this regard.
Data-driven segmentation results in what we call actionable insights, leading to higher customer acquisition, retention, and better marketing for insurance companies.
Many technological tools and frameworks can enable evolving segmentation of consumers and they are being used by insurance companies today. However, that is a story for another day.
About the author: Dipak Singh is a thought leader and data cruncher, currently, he heads the Analytics Wings at INT. To know more do check out his LinkedIn profile here.
Summary

Article Name
Customer Segmentation in Insurance
Description
Master customer segmentation in insurance: effective market targeting to acquire new customers. Learn the strategies for successful growth.
Author
Publisher Name
Publisher Logo
Subscribe to our Newsletter