back

AI & MI
blockhchain
InsurTech
Smart Insurance: Exploring Blockchain and AI Integration
Smart insurance has increasingly become representative of the evolutionary headwinds in the industry. Digital transformation has been a key feature of the sector for the last few years, especially with the integration of AI insurance and blockchain insurance technologies. Insurtech is no longer an exception as well.
These digital advancements are boosting customer experiences while enabling better risk management, claims processing and fraud detection at the same time. Insurers are completely redefining consumer engagement, while moving towards greater personalisation simultaneously.
A McKinsey report estimates that 25% of the insurance sector will be fully automated by the year 2025, backed by AI, ML and blockchain, among other technologies. Here's taking a deeper look at the same.
How Blockchain and AI are Changing the Insurance Industry
AI insurance technologies are completely revolutionising the landscape. The same can be said for blockchain insurance solutions. Here are some core points worth noting in this regard.
Insurtech will be more relevant, with connected consumer devices further penetrating the market. Industry estimates peg the number of connected fitness trackers, cars, smartphones, smartwatches and home assistants (among other devices) at one trillion by 2025.
This will naturally help insurers understand consumers better along with their preferences. They can also tailor offerings accordingly.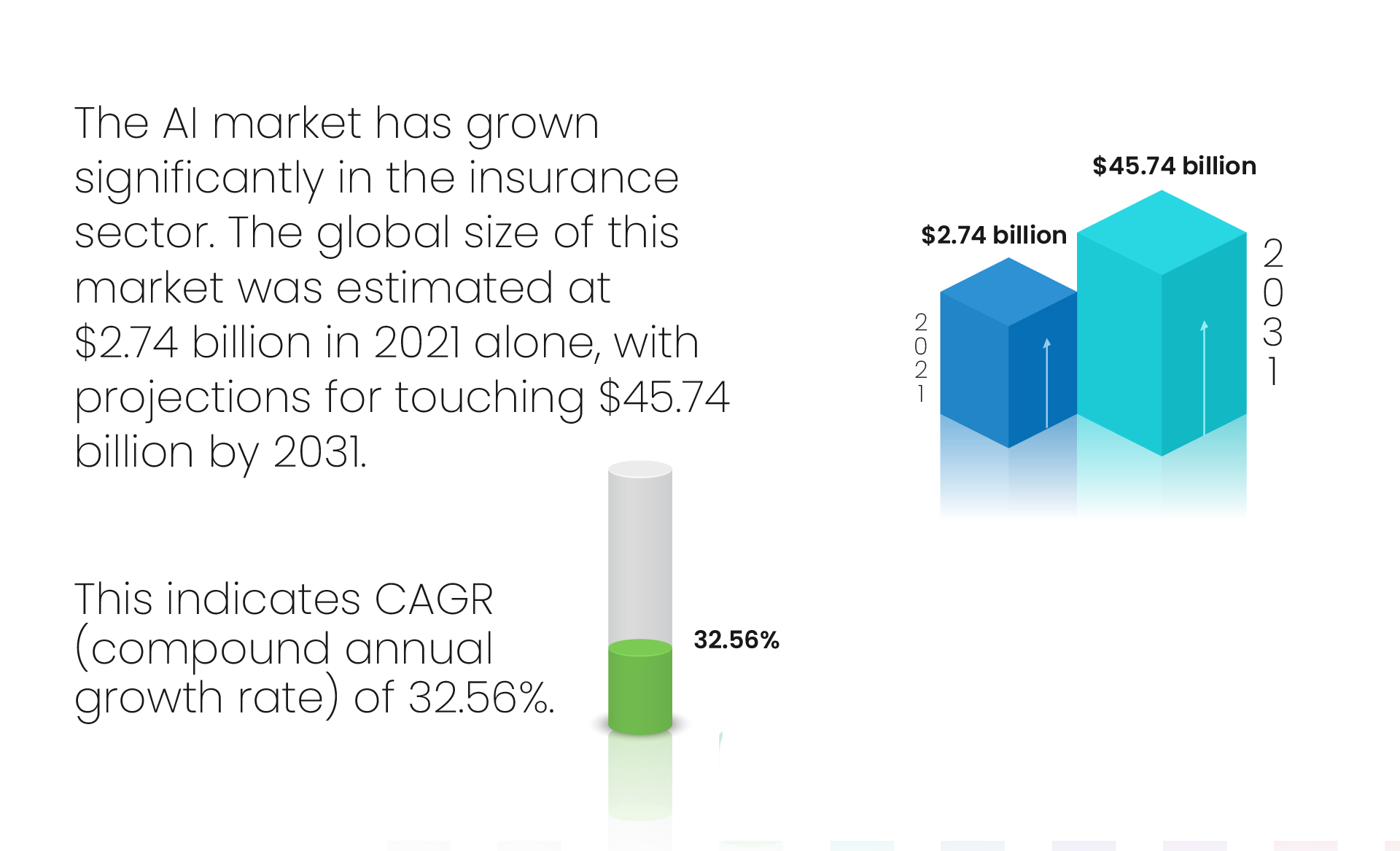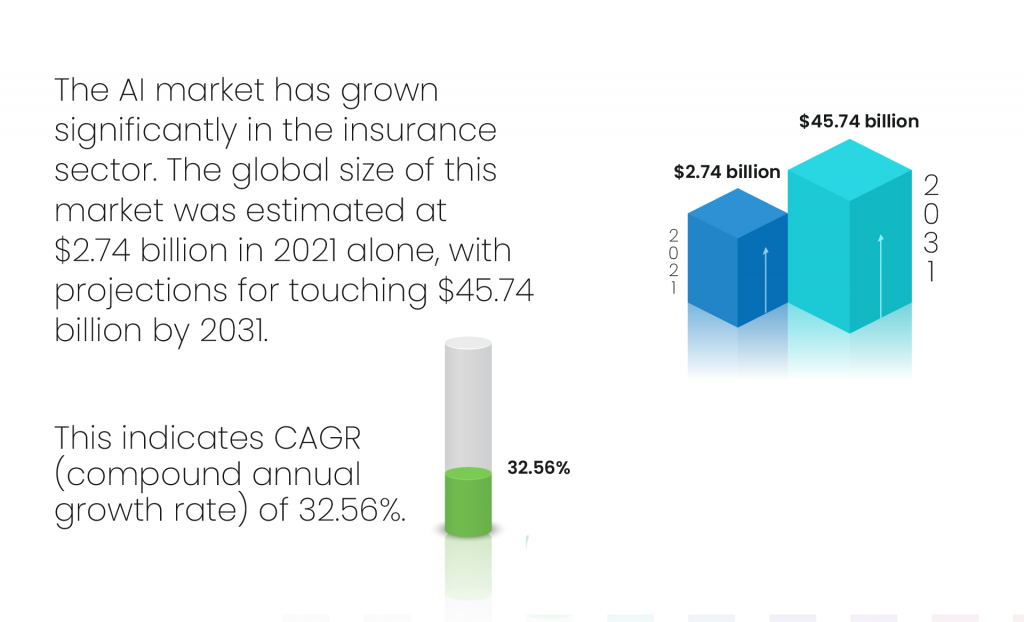 An example of AI insurance innovations is the usage of Chatbots for better customer experiences. Chatbots enable customer service in a better way, respond swiftly to queries and enhance claims handling systems.
Chatbots offer assistance instantly along with personalised recommendations. They also enable guidance and support throughout the claims process.
AI also plays a vital role in risk management. Machine learning and AI automate repetitive tasks which lower errors and processing times.
Connected IoT devices also enable better data for risk assessment and decision-making.
AI also helps with fraud detection since it can identify anomalies and fraudulent patterns, thereby lowering the occurrence of claims of a fraudulent nature and other related costs.
These technologies including NLP (natural language processing), OCR (optical character recognition) and deep learning help with damage assessments and loss estimation alike.


IoT is also spurring more dynamic pricing of risks through actionable insights gathered from multidimensional data of customers. More relevant actuarial models are being created for personalising underwriting.
Real-time behavior and contextual data of consumers are also being used to develop better risk profiles.
Insurers are also tapping IoT for personalising their services and products, based on usage-based insurance models.
Blockchain technology functions through smart contracts. In this case, distributed ledger technology has immense potential to enhance overall accountability, transparency and data security.


Distributed ledgers will also help swift access and updates to vital data spanning third-party review reports, claim evidence, and police reports. This will not only boost claims processing but also mitigate risks more effectively.
The Benefits of Blockchain and AI for Insurance
As expected, there are multifarious advantages offered by AI and blockchain in the insurance industry. Some of them include the following:
Easy claim filing process for customers.
Instant responses to queries and faster resolution.
Personalised recommendations for customers.
Streamlining claim processing, reducing errors and timelines.
Better risk assessment and dynamic pricing based on relevant information.
Elimination of fraud through identifying fraudulent patterns.
Automated and faster procedures without human intervention, thereby lowering costs for insurers.
Better up-selling and cross-selling on the basis of customer profiles.
Improved loss estimates for insurers.
Secure and transparent registries and better warranty management with blockchain.
Decentralised system for AML and KYC procedures, which are tamper-proof.
Easier verification of identity and better compliance.
Automated insurance products based on pre-defined triggers, thereby avoiding time-consuming claims assessment processes.
Better data sharing and automated reinsurance contracts.
Auditable and secure records, thereby lowering risks of frauds and enabling quicker claim settlements.
The Future of Smart Insurance
What does smart insurance look like in the future? Here are some ways in which digital transformation can completely reshape the insurance industry: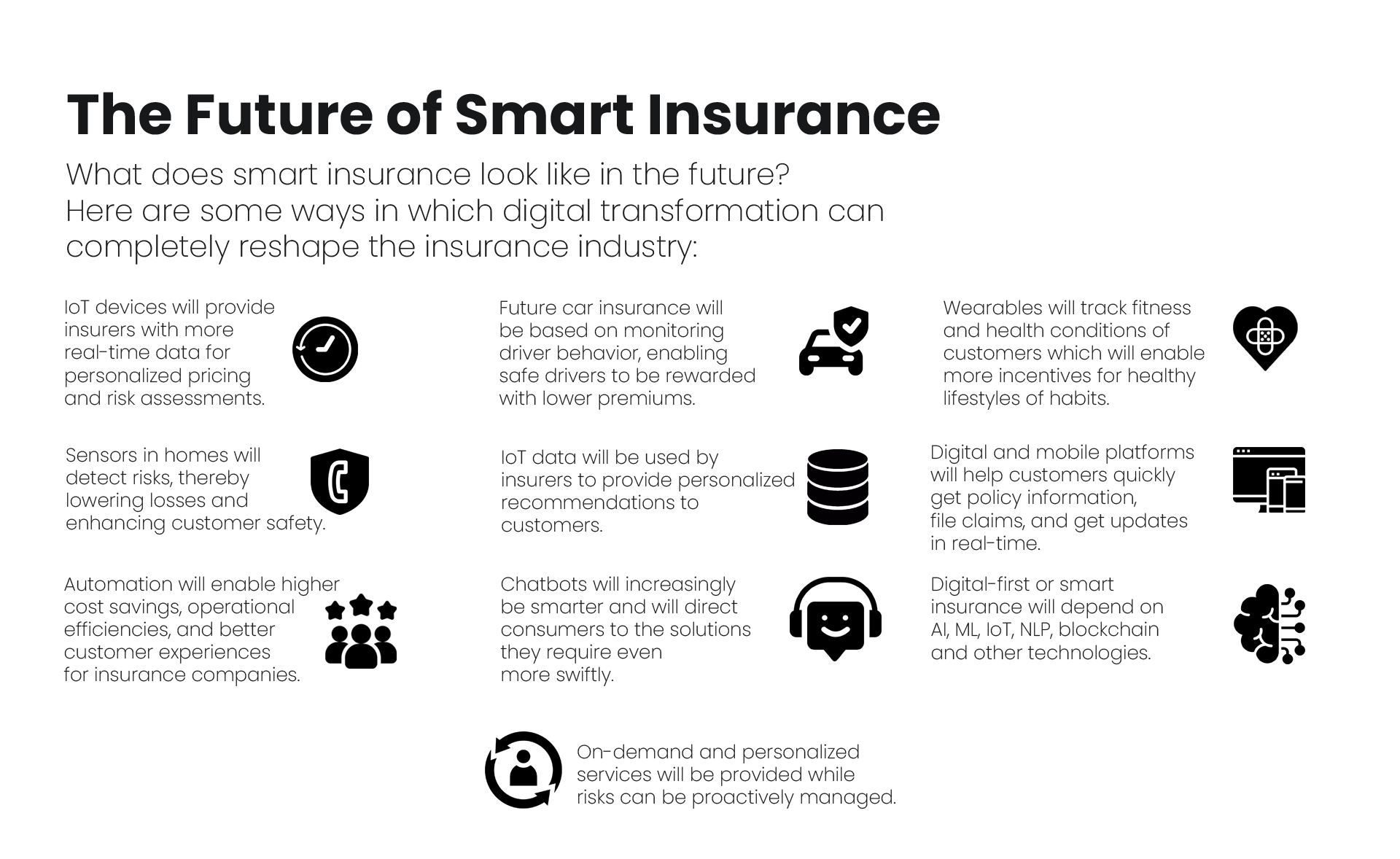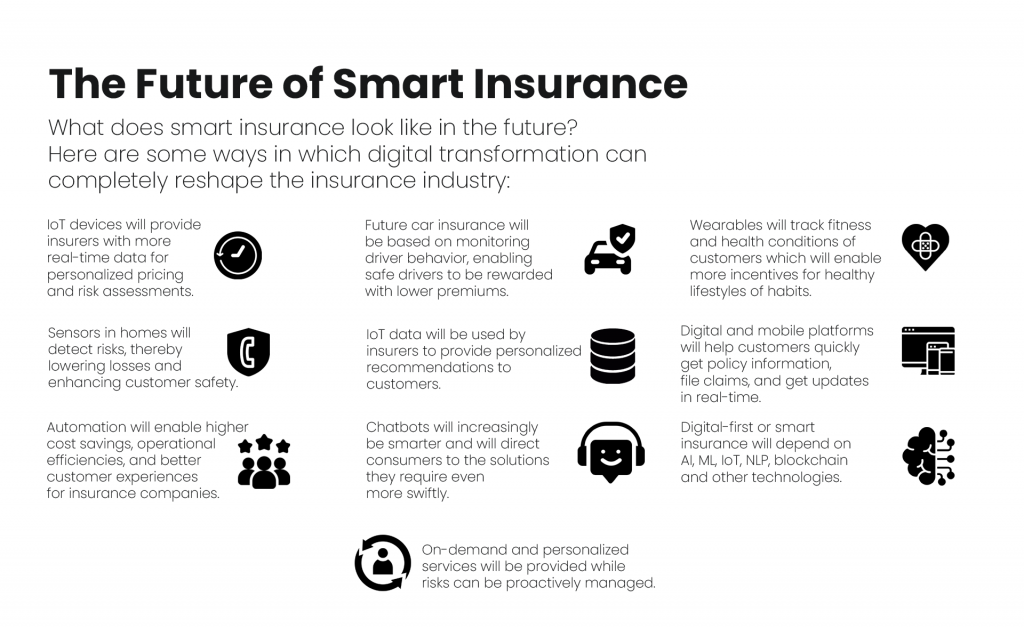 FAQs
1.What role does artificial intelligence play in smart insurance?
Artificial intelligence has a vital role to play in smart insurance, automating repetitive tasks including claims submissions, processing, and more. It also helps detect fraud, assess risks, and enhance customer experiences through Chatbot-based communication.
2.What are some real-world examples of smart insurance applications using blockchain and AI?
Some real-world examples include micro-insurance, parametric insurance models, usage-based insurance, fraud detection, data structuring through Blockchain and IoT and also multiple risk participation or reinsurance.
3.Are there any challenges or limitations to consider when implementing blockchain and AI in smart insurance?
Blockchain networks may require higher computational capabilities for transaction validation. Other challenges for AI and blockchain implementation include data quality, digital adoption, integration of legacy systems, and more.
4.How does the integration of blockchain and AI in insurance impact customer experience?
Customer experiences are automatically enhanced through the integration of blockchain and AI. Their information remains tamper-proof and secure, while they can swiftly be onboarded and file/process claims without hassles. They can get quicker automated responses to queries along with personalised recommendations. Claims processing timelines are also greatly reduced due to these technologies.
Subscribe to our Newsletter