back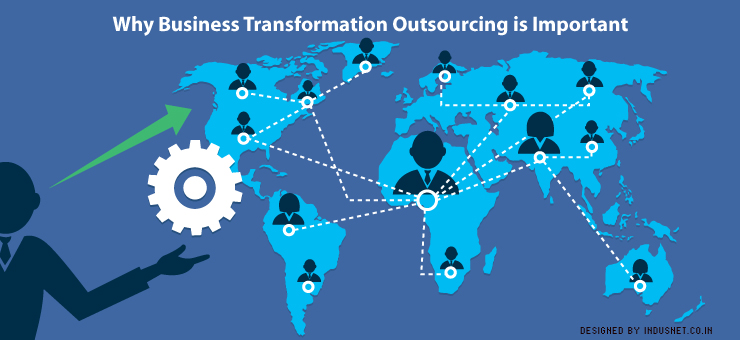 Offshore outsourcing
Strategy
Why Business Transformation Outsourcing is Important
Business Transformation Outsourcing (BTO) is the branch of outsourcing in which the company revamps its selected processes to transform the business by following a collaborative approach with its vendor. Here, the company is actively involved in the outsourced operation and is usually accompanied by joint investment with vested interests.
Of late, there had been a macro-level shift in consumer dynamics and workforce demographics making the old business models obsolete. A BTO project results in the development of technology-based transformations rather than simply lowering costs. BTO is evolving very fast as companies are seeking creative ways to innovate with the help of consultants. Quite often, it has resulted in the formation of a new organization staffed by both employees with its own gain-sharing provisions. BTO makes the company capable of responding quickly to the changing market trends and assist in the innovation of product, service or a process besides keeping a tab on the cost. It helps the company retain significant control over the outsourced service.
With BTO, your organization can make sweeping changes to improve revenue, support growth, reduce costs, lower risk and develop the necessary capabilities to stay competitive. Business transformation outsourcing helps you get rid of wasteful processes and increase productivity, quality and customer experience. To keep the customers happy and gain market share in this highly competitive environment, business leaders are realizing the importance of business transformation outsourcing. Though most of the challenges facing the business are not entirely new it is the technology that is changing continuously entailing new roles and definitions for people and processes involved. A flexible business model is what you need today.
How is it different from traditional outsourcing?
BTO based model is more responsible towards its customers (outsourcers) as the customer is closely associated with the service provider during the entire project. A BTO project is a long-term proposition as it takes time to evolve and is not set with deadlines like in a traditional outsourcing project. It is more or less similar to a consulting agreement wherein the customer and the service provider agree upon a final strategic goal and start working backwards; and after the accomplishment of desired results after a period of say five years, the customer is less likely to renew such a project. As per the experts in the industry, business transformation outsourcing makes a lot of sense in today's world as it holds the capability of cutting the rhetorical tasks of the traditional outsourcing process. Unlike traditional outsourcing, BTO is focused on continuous quality improvement. Strikingly, BTO and traditional outsourcing are neither mutually exclusive nor married as BTO facilitates continuous strategic change while outsourcing.
Potential benefits of business transformation outsourcing
• Exploring the full potential of the outsourced process –
BTO project involves the identification of the problem in the outsourced process itself and finding an apt solution to fix it. It helps you identify growth opportunities and prioritize projects to be in-line with your company's strategy.
• Value addition –
Value addition can be in any form. For instance, an outsourcing company decided to inform its customers about new products and offerings during inbound calls, thus, saving significant costs associated with marketing.
• Customer-driven service model – 
Respond quickly to changing customer requirements by understanding and improving each step in the customer experience cycle.
• Leveraging the knowledge, experience and capabilities of the vendor –
Besides innovation, the BTO process involves sharing resources with the vendor. As vendors have vast experience and enhanced capabilities by working across multiple clients, it is certainly beneficial for the customer to build upon that.
• Mix of consulting services and traditional outsourcing –
A BTO project is often marked by consulting services along with the traditional outsourcing tasks so that the customer gets twin benefits of consultation and outsourcing without having to go elsewhere.
• Freeing up funds to allow investment –
It allows your company to unlock the potential of locked funds, which can be directed towards a sustainable competitive advantage. Moreover, it helps you optimize your capital requirements to avoid redundancy.
• Scaling infrastructure to meet demand and revenue growth –
Infrastructure development is made flexible enough to adapt to volatile market conditions. It allows you to introduce new products and services with greater success. It also enables you to explore new markets and customers.
• Carry out large scale changes with reduced risk –
An experienced business partner will help you smoothly make that transition with premeditated risk factors involved. For instance, by shifting your fixed costs to variable ones, you can reduce risk exposure by minimising your investment in inefficient assets and reducing the amount of debt required to finance them.
• Continuous process improvement –
BTO is not limited to one-time cost saving as in business process outsourcing but continuously works towards process improvement.
• Improved margins for your company –
It helps your company to reduce Selling, General and Administrative (SG&A) expense through cost structures that can scale to meet peaks and troughs in demand.
Factors to keep in mind before opting for BTO
• BTO projects can impact multiple levels of an organization, and the customer must introspect whether the management can work in tandem with the service provider and accept constructive criticism from her.
• Premeditate the impact of this transition on different departments of your company and the flexibility of approach required from them. Involve them from the very beginning to avoid bottlenecks later.
• Analyse the impact it can have on your existing customers.
• Evaluate the prospective vendors based on their customized strategy suiting your business need, track record and market credentials. Select the one that strikes a cord with your organization.
• It is most appropriate to tie the vendor's compensation with the success rate of the project.
• Establish a goal for yourself rather than letting the vendor do that though you may fine-tune it with their support.
• Do not get carried away by short-term business gains as a BTO project requires significant investment.
Key to the successful implementation of BTO
Start with identifying different components of your business. After doing so, identify the components, which differentiate your company in the market. Analyze the components, which require high capital or high cost or both. After doing this exercise, choose the component that needs transformation by hiring expertise outside. Typically, these components include customer relationship management, human resources, procurement and finance and administration. It is the responsibility of both the customer and the service provider to work jointly and inject new ideas into the system. The service provider must know his job to work towards desired business outcomes and be able to use the available resources in the best possible manner.
A BTO project may cause conflicts between the management of the two companies, so it is imperative to have a clearly defined governance model. A successful BTO project will definitely have operating and service-level agreements in place. Besides this, well-defined roles and responsibilities among the management and staff must be there.
Many times, a BTO project is encountered with total unknowns. In such a scenario, the two companies must be able to deal with it diligently. In case, there is a shift in your company's strategy, the same must be communicated to the vendor to avoid conflicts at a later stage.
Successful examples of BTO projects
AT&T appointed Accenture to achieve its business goal of customer retention –
AT&T had been lacking in technologies in customer sales and customer care operations such as CRM, personalization and self-service. Accenture helped her innovate and provide quick solutions to her problems.
Procter and Gamble appointed IBM BTO to transform its HR function –
IBM helped the company fine-tune its HR services catering to 98,000 employees across 80 countries.
Criticism and the way forward
Some experts in the industry claim that BTO is just a marketing hype to have access to state-of-the-art third party technology, which enables companies to restructure their labour-intensive processes and introduce innovation at a reduced cost.
Nonetheless, BTO is an emerging field of outsourcing with proven successful results. Cross-domain expertise is critical to business innovation, especially, for dealing with mature markets like North America and Europe. Naturally, service providers with a proven record of successful transformation are likely to lead the race. While this field is likely to emerge as one of the most important in the future, it does not hurt to stay updated about other related topics in the field of outsourcing as well.
If you have any query feel free to contact us
Subscribe to our Newsletter