back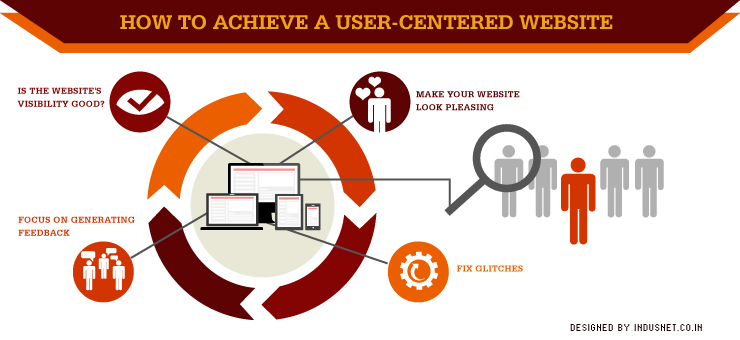 Web design
Web Development
How to Achieve a User-Centered Website
If you are designing a website, do not just look at the business objections, design, technology or fancy features. A website should primarily be user-centric. Users need to find it easy to use a website and needs to feel like coming back to the website. All the stated elements do not take user-centric design into focus. Just great design does not make it usable enough.
Great design needs to also have usability embedded into it. In fact, usability is all about designing it for the user experience. User-centered web design ensures that websites are useful and usable. There are major differences between the two. What might seem like a useful feature for you might not correlate with actual usability, from a user's point of view. With this in mind, you need to ensure that websites are not only useful but also usable.
Efficient information retrieval, navigability and good typography – all contribute towards user-centered design. Most importantly, user-centered websites place emphasis on the users, which helps you to build a better rapport with them, ultimately leading to more bookmarks and increased visits.
In this article, let us take a look at how we can improve usability of a website.
1. Is the website's visibility good?
Make sure that your visitors can see information correctly. This involves taking care of the layout, typography and menu bars. Navigational bars need to be accessible and the search button needs to be visible.
Moreover, typography needs to be carefully chosen so that there is no difficulty when it comes to reading text. Typography needs to be simple and user-centric. Always ensure that the navigation bar is omnipresent. This ensures that no matter where the user goes, he can always find his way back to the homepage.
2. Focus on generating feedback
Users need to be able to give you feedback instantaneously. They need not find it difficult to look for a telephone number or an e-mail address. There are a number of websites, which make it difficult to find contact information. Do not do that.
A good website always has contact information that is easily accessible. This is very important if you have an e-commerce website. During all stages of the purchase, until the checkout process is completed, you need to ensure that you are available and that users can reach you if they need something.
3. Make your website look pleasing
Nothing is worse than having to browse through a website that looks ugly. Websites that are not visually attractive or that which look cluttered lose their appeal quickly. Users begin to move on to more aesthetically pleasing websites. Make sure that you use the right color combinations and do not make your website look garish.
It is important to understand the psychology of colors before choosing a particular color combination. In order to ensure that this does not happen to your website, make sure that you focus on the aesthetics of the website as well. This will help you in the long term.
4. Fix glitches
Usability involves the quality of a website to be browsed well. This means, a user need not feel that he is waiting for the website to load for a long time, that there are always broken links and that there are bugs, which make the experience of using the website an unpleasant experience.
Make sure that fix all the glitches including error pages, broken links, slow loading pages and wrong titles and descriptions. This will ensure that users find your website useful and attractive. Nothing is more attractive than a website that seems to be well-designed but has a number of software and other problems, causing the user to close the tab in desperation.
5. Engage your users
Once you design the website, make sure that it can engage your users with valuable content and communication. You can use content marketing and social media strategies to engage them in good content and conversations. After all, usability also involves retaining people who will use your website.
This is why, we believe that user-centered websites also have a strong social media and content marketing strategies. If you are unable to improve the usability of your website, seek the advice or consult our professional web designers and developers who are into user-centered design.
Subscribe to our Newsletter