back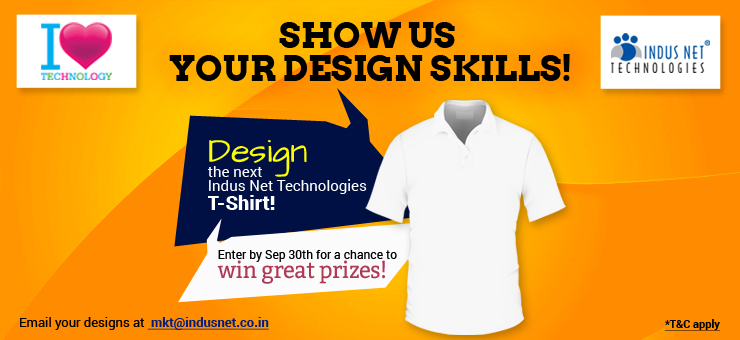 Design
Events
Indus Net Technologies'(INT.) T-Shirt Design Contest, 2015
Want to win 5000/- cash right away? Well! You need to be a little creative to facilitate such an opportunity. Indus Net Technologies(INT.) is looking for the best design to grace its company's T-Shirt. It could be from any of you. So what are you waiting for? Get your pencils sharpened, fire up your imagination and send your sketches to us! We're excited to see what you'll come up with! Here's your chance to show us your creative talent, so don't miss any bit of it.
However, making a design you envisioned come to life on T-shirt requires certain guidelines and attention to details. So your first step is to check the following pointers before you pen down your thoughts –
There shall be no texts or visuals apart from the aforementioned logo of the company
It should be a collared corporate T-shirt. Download T-Shirt Template
Both the 'Indus Net technologies(INT.)' Logo and the 'I Love Technology' Logo contain 3 individual colours respectively. Participants need to exploit these specific colours while designing the T-shirt
All designs must be submitted in .jpeg and .psd/ai format by email only
All design submissions must be within 10 MB
All entry emails should have the subject line – 'INT T-shirt Designing Contest'
The judging criteria is based on creativity and originality
Submissions will be accepted from 17th September, 2015 till 30th September, 2015
Participants can submit more than one designs
The name of the winner shall be declared by the second week of October, 2015
No additional materials including videos, samples, etc. will be accepted with your submission
All entries should be accompanied with the participants' full name, residential address and telephone number
Email us the T-shirt design at: mkt@indusnet.co.in
For more information contact us : mkt@indusnet.co.in
Click here and take a look at the contest's Terms & Conditions.
Are you ready to enter the competition? After all, your designs deserve quality exposure.
Subscribe to our Newsletter