back

InsurTech
API-fication Of Businesses: Must For Customer Centric Omni-channel Experience
The emergence of sleek, transparent and pay-as-you-use insurance products is on the rise. Demand for true-value for premiums paid insurance and consistent customer experience is seeing a global surge. At this juncture, it is evident that building loyalty and long-term insurance relationships will rely on seamless engagement with customers, distributors and the rest of the ecosystem. We predict that the ambit of insurance ecosystems will evolve to include unconventional stakeholders in the form of connected car manufacturers, OEMs, smart home and wearable device manufacturers to ensure last-mile delivery. In such a scenario, API based Omni-channel customer engagement will emerge as a game-changer for insurers.
Rapid development in the Application Programming Interfaces (APIs) segment is fuelling growth in this trend. Eminent insurers, irrespective of them being incumbents or insurtechs, are bullish about APIs and have made considerable progress in adoption.
In a first of its kind, October 2017, Lemonade launched its public API which allowed seamless access to sell Lemonade policies through third-party applications.
Later in November 2017, AXA Asia launched its end-to-end insurance transactional API based Insurance as a Service (IaaS) model. The company allowed partners with complementary offerings to plug into their open APIs and create products to ensure seamless insurance delivery.
Why multiple customer engagement channels?
While most carriers have multiple engagement channels in place, the disparity in experience across different channels remains a major concern. A number of insurers who want to consistently score higher on customer experience index allow fluid movement of customers across their channels. According to Digital Insurer, USAA Insurance records over 90% of customer interactions on digital channels by allowing free movement across channels.
Let us look at the value proposition of Omni-channel customer engagement in a digital insurance ecosystem: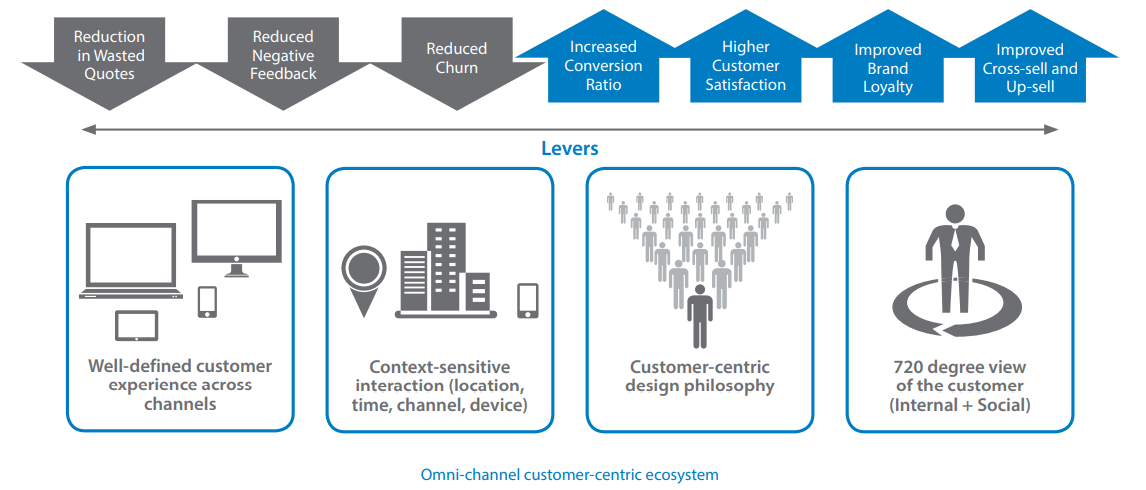 Source: Digital Insurer
While the value proposition is tempting and lucrative, establishing an Omni-channel engagement strategy requires efficient content management, personalization of services, delivering a device-agnostic experience and data analytics-driven improvement measures along with a shift in culture to support continuous growth.
Aegon Life, one of the leading insurance companies to have adopted a "Hybrid Distribution Channel" or Omni-channel customer engagement strategy announced about its plans of selling its products through "new-age distribution channels".
Let us take a look at some of the salient takeaways from Aegon Life's transition:
Customer Centricity: Aegon offered its potential customers the option to choose their preferred communication and transaction medium. Customers could choose to be contacted by company agents, directly buy from the company website, or buy the insurance through a broker.
Personalization: It strived to deliver personalized services by routing calls to relevant agents. To put it in simpler terms, imagine a high net-worth customer inquiring about a life insurance product from New Delhi. The company can then geo-locate the nearest agent, who specializes in dealing with life insurance for HNIs. This promotes intelligent conversation and quality management.
What insurers must do now?
It is important for insurers to adopt a true Omni-channel strategy, rather than a multi-channel strategy. Unlike multi-channel engagement strategy, which restricts itself to specified channels, Omni-channel strategy enables insurers to provide their users with the ability to obtain the right information at any moment of time; to make more contextually sensible decisions across the value chain and the power of transacting through multiple mediums.
An ideal Omni-channel framework for engaging customer within an insurance ecosystem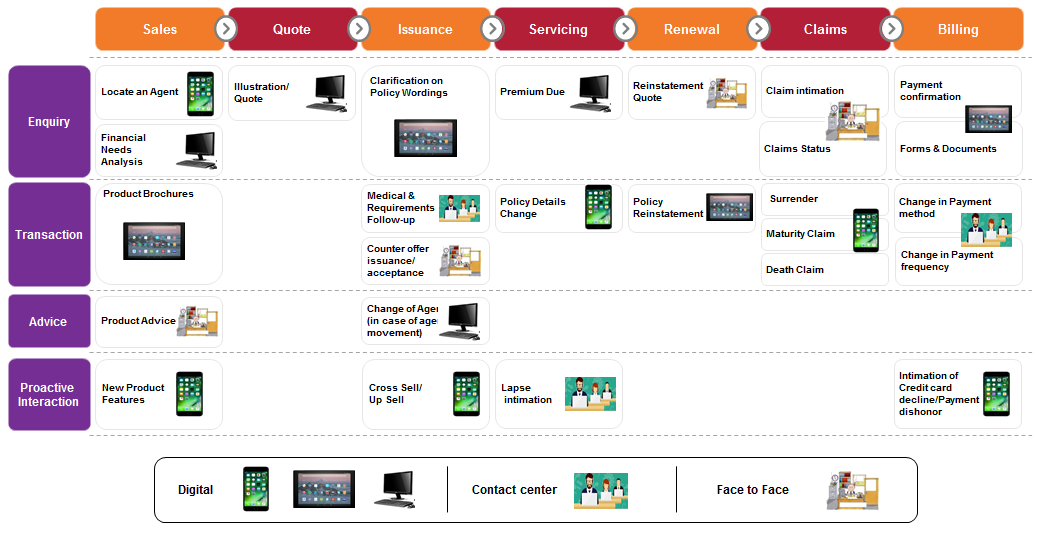 Source: Mind Tree
Sustaining an Omni-channel customer engagement ecosystem will require insurers to forge partnerships with Original Equipment Manufacturers (OEMs) in the value chain. The focus should be on risk prevention, rather than risk coverage and management. This is not a new concept in the industry and a lot has happened in this regard. Be it Progressive partnering with Zubie, a vehicle-tracking and engine-diagnostic device, or Liberty Mutual partnering with Nest, a smoke detecting device maker or Manulife's partnership with Indico Data Solutions to develop a deep-learning tool for unstructured financial data.
We anticipate partnerships will be an effective tool in offsetting the lack of customer touchpoints and contribute positively towards enhancing customer engagement.
Subscribe to our Newsletter