back

Emerging technologies
Strategy
Usability
Omni-Channel Customer Engagement : Inspiring Loyalty by Driving Great Customer Experiences
If you own a business or head the marketing department of any organization, you will know the hard work and resources that go into building digital assets such as content, documents, PDFs, audio and video files, and images. Not only is it expensive to create rich media, it is also difficult to distribute them to the right customer at the right time. Considering how marketing strategy is changing altogether, one needs to remember that rich media content is getting richer, thanks to all the digital marketing and various forms of communication that we use to influence our customers.
In addition, our customers and target audience themselves add to this sea of content, in terms of social conversations, reviews, queries, questions regarding products and services, etc. It wouldn't be an exaggeration to say that even calls made to the customer care can be included in our list of digital assets, as much of that is used for training, or to improve marketing communication. At the end of the day, all this rich content is used to enhance customer experience and is delivered and received through multiple channels.
Why multi-channel customer experience is a problem
Multi-channel customer experience may seem effective, but is inherently chaotic, and misses the context. Let us take a look at this example:
While a customer might browse for information on your website on his mobile device, he may choose to visit your brick and mortar store to take an actual look at it before making the purchase. When he arrives at the store, he may realize that a third-party vendor such as Amazon is providing a better discount than your brick and mortar store, and may eventually order it off that platform. In between, your blog may not have updated information about the product he wants, but Amazon's customer reviews may.
If the product has a problem, or if he has any questions regarding his purchase or warranty, he will probably have to call up Amazon, and your customer care, and co-ordinate between the two entities, leading to a lot of confusion and chaos. In the end, he may leave an average or below average review just because he was annoyed with multiple channels being made available to him. Worse, he may rant on Twitter about the perceived lack of help he received.
What gives?
In the end, though you may be offering various forms of information and media on multiple channels for your customer's benefit, he may end it on a sour note. While multi-channel customer experience is the reality today, it needs to be delivered via an omni-channel model. How is this even possible? Well, modern technology allows multiple channels to converge, and appear as if it were all tied together, resulting in a truly omni-channel customer experience.
Understanding the omni-channel customer experience model
Omni-channel customer experience brings voice, email, chat, media, and other forms of content together, and distributes this across channels by placing them in a context. By synchronizing these disparate channels, omni-channel experience brings a context-appropriate and customized experience to each customer across the buying cycle or customer journey.
On an omni-channel model, when the man described above browses your website for a product, the CMS picks up his visit, shares this with the CRM, and communicates to the backend. Probably, when he arrives at the brick and mortar store, the sales guy already has this information on his tablet, allowing him to give a special discount. What's more, your customer care executives get a detailed history of the customer's buying journey, so that he doesn't have to explain anything all over again.
In this model, you avoid the confusion, save the customer's time, make him happy by solving his problems quickly, provide a great buying experience, and avoid the pitfalls of online rants and bad reviews. Most importantly, you inspire loyalty by providing a seamless experience right from the time he made that web search to the time he called up the customer care after making the purchase. All along the journey, all the content and digital assets you have created are shared to him depending on the context, across devices and channels, ensuring that there is no information overload or out-of-context communication.
In other words, an omni-channel customer experience model gives you control over how you manage your digital assets to your customers' and your advantage. Instead of having disparate processes of document management system, CRM, ERP, offline situations, etc, omni-channel customer experience brings all this together through integration and cloud computing techniques. All customer engagement exercises are sourced from a central repository which influences the way your CRM, ERP, document management system, and other tools behave across channels. In short, today's omni-channel customer experience is a tightly-knit and cohesive multi-channel model that actually works.
How does omni-channel customer engagement work?
An omni-channel customer engagement model begins by creating appropriate awareness and uses your existing digital assets such as rich media and blogs, which are distributed across channels. Deeper-level content is then used to generate interest and desire both online and offline and once your automated systems recognize the desire to purchase, a convenient purchase process is presented to the customer. Customer's needs are fulfilled by constantly engaging and communicating, and customized post-sales support is provided, leading to customer satisfaction and loyalty. Here is how you can use omni-channel customer engagement to inspire customer loyalty: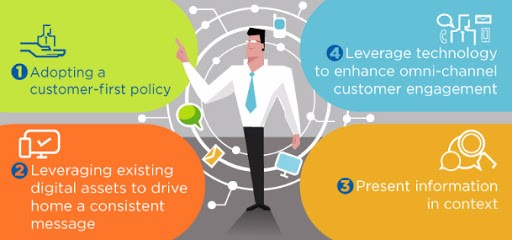 Adopting a customer-first policy
Whether your customer prefers to walk into a store or chooses to browse on his mobile phone, you need to place his needs at the top of your priority list. Develop and reuse content, and distribute it across channels such as website, email, offline media, etc depending on who your customer is. Identify buyer personas and use analytics to place your existing digital assets within the context of your individual customer. Of course, a lot of this permutation and combination is done by software tools resulting from integration, so that omni-channel customer engagement is automated to an extent.
Leveraging existing digital assets to drive home a consistent message
Once you publish blogs, whitepapers, eBooks, or even explainer videos, make sure that they are all connected to each other. Deliver and distribute all this rich media content with a consistent message in hand. Integrating your document management system with your CRM helps in driving home a consistent message. Insuring that your document management system is integrated with your ERP ensures that your backend knows exactly how your marketing collateral is being used for each buyer persona. Across all channels, your marketing message and brand communication must be the same, and integration helps you to "remember" your individual customer's buying journey. Match your digital assets with your customer's buying journey to bring a consistent message to his platter.
Present information in context
Understand your customer's needs, and present marketing information based on his particular needs. Presenting information well within a given context is important to inspire loyalty. After all, no customer wants to read a whitepaper about an unrelated product when they are interested in something else. Use web traffic data, demographic details, etc to present information in the right context. You can even edit your marketing collateral to customize the content to some extent.
Leverage technology to enhance omni-channel customer engagement
Most importantly, it is important to remember that omni-channel only works when you use the appropriate technology. Without integrating your CRM, ERP, document management system, and other enterprise software programs, you will not be able to bring together an integrated and holistic experience to your customer. Leverage your existing technology by integrating them for the purpose of enhancing omni-channel customer engagement. After all, every customer wants to come back when they know that all your marketing channels somehow magically know what he is thinking, doing, and planning to do with regard to his purchase!
Loyalty is earned
As you might have understood already, loyalty is earned over a period of time. The only way to inspire loyalty in customers is by attending to their needs and providing a consistent experience that surpasses that expectation. An omni-channel customer engagement model provides a synchronized and customized experience across channels both online and offline. When miscommunication, chaos, and lack of context are eliminated, customers feel they are being attended to. This inspires loyalty in even the most difficult of customers, and that is what your marketing goal should be.
Subscribe to our Newsletter