back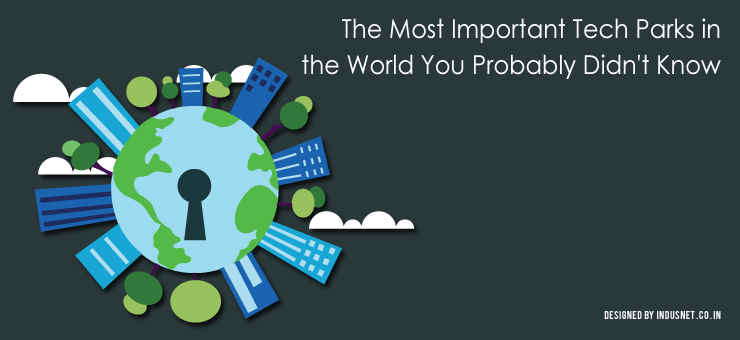 Strategy
The Most Important Tech Parks in the World You Probably Didn't Know
If you often travel to distant cities to attend conferences and seminars or to strike a business deal, you probably have visited a number of business & IT parks around the world. The fact that we deal with Information Technology and the Internet provides us with opportunities to visit these 'silicon valleys' of the world & explore different cultures at the same time. Though our profession can often keep us busy, one of the fringe benefits is that we get to travel around the world whenever software conferences and IT or technology meetings are held.
One day we could be in San Francisco and on the other, in Barcelona. The next week, we could find ourselves in London. This is a privilege that we need to acknowledge that we have, which most professionals and entrepreneurs do not have. Being able to visit exotic countries and to learn about their cultures also help us to run our own businesses in a better fashion by understanding different ways of working & managing.
When we visit IT and tech parks around the world, we always come back with ideas to recreate what we have learned in our own countries. Certainly, IT and tech parks help us to learn a lot about local cultures in spite of them being the pinnacles of globalization. In this article, let us take a look at 10 IT & business parks around the world, which are all located in exotic locations and listed in no particular order. The next time you visit any of these, do not forget to come back and let us know what your experiences were.
• Hoa Lac Hi-tech Park, Hanoi, Vietnam
Vietnam probably does not come to your mind when you think about Information Technology. Here is the deal. Vietnam has slowly been working towards becoming an outsourcing giant and it already has. With access to great technical education and a large population of youngsters, Vietnam has achieved what many others have only tried to achieve – contribute to the world of IT, in spite of difficulties at home.
The Hoa Lac Hi-tech Park is the largest and the first hi-tech park in Vietnam. Close to Hanoi's Noi Bai International Airport, Hoa Lac Hi-tech Park has 6 functional zones – Research and Development, Software Park, Hi-tech Industrial Zone, Education and Training Zone, Central Area (for conferences, restaurants etc.) and a service zone where one can find supermarkets, hospitals, hotels etc.
• Information Tech Park, Bangalore, India
When we speak about Information Technology, Bangalore cannot be ignored. It probably introduced the verb 'to be Bangalored' in English language. Located 18 kilometers from the city centre, the International Tech Park is located at Whitefield, a quaint colonial suburb of Bangalore, which has now been replaced by glass-facade buildings.
Along with Electronics City in the other end of the city, the IT Park in Bangalore caters to most of the software companies that have set up shops in Bangalore.
• Konza Technology City, Makueni, Kenya
This BPO and business centre project undertaken by the Kenyan Government seeks to address the needs of IT companies that have slowly begun to move to Kenya. It shall be built on a land of 5,000 acres and will house hotels, shopping malls, offices, convention centers and a science park.
It is expected to cost $14.5 billion and is located 64 kilometers south of Nairobi. This is probably the place where you can not only work on your coding but also learn more about the African Savannah.
• Har Hotzvim, Jerusalem, Israel
Israel is one of the most important centers of Information Technology and entrepreneurial activity in the world. Israel's IT boom has helped the country to excel even the companies in California's Silicon Valley. Har Hotzvim is located in northwest Jerusalem and houses companies such as Sandvine, Radware and Teva. Apart from large companies, it also houses more than 100 SMEs and provides employment for thousands of people.
Jerusalem is one of the most ancient cities in the world. If you ever get to visit this hi-tech park as part of your business, do not forget to learn more about this wonderful city. What you learn can leave you humbled.
• Digital Media City, Seoul, South Korea
The Digital Media City is located in Seoul, South Korea. This massive complex houses networked offices, digital agencies, exhibition halls, serviced apartments, cultural centers and auditoriums. With an area of 6,100,000 sq. ft., it is very huge, we can say. The hi-tech city is dedicated to companies that deal with e-learning, digital media, broadcasting, games, movies and music.
Many well-known IT companies such as Pantech, LG Telecom and others have their offices too. When you are there, do not forget to visit the Korean Film Museum and spend some time at the Korean Film Archive. Seoul itself has a number of places to visit and see, outside the Digital Media City. Being an economic powerhouse, it has some of the best shopping and cultural options in the developed world.
• Cebu IT Park, Cebu City, Philippines
This 24-hectare IT and business park is located in Cebu City and is dedicated to Information Technology companies. Some of the companies that have offices in its massive buildings are Convergys, Stream, eTelecare, Accenture and others. IBM too has its office at the Cebu IT Park. When you are in Cebu, make sure that you visit other cities of Philippines as well.
The colonial history and the diverse culture of this island nation make it a unique place to learn things from.
• SmartCity, Kalkara, Malta
If you thought Malta was all about the Sun, sea and sand, think about it. It houses a technology park that is still under development. When completed in 2021, it will cover an area of 3,60,000 square meters. The first offices already opened in 2010, which means, you might have to take a flight to Valetta very soon. Learn about the ancient Greek and Roman cultures when you are in Malta.
• Business Park Sofia, Bulgaria
The Business Park Sofia (BPS) is the largest technology park in Southeastern Europe. It is located just 10 minutes from Sofia's international airport and has a plot area of about 2,20,000 square meters. With more than 10,000 people working in it, BPS is also one of the business IT parks in the world. The facility accommodates businesses from diverse industries. When you happen to visit Bulgaria, make sure that you check out Sofia's quaint cobblestoned alleys and ancient architecture. The city is a centre of European culture, though it has long been ignored by tourists.
• Catalinas Norte, Buenos Aires, Argentina
Argentina is not often in news for all the right reasons. Though its economy is in bad shape, the country has several IT companies that excel in their field. Catalinas Norte houses 19 commercial buildings and several companies, diplomatic offices & foreign subsidiaries who have set up their offices in it. If you visit this business park, spend some time in the beautiful city of Buenos Aires.
Suburbs like Belgrano and Flores have been immortalized in poetry & literature. Buenos Aires is known for its European outlook and the desire to compete with the likes of Paris & Barcelona. Not surprisingly, Buenos Aires looks more like a classy European city than an American urban area with skyscrapers.
• Cyberport, Hong Kong
Cyberport houses several digital and technology companies. Describing itself as a 'creative digital community', Cyberport houses 4 office buildings, a retail complex and a hotel. Located on the Cyberport Road, this hi-tech business center can be an ideal jumping pad to discover the amazing city that Hong Kong is today.
Hong Kong is one of the most beautiful cities in the world. It has an amazing selection of shopping complexes, architectural masterpieces and ancient temples. Make sure that you discover and explore this gigantic city when you visit Cyberport.
If you have been to any other technology and business parks that we have not listed here, do let us know. It can be an amazing experience to discover IT parks and the cities they are located in as they help us to understand foreign cultures & practices. All that will only help us to run our businesses better. If we can travel and see places & use that knowledge to our benefit, what could, actually, be better than that?
Subscribe to our Newsletter