back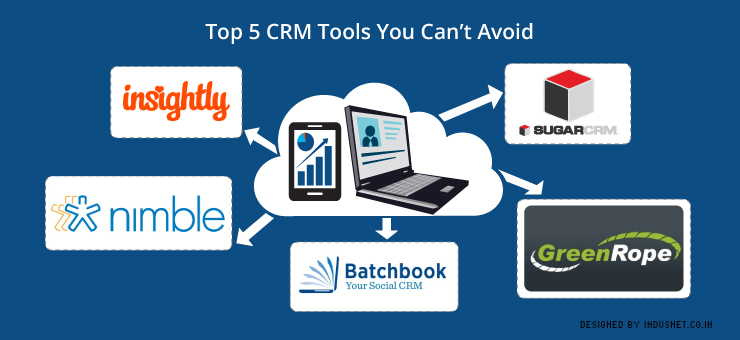 Design
Web Development
Top 5 CRM Tools You Can't Avoid
As a small business owner, you are often loaded with managing your business operations through multiple applications including client relationship, project management, address books, task list and many more but having a resourceful cloud-based CRM application for your mobile devices or laptops will make lead generation, selling and opportunity management fairly simple. Now get rid of any apprehensions of expanding your business as it is going to streamline the information exchange and augment your relationship with the ever increasing list of customers.
There are many feature-rich CRMs available in the market today but we have chosen 5 CRM applications of the many
• Insightly
Insightly is an easy to use application that links together your clients, projects, tasks and any other custom field you wish to add on a single dashboard. It has an integrated search feature which enables you to search email attachments as well. It smoothly organizes your emails on the basis of clients, projects and teams so that all your interlinked information is grouped together. Apart from that, it integrates with Gmail & other Google applications, social media platforms like LinkedIn and Twitter.
• Nimble
Nimble is a social media oriented CRM tool which integrates all the mediums of interaction with your client including LinkedIn, Twitter, Facebook, Google+, Skype, phone or email. Identify the contacts looking for your products through search on social media websites and track their activities to know them more. Besides this, it automatically searches for your client's profile on social networks and lets you update status or send messages to anyone. Nimble also integrates with Hootsuite which increases social selling and engagement opportunities. The Unified inbox interface listens to all the relevant communication occurring in social networks and present it on a single platform.
• Batchbook
You can easily import all your contacts into Batchbook by mapping the relevant fields. It gives you the freedom of merging records and tagging your contacts. Drag vcards and spreadsheets from your PC to any screen on Batchbook and it'll be saved in an appropriate location.
Get complete information about your customer, as it coagulates all sorts of communication including tweets, follow ups required, blog comments, at one place. Assign tasks to your team members and manage your leads & deals. Create custom fields to keep a track of important data in Batchbook. Like Nimble, it too integrates with Hootsuite and social media platforms such as LinkedIn, Twitter and Facebook.
• Greenrope
GreenRope is a simple to use cloud-based platform to combine all your business operation and marketing needs. You can send emails and newsletters, manage events and set automatic reminders. Its social media marketing tools help you integrate with Facebook, Twitter, LinkedIn etc and you can view all the activities via social dashboard. GreenRope integrates with Zimbra to streamline your business email inbox and enhance productivity by collaborating with your team members through shared folders, documents and calendars. This CRM system even allows you to do SMS marketing by easily sending SMS to your contacts. Its real-time tracking feature allows tracking your marketing campaigns and knowing who is reading what. GreenRope easily synchronises with Microsoft Dynamics to quickly send the contact details from latter to former.
• SugarCRM
SugarCRM's modern web calendar keeps you on time with your schedules and meetings. It also maintains the history of meetings with your clients which is easily searchable. SugarCRM email syncs with Microsoft Outlook, Lotus Notes, Gmail, Yahoo Mail and IMAP based email servers. Its call center kit enables the call center agents to have a comprehensive view of customer information on a single screen. Like Insightly, it too integrates with Google apps including Google docs, maps, calendar, Android etc.
Sugar Project and Activity Management helps the users to manage their tasks and enable seamless integration among the team members. Its reporting tools help you generate reports on market analysis, performance of sales reps, sales forecasting and much more. It offers quick search for data located anywhere in the CRM. And like many other CRMs, it integrates very well with leading social media networks.
All the above mentioned CRM tools can be run on mobile devices, a great advantage for salespersons to save time while being on field. But one must chose the CRM system best suiting his business needs.
Subscribe to our Newsletter