back

InsurTech
Revolutionising Customer Experience: Exploring the Benefits of 360 Customer Dashboard in Insurance Sector
Customer experience is the biggest buzzword today for the insurance sector in an increasingly digitised environment where hyper-personalisation is steadily becoming the norm and not the exception. In this context, a 360 customer dashboard is fast becoming a necessity for insurance companies.
Why so? Before getting into the modalities and benefits of a 360 customer dashboard, it can be said that it can be a multi-pronged tool, enabling higher customer satisfaction as a result of better experiences, while enabling insurance companies to gather vital business intelligence alongside.
How and why a 360 customer dashboard is useful for the insurance sector
Most insurance companies are already undergoing a massive digital transformation in order to keep up with their customers or target audiences. Digital-only customer interactions are projected to increase sharply over the next few years as a result.
Creating a 360-degree view of the customer offers various benefits for businesses, particularly at a juncture when customers are also expanding their scope of digital activity and leaving footprints or invaluable data across platforms, interactions, and channels.
Insurance companies should carefully aggregate and compile this data while leveraging it smartly to gain better insights, drive sales and marketing growth, and understand consumer behaviour in a better way. At the same time, they can also use the same to ensure more personalised experiences for customers.
A 360 customer dashboard ensures an end-to-end view of the customer and all relevant aspects, enabling any system or employee to get access to necessary customer data throughout the lifecycle.
Here are some of the biggest benefits enabled by a 360 customer dashboard: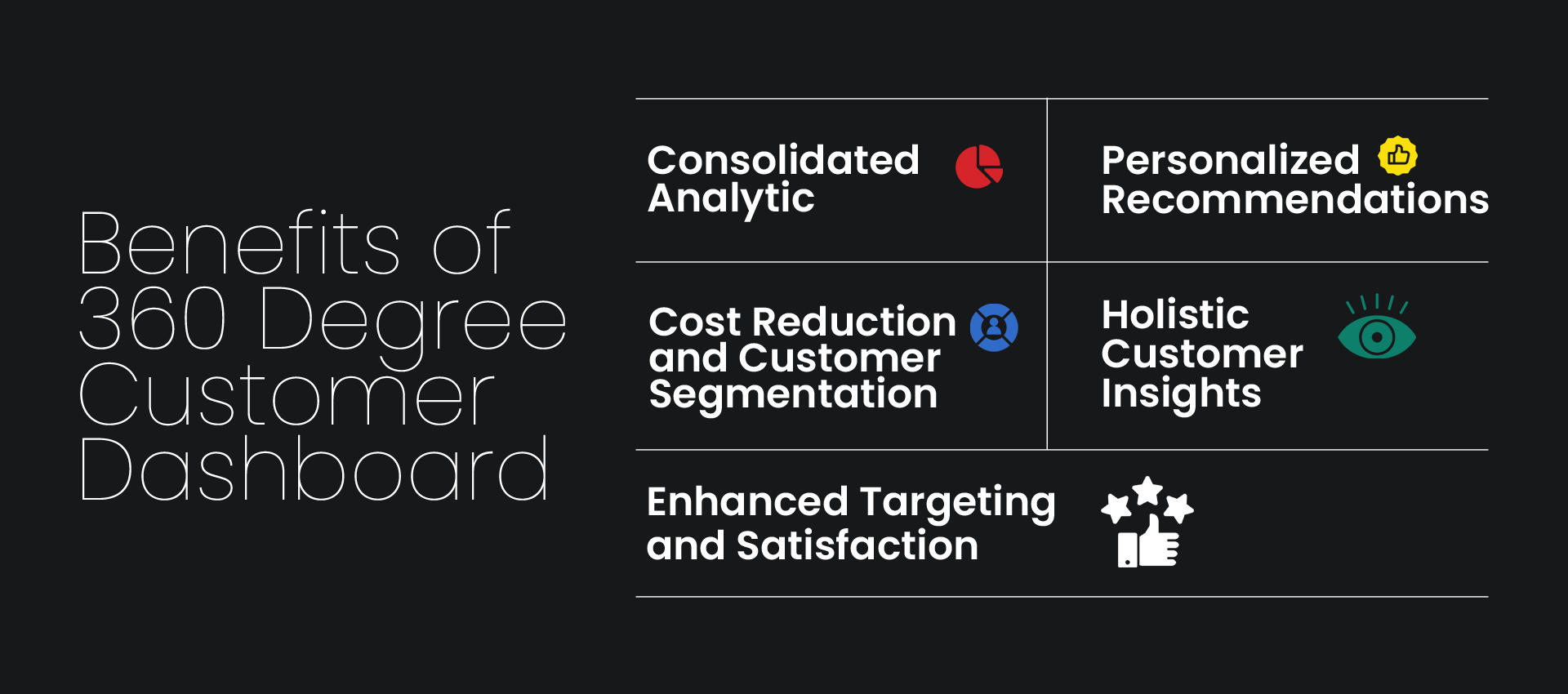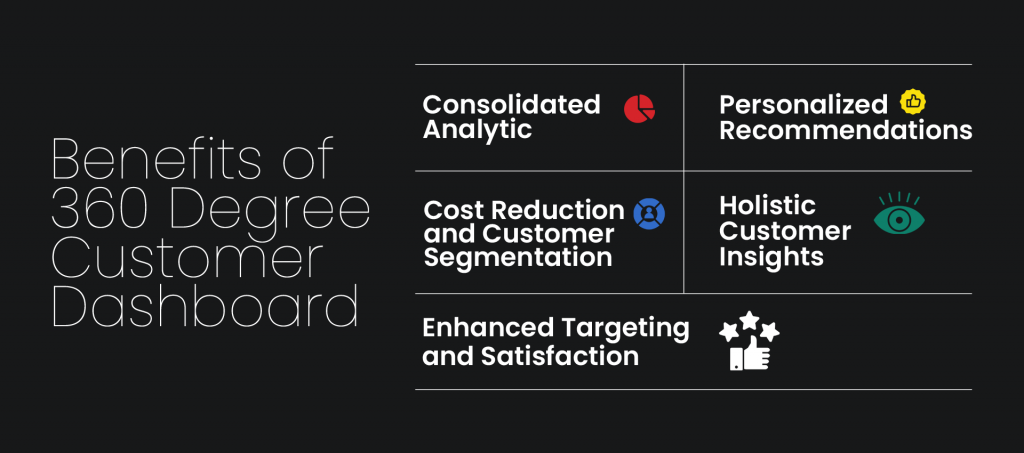 FAQs
What kind of customer information can be accessed and displayed through a 360 customer dashboard?
A 360 customer dashboard can collect information on customer buying preferences, historical transactions, feedback, future requirements, and so on. It can collect data across multiple touch points.
Can a 360 customer dashboard help insurance companies identify and anticipate customer needs?
A 360 customer dashboard will help insurance companies analyse historical customer data and purchasing behaviour. This will ultimately help it identify customer needs and insights on their sentiments and feedback. This data can be leverage to forecast future needs.
What are some potential challenges or limitations in implementing a 360 customer dashboard in the insurance sector?
Some potential limitations include the lack of technological integration with existing databases, absence of digital literacy or familiarity with advanced tools, data security/privacy, and most importantly, the quality of data being gathered.
What security measures are in place to protect the customer data displayed in a 360 customer dashboard?
DLP or data loss prevention measures are mostly used for safeguarding consumer data that is shown in a 360 dashboard. Other measures also include data encryption for higher security.
Subscribe to our Newsletter