back

Emerging technologies
General
Your handy guide to turn your house into a smart home
The alarm goes off and your perfect cup of hazelnut coffee is ready. Rich and nutty, just the way you like it. And the best part: you can make the coffee without having to leave your bed.
Even a few years ago, this would seem to be a scene straight out of a fairytale or a sci-fi movie. But not today. You can make a pot of coffee from anywhere using your smart device. That's the power of technology and that's how home automation is changing our lives.
Who doesn't love a comfortable, easier, secure and convenient lifestyle? Smart home and Internet of Things (IoT) are completely redefining our way of life.
From voice-activated smart speaker Amazon Echo, who will be at your beck and call, smart lighting which would automatically turn on the moment doorbell is heard, shades of the room which can be adjusted from the mobile app to remotely monitoring the snoopy activities around the house, you can do everything by a single click on your smart device today.
Smart homes give you the ultimate power to control, monitor and manage your home sweet home and also your office through some digitally connected products, anytime anywhere in the world.
Home automation is a ragingly growing market with the US having the highest smart home penetration rate, followed by Japan and Germany. According to the global smart home market, the market size would reach a value of more than 40 billion US dollars by 2020. Now, that's encouraging for the tech giants and venture capitalists who are pouring money for the growth and advancements of these technological innovations.
The real estate scenario has also undergone a sea change, courtesy smart home technology. Realtors and builders are increasingly adapting to these new innovations and also making the buyers aware of smart homes and how these "intelligent homes" can communicate with them too. Interestingly, millennials form the largest consumer segment in the US. They are a bunch of technological savvy citizens and have a completely different approach when it comes to investing in properties. The real estate giants are taking their preference into the count to make the homes modern.
According to August 2016 report released by Coldwell Banker LLC, home-buyers are increasingly looking for their homes to be automated, or at least which have the potential to be automated.

In India, the concept of smart cities has been finding more common ground. So, it wouldn't be long that India too will start adapting this budding technology. Startups in India are jumping onto the bandwagon on home automation and technology students are also trying to make breakthrough innovations in this domain. According to a report published by RedSeer Consulting in 2015, home automation market in India is expeditiously growing and is expected to reach Rs 8800 crores by 2017. That's good news.
Santanu Mukherjee, head of digital marketing, Indus Net Technologies, admits that India too is welcoming home automation with open arms with several players already ruling the market. However, he also agrees that it will take some time before home automation finally finds its stronghold in India.
According to Mukherjee, the primary reason is the lack of awareness in this sector. "Till now, maximum buyers in India consider the property with smart home IoT devices as too luxurious investment. The high product cost of home automation is also barring consumers from exploring this space. As of now, smart homes are a super luxury component in India," he says.
Let's take a quick look at the 5 ways how you can turn your home into a smart home.
Let's get connected
Just imagine you have a large home and you want to switch off your AC from your smart device in the room upstairs. Alas! your WiFi can't reach there.
You can convert any home into a smart home, provided you have a strong WiFi connection and by strong, we mean "so powerful and fast" that all the smart home IoT devices in the house are connected. In simple words: your home should be WiFi friendly and should have a connection even in the remotest corner of the house.
Now, the first rule before you think of smartening up your home, you should get a stable internet connection. And there are a number of wireless routers and Wi-Fi system using mesh technology in the market, which promise strong network coverage. Here are five WiFi systems you might use when implementing smart home technology:
Samsung Connect Home Smart Wi-Fi System
Google Wi-Fi system
Eero
Luma Home WiFi System
Linksys Velop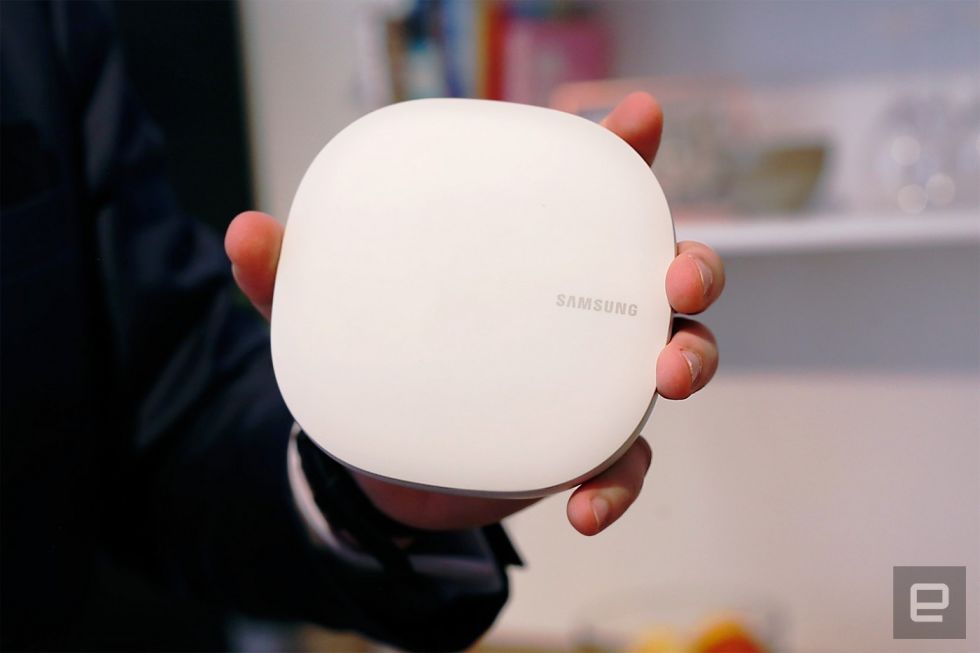 Samsung Connect Home Smart Wi-Fi System. IC: Engadget

Safety matters
Did anyone break in when I was not at home? Who's that person sneaking around my house at midnight? Keeping the house secured is one of the most important thoughts that continuously hover in our minds. When it comes to smart home technology, security is the first thing that most real estate or customers prefer. And mind it no one wants to compromise when it comes to the security of your most-prized possession, your house.
IoT has made it easier to set up a smart home through its smart security systems. Today you can control the security and comfort of your home from smart device. These smart devices can be installed at your home or office and you can monitor every step sitting at the remotest corner. So, from security cameras (indoor and outdoor), window sensors, door locks, motion detector, smoke detectors, water sensors to garage door openers, smart home security system connects to your abode to Wi-Fi network. You can keep a watch on all the activities 24X7 using your smartphone and apps. Alerts in the form of emails and text messages are sent to you on the go.
"Security is a big issue, especially for working couples who depend on external help to manage their kids. However, reliability on external help is questionable. To address this issue, smart home can be a great help. You can monitor what's happening at home from afar. Smart home can be a boon for caregivers who do not live with their parents," says Mukherjee.
Here's a list of five smart home devices, which will keep your home safe:
August Smart Lock
Nest Cam Outdoor
iSmartAlarm
Netatmo Presence
Samsung Digital Door Lock SHS-P718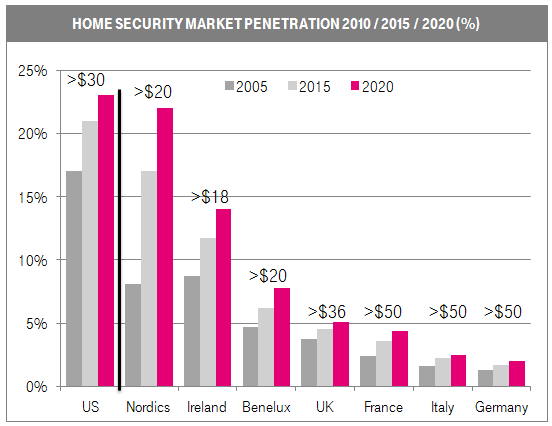 Source: IFSEC Global
Look who's talking
"Alexa, switch on the light. Alexa, adjust the thermostat." In today's smart home, you can prepare a hearty meal, book a cab or play your favourite song by just talking to the voice-activated smart-home systems such as Amazon's Echo and Google's Home. Thanks to advancements in AI (artificial intelligence) and Machine Learning (ML), speech recognition technology has revolutionized home automation.
Through Amazon's voice assistant, Alexa (you can talk to her through Dot, Fire TV, Echo, Fire Tablet and the Tap) you can remotely control many functions of your house. Google Home is also integrated with a number of smart home systems such as thermostats and water leak sensors to name a few.
VoiceLabs forecasts that 24.5 million of these "voice-first devices" will ship in 2017. Given the unprecedented rise in AI space, big players are steadfastly joining the race. Microsoft's virtual assistant Cortana already works at your command, but now the tech giant is planning to soon launch Cortana in the home automation market. Though Amazon is way ahead in the race, according to reports, it won't be long when Apple's Siri smart speaker will also participate in the competition of smart home.
These small digital assistants have become the centre of the universe for smart homes. Trust us, once they arrive at your house, you would never want to bid these "ever-attentive digital friends" goodbye.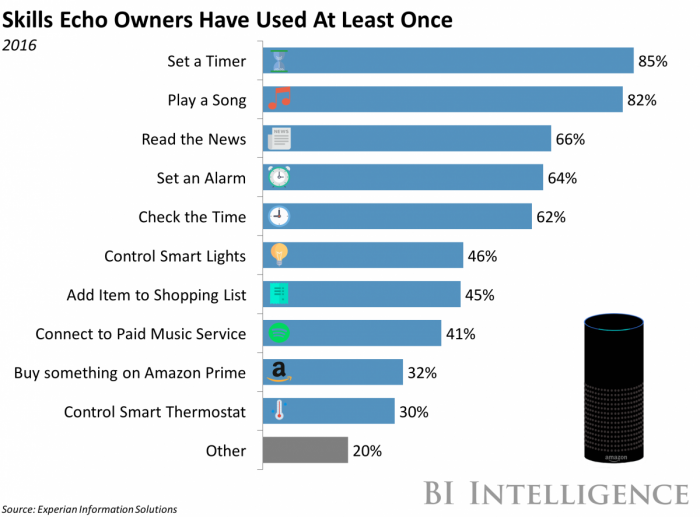 Let there be light
How many times you have been on the bed but didn't want to get up to switch off the light? Today, you can dim or switch off your light through your mobile device even without moving an inch.
Smart lighting solutions in home automation turn on lights as you arrive home or enter rooms. You can also brighten or dim the lights and even change the colour through your smart devices and apps. This reduces energy usage at homes and also cuts down on the electric bill.
Lights can brighten up a dull looking room instantly. Here are five smart lighting solutions for your smart home:
According to a report in Redseer Consulting 2015, lighting and security are the top selling products in home automation in India, accounting for nearly 80-85% of the market.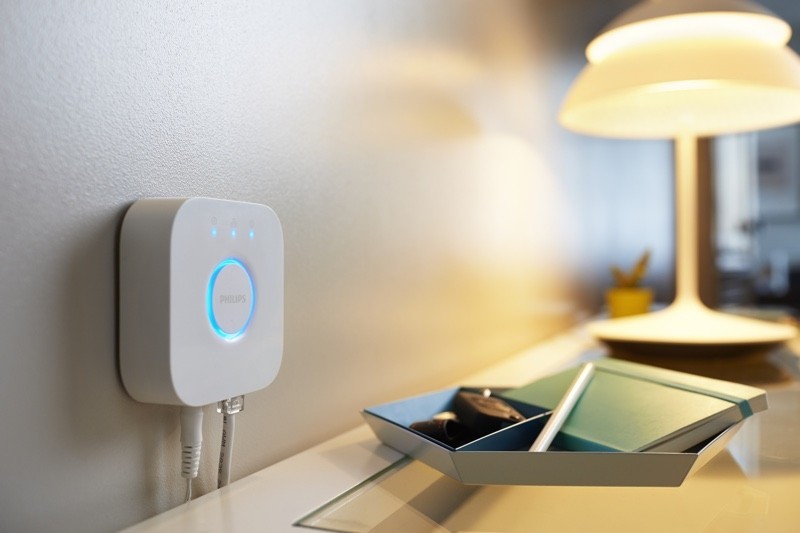 Philips Hue provides automated lighting solution. IC: TechCrunch

Cooking made easy
A refrigerator, which tells you what to eat to an electronic fork that helps you keep a track of your eating habits for weight loss, IoT has made your culinary life simple with smart kitchen devices. These smart kitchen gadgets are a blessing for those who don't like spending time at the kitchen or simply dislike cooking. Thanks to IoT revolution, you don't need to worry about charred food anymore when you are away from the kitchen.
We draw a list of five smart kitchen appliances and devices, which will make cooking easy and food yummy:
LG ThinQ Refrigerator
June Intelligent Oven
Crock-Pot Smart Slow Cooker with WeMo
Mukherjee has a word of caution for adopters of smart home technology. "If you are trying to automate your house, don't make everything automated at the same time. Consider your needs and then go ahead," he says.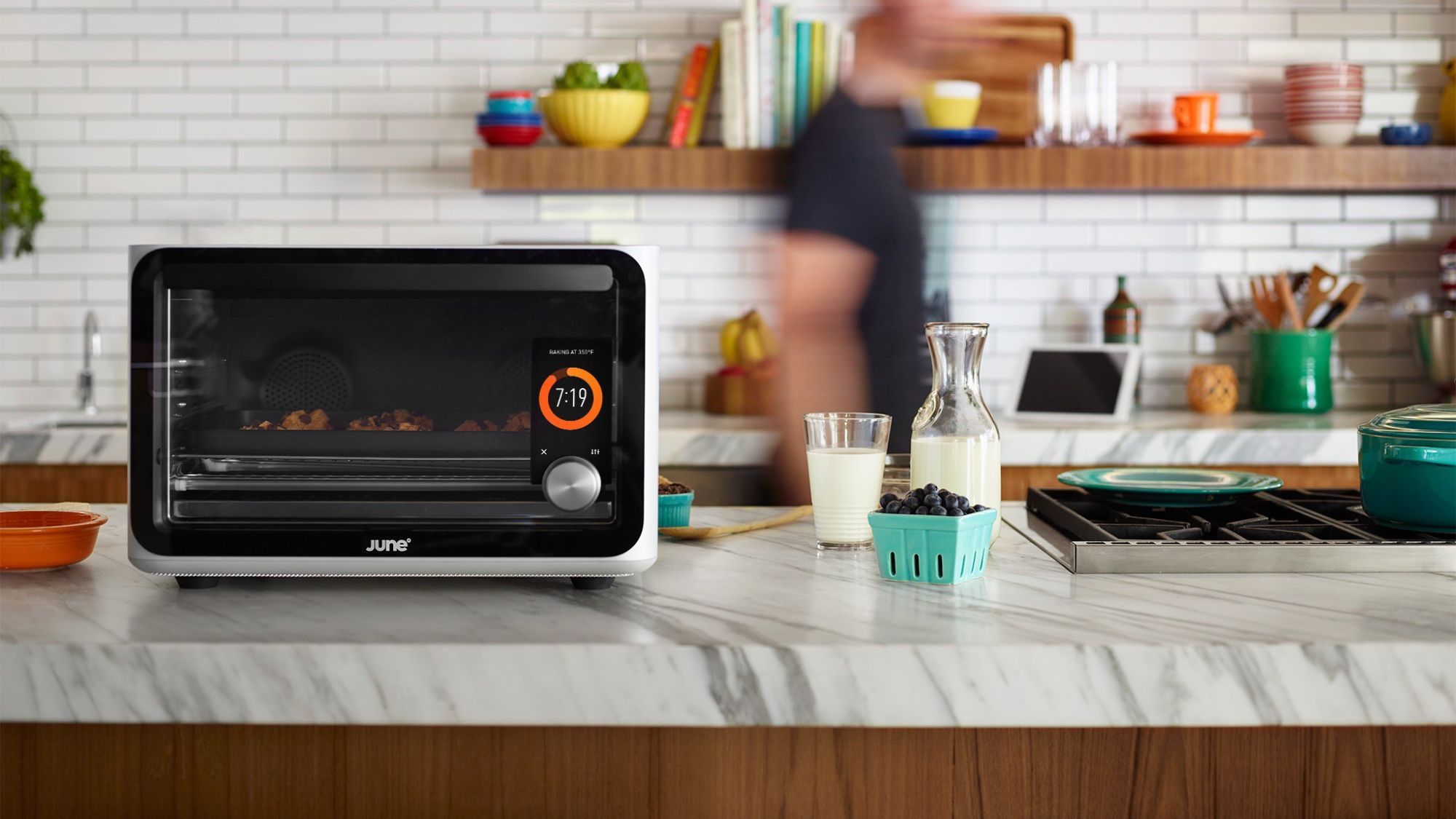 June Oven is a computer-based oven. IC: GetdatGadget

Be aware of hacking
Now, it's understandable that people are reluctant to some extent when investing in smart home devices given the security issues. Also, any system which is connected to the internet has the potential to be hacked. Here are few simple tips, which you can follow to keep hacking at bay:
Always buy products from trusted companies
Change the password as soon as you set up a new smart home device
Install software updates as soon as possible
Use the additional security features of the smart devices
Try not to access the smart home products from unsecured devices
Advantages of owning a smart home
Complete control over your house at your fingertips even from remote locations
Managing all of your home devices from one place
Ensuring security of the house and the family members
Products and services can be programmed according to your needs. In simple words: tailor-made services
Products in home automation saves a lot of time
Products such as lighting and thermostats save energy and cuts down on electric bill (After looking at the user's data for a year, Nest found out that their thermostat can save 20 % cost a year on home heating and cooling)
The products are easy to set up and install
Products such as lights, ACs and thermostats are environment-friendly
Disadvantages of smart homes
The products and systems are expensive
All the services and products rely on internet connection. So, they are susceptible to hacking.
Invasion of privacy
The "computer-challenged" might face some issues handling smart home technology
.


Making your home smarter is easier than you think today. And the best part is home automation is not only adapted by tech-savvy, but also by those who aren't quite comfortable with technology. According to a survey by real estate firm Coldwell Banker in 2016, 36 % of those who planned to adopt such devices said they don't consider themselves to be early adopters of technology.
Every good thing comes at a cost. Smart home IoT devices come at a hefty cost, but then they promise long-term rewards. Smart home provides energy saving products, which results in reducing energy usage in houses. Adam Justice, founder of ConnectSense, a wireless cloud-based home automation device, was quoted saying in a HuffPost article how modern technology helps us to automate energy use. "Little changes can make a big difference in a home's energy consumption. And with modern technology, it's so easy to automate energy use, so you don't even have to think about it," said Justice.
Agreed, some technologies in home automation are still in development stages, but the future looks steady. With more players joining the race, smart home solutions will become more mainstream and affordable in the coming days. As Santanu Mukherjee pointed out, awareness in home automation is necessary to help people make smarter decisions.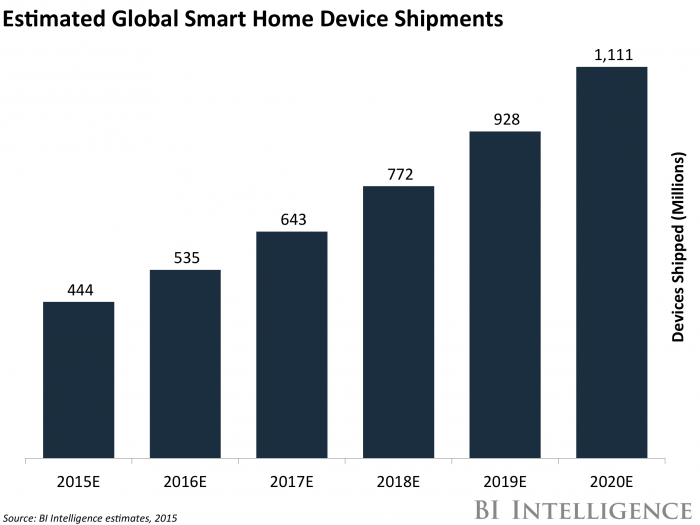 Mukherjee says that with time smart home will become an integral part of the lifestyle and that's when more consumers will adopt home automation. "Once upon a time, mobile phones were a luxury component. Today, it has become a necessity. Today, an average person will not think of switching off the light with a mobile app. But years back, we never thought that one day we will all become dependent on remotes to switch on/off our television set. Same will happen in home automation. The products and services will also become affordable for an average household. That day is not far away," says a confident Mukherjee.
Mukherjee trusts that technology has immense power and can make anything possible. So, he dares to dream. "Hope a day will come when a house will be able to store memories, especially of our kids and parents," he smiles.
We all know how much Facebook head Mark Zuckerberg loves Jarvis, an AI assistant he had built last year for his own home. The way technology is racing ahead, can't we hope to have individual Jarvis at our homes too just like Iron Man.

When it comes to the power of technology, never say never.
Subscribe to our Newsletter