back

SMB News
The Impact Of Technology Adoption On Small And Medium Businesses (SMBs) In India
Small and medium businesses (SMBs) in the country are steadily shifting towards widespread technological adoption.
According to a study by Microsoft, 35% of SMBs in India are already spending more than 10% of their revenues on technology while 26% have been early to embrace newer technologies.
At the same time, 35% are planning to shift towards the cloud over the next 2-3 years. These insights were showcased as a part of the Microsoft SMB Voice and Attitudes to Technology Study 2022.
This Microsoft study covered more than 3,000 entities with 1-300 employees across the five leading industry segments throughout 10 leading global markets, inclusive of India. 27% of SMBs are already based in the cloud, which is anticipated to be a worldwide average over 2-3 years as per the study.
At the same time, SMBs in India are also leaders globally in terms of technology spends. 22% of SMBs are also forecasting an increase in technology spends of 10% throughout the coming year in 2023.
Some Other Vital Insights
The study also reveals other figures which clearly indicate the technological adoption of SMBs and its overall impact. These include the following:
39% of SMBs are seeking to enhance their customer base with technology.
27% of SMBs in mid-income markets are concerned more about migrating to the cloud as compared to other peers in higher income markets (22% of SMBs).
35% of SMBs perceive intensity of competition as a key hurdle, while other challenges include cash flows, loyalty of customers, regulations, and migration to the cloud.
1/3rd of SMBs prefer technology partners like CSPs (cloud service providers) and MSPs (managed service providers).
Investments on cloud solutions and managed IT services have gone up owing to the pandemic.
SMBs are also seeking partners who can ensure more guidance and advisory services. 31% are looking to purchase tech services and products via MSPs and also CSPs. Many of them lack to the abilities or needs for onboarding specialists in IT. Hence, they are more inclined towards CSPs and MSPs as a result.
25% of SMBs in the country also look to work more with ISVs (independent software vendors) and developers of various applications.
45% of SMBs in the country are more likely to desire environmental sustainability, while 50% think of social goals being main business objectives as well.
1/3rd wish to scale up the satisfaction of their employees to improve their retention rates and 1/3rd wish to enhance their abilities to safeguard consumer data with cutting-edge security solutions.
SMBs in the country accounts for a whopping 30% of the Indian GDP while employing more than 114 million individuals as well.
Hence, their technology adoption and its impact are vital factors that are worth considering in this regard.
Impact Of Technological Adoption- Crucial Facts And Figures
SMBs perceive technological adoption and its impact in multifarious ways. Some other facts and figures that one should note include the following:
33% feel that technology enhances their operational efficiencies.
32% opine that it enhances sales and marketing greatly.
31% help in boosting customer retention.
46% can be categorized as fast followers of technology according to the Microsoft study, while 17% are early adopters. 32% are also cautious followers and are lagging behind, while 5% are slower technological adopters.
38% of SMBs still depend on solutions on their premises, while 36% have on-premise/cloud split solutions. 21% have majorly or entirely cloud-based solutions.
What Early Technological Adoption Can Do For SMBs
Earlier adoption of technology can do wonders for SMBs and some key insights include the following:
Early adopters have two times the chances of higher growth in revenues while they are likely to have four times more business confidence.
Bigger tech spenders in SMBs are expected to invest higher than 10% of revenues in technologies.
They are five times more inclined towards relying on cloud-based technology currently and harbor more ambitions towards its deployment in the future.
82% of early adopters of technology also report on ESG/CSR aspects annually.
They are likely to view technology as essential for business goals to the tune of seven times more than their counterparts.
Hurdles Towards Technological Adoption
Yet, the road ahead is not as easy for SMBs. There are several hurdles to adopting technologies. These include the following: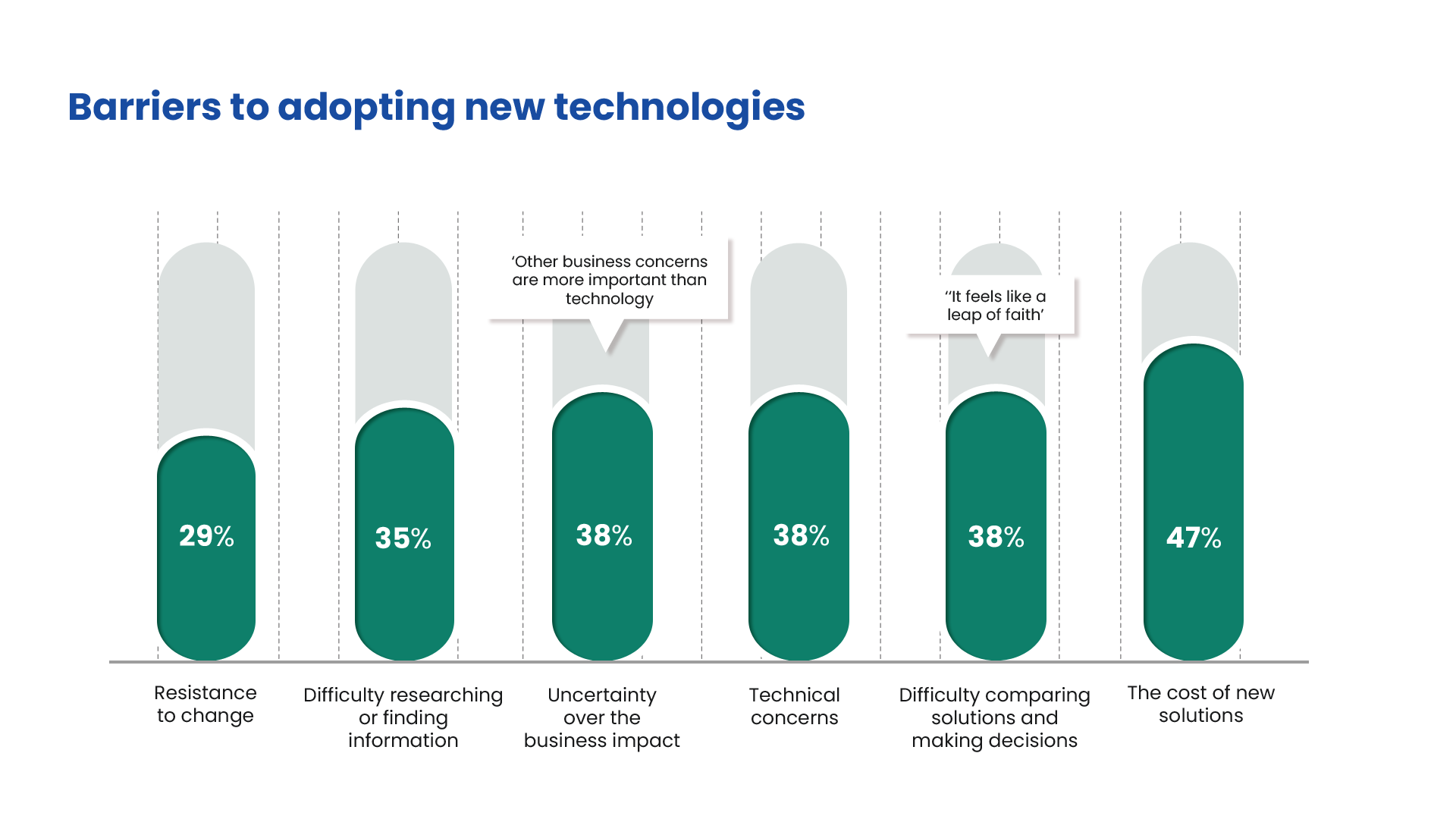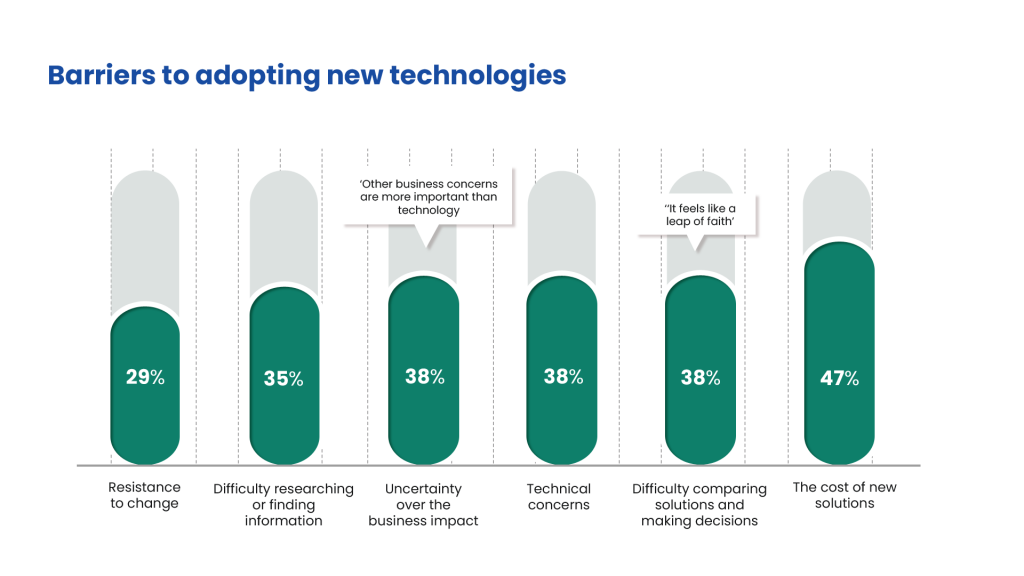 The cost of newer solutions is an obstacle for 47% of SMBs.
38% have issues with solution comparison and decision-making.
38% have concerns of a technical nature, while 35% have issues in researching or discovering information.
29% are also resistant to change.
Technological Decision-Making
There are several influences that stimulate technological decision-making at SMBs. These include the following:
77% of people have dedicated and internal staff members while 45% depend on external partners/consultants.
51% desire new technological suggestions, while 47% want improved and updated security.
30% feel that partner technologies should be in sync with business needs, while 23% also evaluate the CSR objectives of technology partners.
31% also prefer partnerships with CSPs or MSPs.
Core Takeaways
SMBs desire technology for greater help with business goals, although they require assistance for developing this connection. 39% and 38% of SMBs in India want technology to help them scale up their customer base and customer retention as well.
Deployment of cloud solutions will go up over the next 2-3 years, while SMBs will increase their technology budgets as well.
Security and reliability are key parameters for choosing technological solutions, while solution costs are still the key hurdle toward embracing newer technologies.
At least half of SMBs want their technology partners to suggest newer technologies, while CSPs and MSPs still continue to be preferred picks for most SMBs. These are the core trends that indicate the impact of technological adoption on SMBs and what the way forward looks like.
Subscribe to our Newsletter