back

SMB News
Understanding The Attitudes And Preferences Of Indian SMBs Towards Technology
SMBs (small and medium businesses) are major contributors to the domestic economy while accounting for a major chunk of overall employment as well.
With increasing competition and the need to maintain operational efficiencies, the concept or efficacy of technology as a key differentiator has gained momentum.
What then, are the preferences and attitudes of Indian SMBs towards technology in various respects?
Here's looking at understanding the same, with some facts and figures gleaned from the Microsoft SMB Voice and Attitudes to Technology Study 2022.
SMBs are eager to embrace technological adoption along with other digital applications for boosting overall efficiency and productivity.
The study indicates how 35% of small and medium businesses spend more than 10% of their revenues on technology, while higher tech adoption by SMBs is also driven by boosting customer experiences and growing global clientele.
Cloud shifts are perceived favorably by SMBs in the current scenario since it ensures both business and IT frameworks/infrastructure.
27% of Indian SMBs are already cloud-based, while 27% in middle income regions are more focused on the switch to the cloud, which is higher than 22% in higher income regions.
These basic figures indicate how SMBs are more inclined towards technological solutions as means of productivity increases in recent years.
However, there are several other findings that will ensure a bird's eye view of their basic preferences and attitudes in this department.
What SMBs Really Feel And Want
Here are some insights on the attitudes, preferences, and expectations of SMBs with regard to technological adoption.
1/3rd of SMBs mostly prefer CSPs (Cloud Service Providers) and MSPs (Managed Service Providers) as their technology partners.
In a post-pandemic trend of sorts, more SMBs are keener to deploy investments in cloud solutions and managed IT solutions.
31% have expressed their clear preferences with regard to purchasing tech services/products via CSPs and MSPs, since many of them do not have the abilities to onboard IT experts permanently.
25% have expressed their willingness to collaborate with ISVs (independent software vendors) and developers of applications.
SMBs view intensity of competition as a major hurdle, along with cash flows, loyalty of customers, migration to the cloud, and regulatory aspects.
SMBs in India are the highest global spenders on technology, with more than 10% of revenues being spent for technology by 35% of them.
Less than 1/3rd of SMBs usually take value for money or costs into account while analyzing newer technologies, although close to 50% view this as a major adoption hurdle.
SMBs usually desire tech solutions which will ensure security and reliability above everything else, without worrying about any cyber-threats or downtime.
Startups in India are more inclined towards technology and its future potential, being 1.6 times more inclined as compared to mature counterparts or declining ones, for scaling up tech budgets by more than 10% as per the study.
A majority of SMBs in the country are either at maturity or in the growth cycle.
22% are also planning to scale their investments of more than 10% in the New Year as per the study.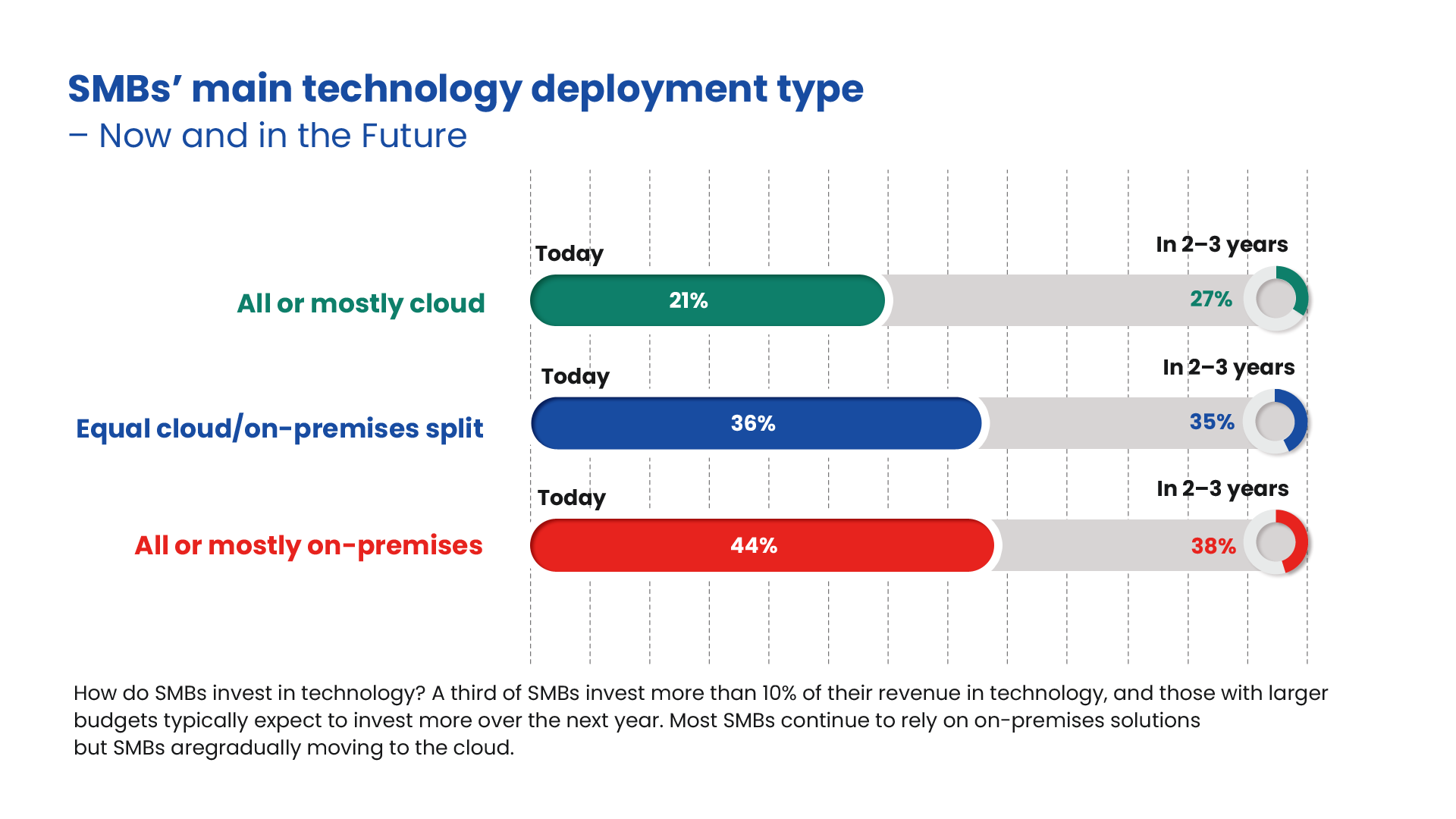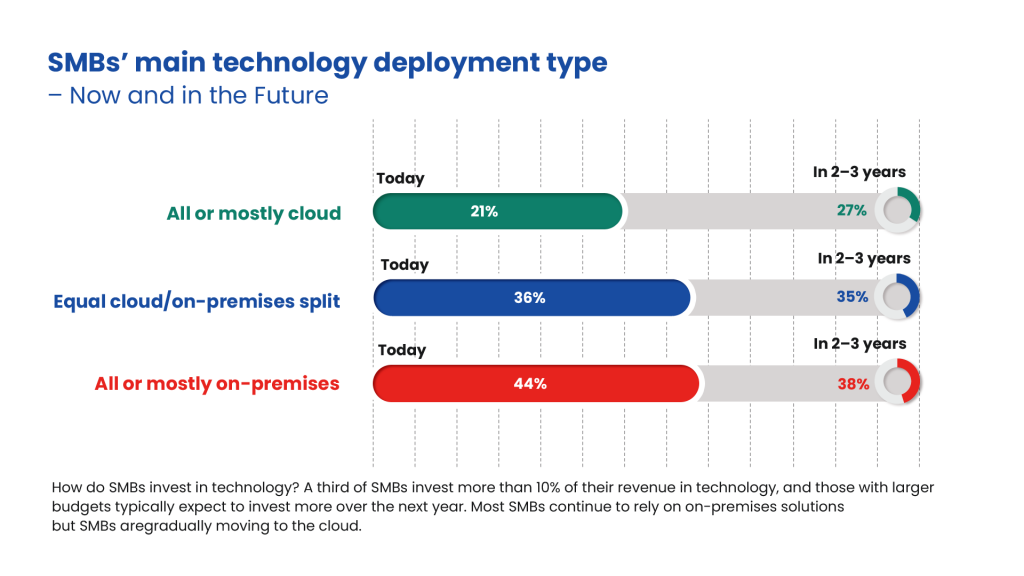 SMBs in the country are also looking for partners who can ensure proper guidance and advisory solutions.
45% of SMBs are also eager to enhance their overall environmental sustainability quotient throughout numerous markets. Smaller entities also want to enhance both consumer and employee satisfaction along with following more sustainable practices for business.
This is where technology can play a bigger role in the future as well. Going forward, experts feel that connecting tech investments and digital adoption with innovative business policies and collaborations with partners will ultimately drive a more successful ecosystem for SMBs.
Those companies that have a solid technological base or framework and the commitment towards leveraging the technological potential for the future, will naturally stay ahead of the pack, through becoming more future-proof, dependable, and agile entities as per experts.
Subscribe to our Newsletter