back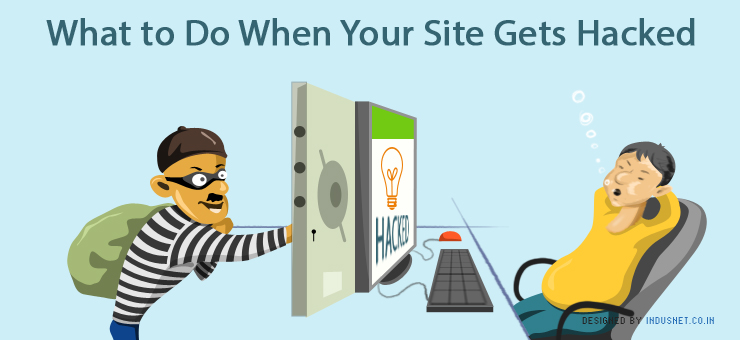 Web Development
What to Do When Your Site Gets Hacked
Our websites are almost like our own private homes and if someone hacks it, it is as bad as someone mugging our own houses. Naturally, we are first shocked, scared and then we desperately try to seek answers. When we do not receive answers, we despair.
Moreover, when a website is hacked, it could be for a very short period or the website could be completely defaced or even deleted. Your shock and despair depends on how much damage has been done and how much of a security threat the hacking incident was.
With that in mind, most people and businesses do not understand what to do the moment their websites get hacked. Scary it might be but before you seek professional help, there are a few things you can do yourself. In this article, let us take a look at what you possibly could do as a novice, with absolutely no knowledge about development or IT security.
1.      Inform everyone that your website was hacked
It is very important to inform people that you were a victim of a hacking incident. Take to social media, e-mail people you know and even call up your clients or acquaintances. Inform them that your website is hacked and you might probably even receive help sooner than you expect. A lot of people on social media invariably know someone who can be trusted with your website and the hacking incident can be attended to.
2.      Inform your hosting company
The next thing you need to do is, contact your hosting company and inform them that someone unauthorized had access to your website. They might remove the line of code or prevent further unauthorized access until all the problems are resolved. Sometimes, you might not be able to retrieve all your posts and data if the hackers had permanently deleted them. However, if you act soon enough, you will probably avoid permanent loss of data.
3.      Fix the problem
Hire someone who knows how to deal with a situation like this. Hacking websites is becoming extremely common and there are a lot of malicious people out there who know how to do it quite well. Thus, you need to be on guard and the moment you realize something is amiss, you need to contact a specialist who can fix your website and restore security settings.
4.      Change your passwords
One of the most important things to do is to change all the passwords. You need to change your FTP password, login password to your hosting account, passwords related to your banking, e-mail and other accounts which you use normally. You need to make sure that you have stored all your passwords in a safe and secure place, preferably, somewhere a hacker cannot access again.
5.      Use firewalls
A firewall helps to protect you against malicious threats such as hackers. It is important to install firewalls on your browsers and even on websites. This ensures that unauthorized access can be prevented, especially, if something looks suspicious. There are several good firewall programs available online and some are even free.
6.      Always have backups
Make sure that you always backup all your files and data. Whether it's a blog or a website or some media, ensure that you have a copy of all your data before hacking even occurs. You need to assume that you are at risk even before it happens.
This ensures that you always have a copy of all your data even if you are attacked. One of the worst things that could happen is you write a number of posts on your blog and one fine day, the hacker deletes everything and you do not have a backup.
Final thoughts
It is important to choose a good hosting agency that has a dedicated customer support. It is also important to have a good social network online so that people notify you when they notice something wrong on your websites or your social accounts.
Also, make sure to keep in touch with IT security professionals who can go an extra mile to help you thwart future attacks by installing good firewalls and other security programs. Last but not the least, always remember to change your passwords frequently and use complex passwords.
Subscribe to our Newsletter