back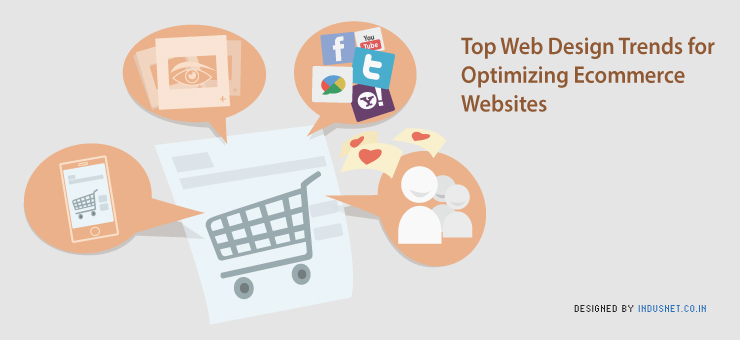 Design
Web design
Top Web Design Trends for Optimizing Ecommerce Websites
Talk to any sales person and they will tell you that the number 1 rules in Sales is that the customer is "always right". This applies to the world of ecommerce as well and that is why web designing trends are constantly being changed and enhanced in order to give the customer a better experience. Mobile integration into our lives has increased and we no longer use our smartphones solely for the purpose of calling or texting any more. The world of technology has allowed people to have the convenience of being connected no matter where we are. As technology evolves, so too do the designs that define ecommerce.
Below you will find a list of trends which have surfaced in 2013 that is deemed suitable to meet the needs and wants of today's online consumers.
Focus on Mobility
Smartphones these days come with more features than the previous ones and thus our dependence for mobile Internet has increased dramatically. Consumers prefer the ease of browsing websites, reading articles and more importantly, being able to do their shopping while on the go. Many designers have responded to the social media craze by creating a Facebook profile and Twitter account so their loyal customers can receive updates on their smartphones.
There has been an increasing emphasis for companies to hire Application designers for their business needs. Apps such as Ebay and Amazon are available for free on both the Android and iOS operating systems. These apps create a mobile buying experience for their consumers that are both seamless and convenient.
Creative Web Design is the Key
If you are thinking of improving your company's website but don't know where to begin, then you probably start by looking at the site's visibility. Many companies prefer to use large, high-resolution photos on their homepage and throughout their entire website. If you are trying to sell something, then you should ensure that your customers can see what it is you are trying to promote and eventually sell. Having attractive photos of your products on your site will help you with this.
One thing that annoys web users the most is side scrolling. Taking the time to make sure your website will stretch and fit a browser's window perfectly will eliminate the need to side scroll. This way, your customers will have an easier time reading all of the contents that are on a page simply by scrolling from top to bottom. In the world of ecommerce, time equals to money. This means that you will need to make sure that your customers find your website to be user-friendly and as easy to navigate as possible.
Utilize the Current Tools of the Trade
I had mentioned earlier in this article about companies integrating themselves into social media. This is in fact one of the biggest leverages a company could ever utilize to increase its sales volume. Not only is it super simple to set up a Facebook profile for your company or a Twitter account, you can also use it as a means to communicate directly with your customers. Ecommerce sales always begin with awareness and that can be created by posting regular updates and announcements of upcoming products on your page. Your customers will then be notified provided that they have subscribed to your Facebook page or became a 'follower' on your Twitter account previously.
A good customer remains loyal to the company but a great customer will spread the word about your products and services. They can easily leave feedback, comments and thoughts on your Facebook page which will let others about their experience as your customer. This will help increase traffic to your website indefinitely.
Personalization on a Whole New Level
Customers want to feel appreciated and the best way to do that is to have your website record and remember what they have purchased in the past. Prediction is the new term for ecommerce design of the year as shoppers no longer find it sufficient for websites to recommend items solely based on what they have purchased in the past. They want to learn of items which they might actually want or need in order to improve their lives.
As you commit yourself to accessing your own ecommerce capabilities, keep in mind that you should always prioritize your user's perspectives and how you can serve them better.
Subscribe to our Newsletter