back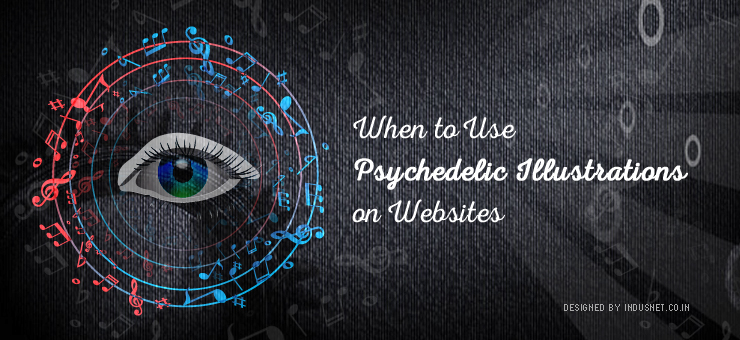 Design
Web design
When to Use Psychedelic Illustrations on Websites
Creative web designers with the passion for digital art have not shied away from exploring the magic of psychedelic designs. Psychedelic art form usually comprises of abstract visual art rich with colorful and vibrant designs. The designs are ingenious and artistic in nature employing curvilinear calligraphy, spiral patterns, intense colors and groovy typography.
It is common to see psychedelic art in digital format in musical concerts, murals, and light shows.
With the invention of computer graphics software and tools, web artists are better equipped to use their vision to create psychedelic designs. Various 2D and 3D graphics software allow designers to experiment with image juxtapositions, draw connecting patterns etc.
Evolution of psychedelic illustrations
Psychedelic illustrations evolved during the 1960s and 1970s. The evolution of this art form was inspired by ingestion of psychoactive drugs like LSD and other hallucinogens that became popular to the counterculture of the 1960s influencing music, dress, language, literature, philosophy, and political and social revolution. It also led the rise of optical art and pop art. Some of the influential designers during that era were Wes Wilson for inventing psychedelic font design, Victor Moscoso for using the concept of vibrating colors to create the psychedelic effect.
These illustrations were commonly found on concert posters, album covers, comic books etc. However, the psychedelic movement was not restricted to kaleidoscopic color patterns but also defined sentiments inspired by ideas conceived with the psychedelic state of consciousness.
A Case study
[php snippet=1]
Psychedelic website design is brilliantly used by the Moogfest website. Moogfest is a multi-day annual event to honor Robert Moog and his musical inventions. It is dedicated to the synthesis of technology, art, and music. The psychedelic design was a result of rebranding effort taken up by the company in 2014. Moog music is into designing tools and synthesizers targeted towards artists. Its design team, inspired by Robert Moog – its founder, used the same innovative spirit to contemplate its design philosophy. It exemplifies the ideas, concepts, sounds, images, artists and technologies that influence Moog brand.
Website compatibility with psychedelic designs
A website design is reflective of business perception, its values, and vision. It reflects the brand value of the company, event, or an individual. Psychedelic designs may look inspiring, philosophical, and overwhelming to you. However, does it go along with your business ideology?
Psychedelic design work needs a lot of creativity, time, talent and money. Graphic designers need to fully understand what you are trying to achieve with the psychedelic design. How does it impact your customers? Do they like it or feel irritated? For instance, The Coca-Cola Company used psychedelic illustrations for their Coke and Fanta advertisements for use in both print and TVCs. The campaign being targeted at a mass audience obviously made sense to use colors and psychedelic design to exhibit happiness and cheerfulness.
However, psychedelic illustrations are not considered to be professional. You should thoroughly consider your business vertical, product, customers and purpose before going ahead with this design. Unless and until, it is a very creative and niche website, it is not worth the pain to invest in psychedelic design.
Subscribe to our Newsletter