back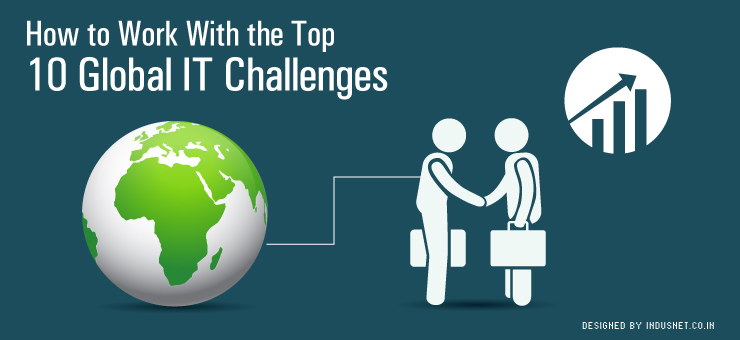 General
How to Work With the Top 10 Global IT Challenges
With businesses striving hard to expand globally, the investment made in time and money should yield maximum returns to sustain that growth & future-proof against loss. The first step towards sustaining that growth is to have coordinated business approach within the organization. There are various challenges facing the IT industry withholding opportunities that can hamper growth if ignored. This article will discuss the top 10 global IT challenges and what you need to do to overcome them.
1. Cyber security
Cyber security poses a grave threat to businesses limiting their growth. As business environment complicates with the introduction of new IT mechanisms, the potential of cyber attacks grows proportionately. Business houses need a collaborative participation to tackle this on-going menace. Senior management needs to engage more to understand the security threat at the ground level.
Simulated cyber attacks needs to be conducted to deal with potential breaches.
Analyze operational data periodically to keep a check.
Limit the access to critical business information to key officers only.
Use biometric authentication to avoid identity theft.
Make customer information security a priority.
Appoint chief security officer who works along with chief information officer and other senior executives.
2. Redefine cloud strategy
Cloud computing is rigorously expanding with continuous advancement of public and private clouds. The IT executives are facing the challenge of choosing the suitable cloud model that works in line with their application portfolio. There has been rising demand for SaaS integration to have better control over business.
SaaS integration helps you to maximize value of your cloud computing investment by ensuring instant data delivery irrespective of data location, thus, improving system efficiency. Organizations need to quickly make their cloud sourcing decisions with help from cloud vendors and consultants. If they are adopting hybrid cloud model, the existing data centers need to be readied to work with hybrid cloud.
3. Data transformation
Data center transformation is a major challenge that needs to be addressed on a large scale. It involves transformation at various ends involving people, process and technology. Data transformation manager needs to be capable of evolving from traditional ways of working and understand the scale of technological advancement. Organizations need to be able to convert data to get insights and identify opportunities that allow them to make better decisions.
There needs to be a seamless information exchange between applications and processes involved. Techniques like data modeling, data mapping and data migration need to be deployed to consolidate business processes. In a bid to transform data, a practical approach involving cost factor, defining service catalog and the objective of the organization need to be taken into account.
4. Data classification
Data classification might sound easy but it pulls out all energy out of organizations if there is no classification scheme in place. There are many challenges involved here that limit the capacity of the organization to successfully implement data classification. There is tremendous amount of data generated in the organization on an on-going basis. Every employee needs to be trained to classify data and training all employees can be expensive.
Apart from that, developing a classification scheme also costs significantly. Data classification involves a lot of data merging and eliminating redundancy. Forming a well-defined classification strategy as per regulatory standards is crucial to succeed. Support from senior management is essential to drive this exhaustive process. Only realistic targets need to be set. If the goal looks hard to accomplish, start by classifying networks.
5. Addressing social media issues
The problem with social media is that a lot of information is open to public. It helps the marketers to classify and approach their target audience. On the contrary, trading and commercial websites & social media websites are prone to spam, scam and phishing attacks. Most social media users are unsuspecting as it does not involve their bank details.
But the attackers are obviously here to steal personal information to misuse it for other purposes. Web developers follow strict security protocol to protect the users' information but a lot depends upon the awareness level of users.
Avoid using social media for personal communication.
Feed limited personal information in your profile – Avoid putting your address, family details etc.
Limit the access to different sections of your profile through privacy settings.
Be careful who you are friend with.
Avoid clicking on suspicious links and pop-ups originating from social media websites.
6. Information governance
There is abundant digital information generated by organizations on a daily basis. They need to make sure that the information is secure. Information governance will become a mark of responsible business. Business houses will be subjected to litigation, if they are incapable to protect confidential information of their customers. On the other side, the information needs to be readily accessible and be available to authorized party on request.
Employee training is necessary to improve governance. While paper-based information has a limited lifespan as organizations prefer to scrap them after a certain period, electronic data is never deleted intentionally. Organizations need to design data retention policies to limit the storage period and ever rising cost of storage. Explore the options of compressed content and new media types.
7. Mobile business intelligence
Mobile business intelligence is a new concept, which is catching up fast due to growing mobile workforce. Mobile BI is the ability of the smartphone-enabled employee to gain business insights through information analysis using applications designed for mobile. Organizations are under growing pressure from the customers and the competitive market to deliver efficiently.
Mobile workforce can be highly productive, if they can use mobile BI on the move. It will help the employees to make decisions based on real-time information available on mobile and improve customer service. The full-scale adoption of mobile BI still remains a major challenge for many organizations as senior executives lack conviction, perceived business benefits and tangible ROI.
8. Controlling expenses
Many organizations, despite having a sound IT budget, are unable to control their expenses. Unexpected cost escalation can happen because of many reasons if there is no check in place. Do not let your organization get affected by downtime by ensuring regular monitoring and system maintenance.
The organization needs to have proper data backup and recovery system in the event of crash. Periodically conduct human resource audit to make sure that workers are delivering maximum productivity. Workers tend to spend more time in doing unproductive tasks. Shift their focus towards core tasks and if possible outsource the unproductive tasks to attain long-term cost benefit & business stability, thereby, generating a high business value.
9. Accommodating changes in IT architecture
IT architecture is the most important tool to connect computer technology with the business strategy. An ideal IT architecture allows you to future-proof your technology decisions. It is composed of content, processes and technology guidelines. A documented IT architecture helps the organization to make expensive technology upgrade decisions both correctly and swiftly.
With rapid advancement of IT technology, having an IT architecture that can sustain futuristic changes is significant. The challenge is to anticipate these technological changes. For instance, most of the small and medium sized businesses were unprepared to include cloud computing as an integral part of their business strategy, not realizing the benefits it assures. So, the investment made in on-premise systems was too big for them to get rid of it quickly.
10. Innovate to create more business value
Innovation is the foundation for an IT business. IT innovation in a business is about using technology in new ways to create more value for your business. It helps in creating something new and different from your competitors. Customers dependent on IT services experiment a lot to get maximum value and efficient product or service at the best cost. It also means fine-tuning your business processes into more automation.
Developing mobile applications, investing in rich internet applications, outsourcing or implementing desktop virtualization is all part of how a company can innovate. It is true that innovation costs the company initially but the benefits are multifold. Companies need to form innovation teams, infuse young talent and encourage new ideas to flourish. Partnership with organizations that are landmark of innovation is another way forward.
Looking ahead
To face the challenges, businesses need to be capable of reacting faster to identify opportunities and balance risks. They need to be flexible enough to understand and incorporate emerging technology into practical application. Paying enough attention to customer data security and being mobile ready both in terms of customer-end applications & employee-end applications are vital for their existence.
Indus Net Technologies, for the past 17+ years, has been helping agencies, corporations, enterprises and Governments across the globe to manage this kind of challenges. Contact us at info@indusnet.co.in to have a better control on the diverse IT challenges.
Subscribe to our Newsletter