back

Mobile
5 Reasons Why your Business needs a Mobile-First Strategy
Today, even before we fully open our eyes in the morning we reach out for the mobile phones. Also, many of us sleep with our favourite smart device in hand. Mobile phones, we know it sounds like a cliché, have become as important in our lives and business as much as cheese is on a pizza.
More than 4 billion people today own mobile phones, but only 3.5 billion use a toothbrush. Yes, we know it sounds strange but we all know that truth is stranger than fiction. Here's another moment of truth. More people in the world have phones than a toilet.
Predictions say that by 2018, more than 50% of users of mobile phones will use tablets or smartphones for all searches and online activities. At such a time, it's a given that if you have a business, even if it's a small one, you need to adopt the mobile-first strategy.
It's no longer important for your business to be on mobile. It's MANDATORY.
In case, your business is only present on the desktop, then here's one more reason to shift your business to the mobile at the earliest. According to Reuters, 75 % of internet use is expected to come from mobile devices in 2017.
A mobile-first strategy means that your business website will be designed and launched for mobile first and then for the desktop. Even a few years ago, businesses came up with desktop versions of their websites and then if need be, changed it to a mobile site. Today, businesses just cannot be complacent with the desktop versions of the website. In fact, today most businesses design mobile site first and then go for the desktop version.
If you haven't integrated mobile into your business, let's understand the top 5 reasons why and how a mobile-first strategy can impact your business.
24×7 availability
Alice Foote MacDougall had said, "In business everyone is out to grab, to fight, to win. Either you are the under or the over dog. It is up to you to be on top."
Let's admit it. We are all in the business to gain profit and also satisfy the customers. At Indus Net Technologies, we strongly go by the mantra of "We win when our customers win ." So, for any business, it's highly important to be in constant touch with the customers, communicate with them even on the move. It's only when you satisfy your consumers that your business can shine.
As already mentioned, today we sleep with our smartphones and hence if you want your consumers to reach out your web content anytime anywhere, then your business should be on the mobile. In this way, you can be in touch with your customer and clients 24X7. This helps to drive more customer engagement.
According to another study, it says that an average person checks their smartphones almost 85 times a day. This means a user spends nearly five hours browsing the web and apps. This study again reinstates the fact that your business needs to be visible all the time and should be in direct reach of the consumers. So, being only on desktop websites wouldn't really help. Today from small, mid to large companies understand the true potential of a mobile-first strategy of their businesses. Mobile users want personal, content-rich, fast, and smooth experience and that's the main agenda of a mobile-first approach for any company.
Munna Das, Project Manager, Mobility, Indus Net Technologies, inform a business needs to adopt mobile-first strategy if it wants to stay ahead in the competition. "If any business is looking to expand its user base, it should be able to connect, engage and provide value to the customer. This can be done in a more effective way if the business is present on the mobile," she says.
Mobile users are more than desktop users
Just tell us how many of you access Facebook, Twitter, Instagram or Pinterest on the desktop? According to an article in Forbes, 85% of Twitter users in America in 2014 accessed the site or app on mobile devices.
From medical alerts, finding houses, booking hotels, honestly speaking, today we can't imagine doing anything without cellular phones. In fact, if there's something which we can't do on our mobile phones, we tend to get agitated.  Mobile is the future of everything, as rightly put forward in an article in Forbes.
According to StatCounter Global Stats mobile and tablet devices accounted for 51.3% of internet usage worldwide in October 2016 compared to 48.7% by a desktop. This clearly indicates that users prefer mobile phones over desktop for searches or any other internet activity.
In 2015, Google confirmed for the first time that mobile searches top desktop.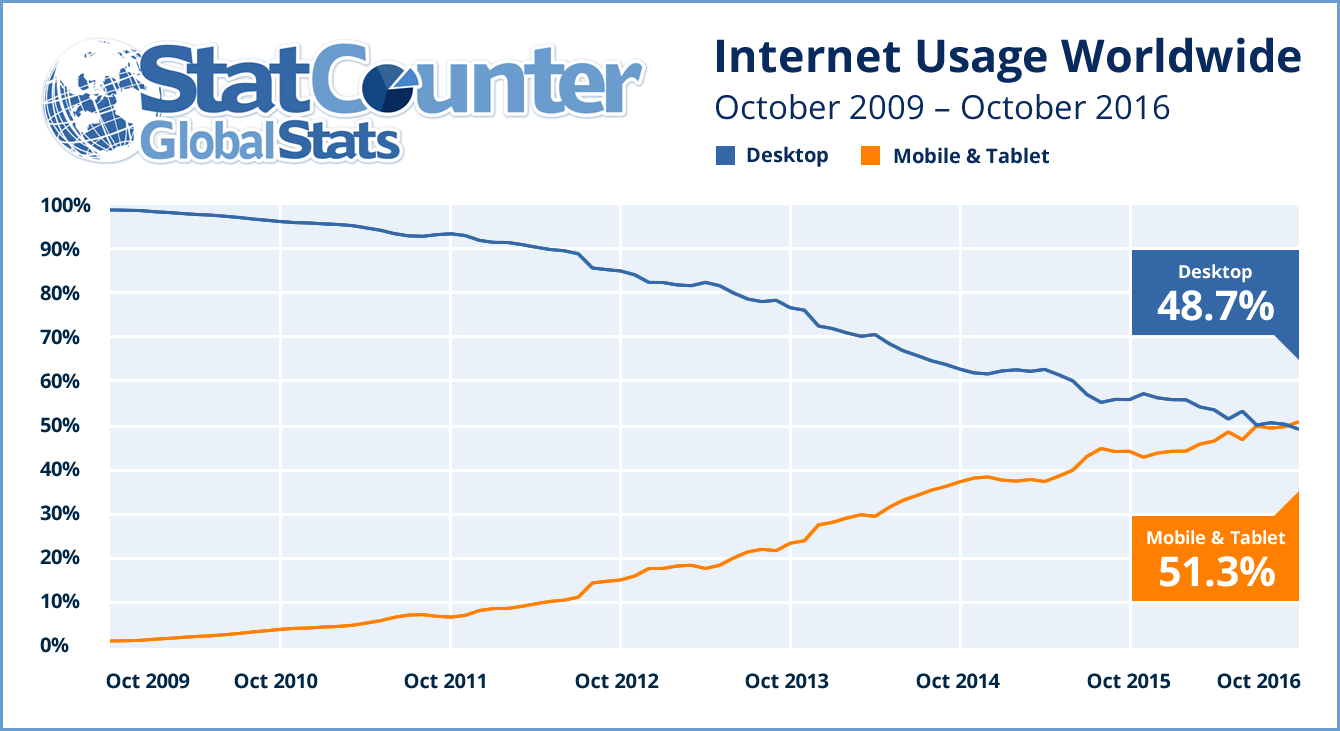 Mobile is taking over the world. According to Zenith's new Mobile Advertising Forecast, Hong Kong will account for 89% of total internet use by 2018. In India, a report by Internet and Mobile Association of India and consultancy firm KPMG indicate how mobile internet use might cross the 300 million mark by 2017, an up from 159 million users at present. This, again, is an indication, how important it is for a business to be on mobile.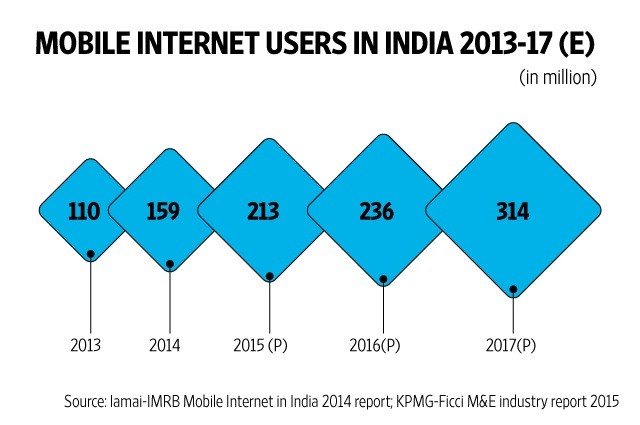 Also, did you know that nearly 40 % of users tend to move onto another site if they feel the one they're on isn't optimized for mobile? The faster you adapt to mobile, the better for your business.
And if you are still having second thoughts on shifting your business to mobile, remember what Zuckerberg had said, "On mobile we are going to make a lot more money than on desktop".
Easy sharing
A lot of people confuse themselves between mobile-friendly websites and mobile apps. Though it might look similar, there are major differences too. An app requires you to download an application in a mobile, while a mobile website is a compatible version of a desktop website with all the key features and you can access it easily from your mobile. Also, it is easy to share content from mobile friendly websites instead of a website. 77 % users never use an app again 72 hours after installing it. An app occupies space and a user tends to delete it. However, you cannot delete a mobile website and you can refer to the site whenever you want.
Better customer experience and ease of use
61% of customers who visit a mobile unfriendly site are likely to go to a competitor's site. This can be detrimental for your business. Today, consumers like everything at fingertips and with plenty of options openly floating in the market, they are not ready to wait.
According to a study, a person checks his smart device 85 times a day. Hence, he spends five hours browsing the web and using apps. So, you can imagine how much closer you can be to our customer if your business is on the mobile.
In the case of designing a mobile site, we should keep in mind what can and cannot be on the mobile version of the site. Also, navigation options are minimized for the smaller screen size of the mobile phones and site loading time is also minimal as compared to a desktop version. This makes the screen less cluttered and hence mobile site enhances the customer experience and creates an omnichannel marketing of your services too.
More avenues for revenue
Mark Zuckerberg in an interview to Tech Crunch Disrupt sighted three strong reasons why mobile was Facebook's future. "For one, there are more mobile users. Second, they're spending more time on it… third, we can have better advertising on mobile, make more money," Zuckerberg had said.
Cut to 2017. According to a forecast by eMarketer, in 2017, mobile ad is way in the digital ad spending space. Mobile will account for 63.3% of digital and 24.3% of total media ad spending. Also, the prediction indicates that by 2021, mobile ad spending will grow to a 77.1% share of digital and 37.1% of total media ad investments.
Also, 71% of smartphone users who watch an interesting ad on TV, newspaper or on the mobile immediately search for the same on the smart device. What do these figures mean? It means if your business adopts mobile-first strategy, then you also get hold of a number of revenue channels. Today, mobile apps are a great medium to monetize.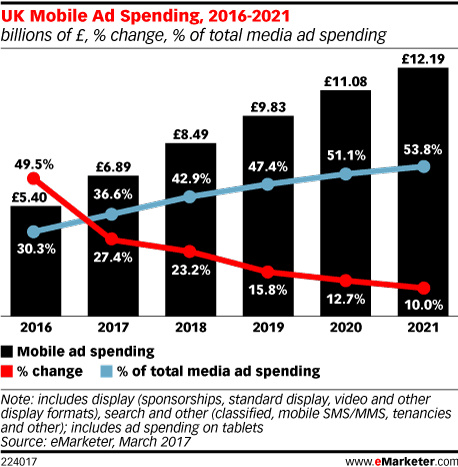 According to Criteo in 2015, top retailers generated almost 50% of sales from mobile. Also, advertising on the mobile takes less data and provides a smoother experience than a desktop version. Also through push notifications, you can reach your consumers in a better way and also constantly remind them about your services and products. Since your users are becoming increasingly mobile, so if you place your ads on mobile, chances are more for your consumers to consume.
Conclusion
Luke Wroblewski had tweeted way back in 2012 that more mobile phones were sold over 24 hours than the number of babies born.
Businesses all over the world are leaving no stone unturned to enhance the experience of the consumers and mobile-friendly websites have radically improved the performance of many businesses. Those businesses which have adopted mobile-first approach are racing ahead in the competition. So, if you are still waiting to adopt a mobile-first strategy in your business, wait no more. You are losing out on business.
"Today if your business is not on mobile, you are nowhere," said Munna Das, Project Manager, Mobility, Indus Net Technologies.
Reference: Openwavecomp, Tech Crunch, Fact Slides, Spinfold, allBusiness, The Daily Telegraph, Medium, Venture Beat, Mint, Forbes, Daily Mail 
Do you think it's important for your business to consider a mobile-first strategy? Tell us what you feel.
Subscribe to our Newsletter