back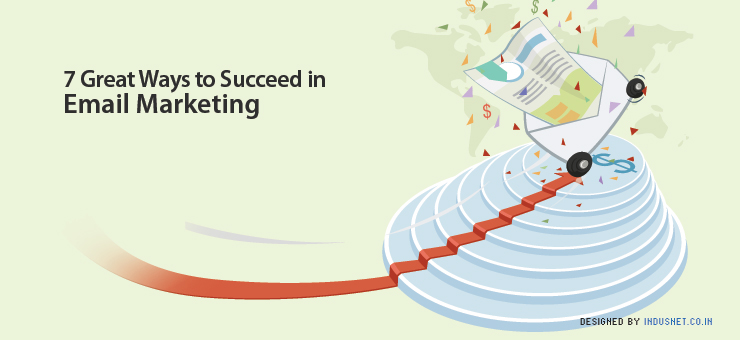 Digital Marketing
Marketing
7 Great Ways to Succeed in Email Marketing
The first thing that enters our mind when we say 'Email Marketing' is spam. Ever since email came into existence, users have been bombarded by spammers, so much so that it's almost been more than a decade that built-in anti spam software automatically divert suspected spam email to a designated folder. Most of us do not bother to check it and life still goes on. However, email marketing still remains an attractive way to target customers and clients and it can be very successful if you learn how to market your message in a non-intrusive manner. Here are some tips to make sure that you succeed in Email Marketing.
1. Build Trust and Reputation
The only way to make sure that your email marketing campaign is not vilified and sent directly to a spam folder is by making sure that you build trust. You would need to make a list of email addresses of people who fall right into the target audience. This list should not include people who are even remotely not related to your products and services. Buying email addresses can be disastrous. Getting help from social media experts to gather each email address manually is a better idea than making a list of bulk email addresses. In order to build trust, you should also provide a way to unsubscribe from your emails.
2. Content Tips
Your text should always be written in a notepad and pasted into the email. It should not be written in colored fonts or font styles that are not common. The text should not be more than 300-400 words in length. The copy should be very professional yet personal. This balance can be achieved if you hire a professional copywriter. A copywriter would be able to write excellent email marketing copy which does not look spammy and will get higher conversion. If you are selling SEO services, do not let the SEO professional write the copy. Get a copywriter to write that!
3. Avoid Images
Images should be avoided as email services and web companies have begun to believe that image-based emails are mostly spam. Avoid using graphics within the body of your email. In fact, stripped down emails that only have basic text and your contact details along with an option to unsubscribe from your emails should be the format that you should use always.
4. Be Relevant
This is something that can happen only when you understand your target audience and your own products and services. Each email can be personalized for specific groups and sent. In fact, social media can help a lot in tracking the owners of those email addresses.    
5. Use Social Media Tools
With the help of social media tools, you can easily learn what each individual likes or prefers and format your email accordingly. Unless you are relevant, you are at risk of being sent to the spam folder! Social Media tools like SocialBro, Buffer, HootSuite and others can give very important insights about the people in your email list.
6. Require a Sign Up
It is important to get more information about your audience. If you are offering exclusive discounts or some sort of benefits for those who click on your email marketing copy, require them to sign up. This is probably the best way to build relationships. When you ask them to sign up, you will also be able to collect information about their date of birth, marital status, interest, hobbies, lifestyle choices, travel preferences and other such details.
7. Build Your Referrals
There is nothing better than a happy customer marketing your company to his or her friends. Genuinely work towards making your customer happy and offer him benefits and discounts for referring your business to others. This can be done non-intrusively through email marketing. All that you would need to do is stay in touch with the customer once your lead is converted. It doesn't matter whether the customer is going to buy again or not. However, it is important for you to maintain that relationship so that he refers your products and services to others. This relationship building can be as simple as sending birthday cards to offering gifts and discounts time to time.
Subscribe to our Newsletter