back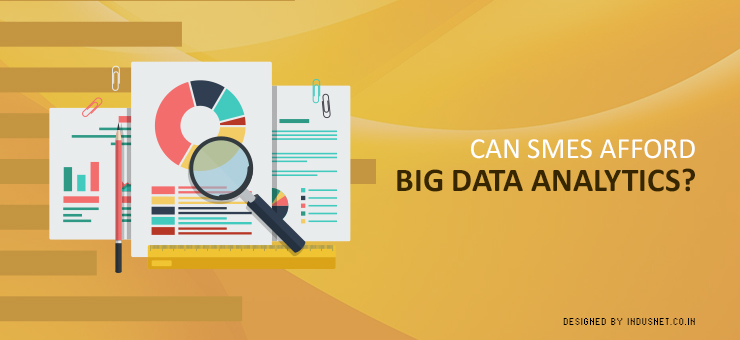 Strategy
Can SMEs Afford Big Data Analytics?
Big data analytics has always scared SMEs away. The primary reason is their inability to fund it. On the other hand, large enterprises are capable of investing huge amount of money in storage capacity to store data. Stored data can later be analyzed to gain insights. Big data, as a matter of fact, needs a lot of storage space; however, it is an impractical approach for SMEs.
Nevertheless, SMEs can still reap benefits of big data. Big data analytics is surely under the purview of SMEs, provided they look the other way round.
Big data is a surplus amount of data in both structured and unstructured form, gathered from customers.  The data sets are so large that it is practically impossible to analyze it using traditional ways of processing.
Every business faces a unique set of challenges that impedes its growth. Businesses look for opportunities to gaining insights into big data not otherwise possible with existing data.
How to make big data analytics affordable for SMEs?
Find out why you want big data
For a small scale business, it is very important to know why it does need big data.
It could be to grow your sales potential for which you may want to perform customer profiling.  You may want to study in-depth customer behavior to improve product design, add new product features or develop a new product.  You may also be looking forward to process improvement by understanding customer behavior.
[php snippet=1]
The point is that you should specifically know what you want to improve at a given point of time.  How is your existing data incapable of solving your purpose? What extra data would you need to plug in the gaps? Accordingly, devise strategy and fix key parameters to capture only that specific big data which is capable of answering your queries.
Trying to record everything that comes your way is no way to go forward and only adds to your existing data load.
Analyze data within budgetary constraints
Data analysis can become a mind-boggling task.  Be prepared with how you are going to treat additional data captured.
The first step is to involve specific people within your organization who closely understand the problem. Get the most experienced data analyst with you.
Use existing tools and techniques to analyze data. Analyze a smaller data set and see if you are able to get information that you are looking for. If yes, test your approach on a bigger scale. If no, find out what limits you to get specific information and redefine your approach.
It is possible that you realize that you are trying to search for wrong information and that it won't solve your problem. It is also possible that you don't need big data to solve it. Initial checks during data analysis will ensure that you are not deviating from your goal. This helps you to save gratuitous costs.
SMEs have a clear limitation of storing huge amount of data. They invest in big storage servers only if they are assured of good ROI.
Subscribe to cloud storage services
Now that you've decided to invest in big data to find a solution to your problem, provided you are well aware of what you are looking for, subscribe to pay-as-you-go cloud subscription model.
There are many cloud services that enable you to create your own analytic sandboxes. You are free to scale up your requirement when required or stop the service when your project is complete. This helps you to bypass capital investment and your project cost stays under control.
Big data experiment is a grey area and as a small scale investor, you don't want to risk your hard-earned money without conviction.
How do SMEs stand to gain from Big Data Analytics
Gain real-time insights and assist decision-making process
Drive innovation and business growth
Anticipate the scale of problem before they become too big to handle
Prevent problems rather than step into damage control mode
Get the most out of business opportunities at the right time
Save time and money
Improve productivity and efficiency
Better customer service through closer understanding of customers
Challenges faced by SMEs and how to conquer them
Many SMEs are of the view that big data is only suitable for large corporations. This is owing to various challenges faced by them. Some of them are:
High cost of storage
Big Data means tones of data generation. Storage and maintenance costs are only manageable if SMEs become competent to handle Big Data. The cost of choosing a hybrid cloud computing model for data security reasons can be justified only with sufficient knowledge about Big Data.
Skeptical about investing time and energy
SMEs should realize the potential of Big Data and work out ways to exploit it within their limited capacity. Initially, Big Data Analytics may sound like a daunting task however once they extract something of value, they can open gateways to growth and challenge larger organizations.
Lack data expertise
Many SMEs are incapable of processing Big Data. Practical and affordable technology is available in the market. There are many useful data mining tools available. SMEs can take full benefit out of it provided they know what to ask Big Data and how to apply it pragmatically.
Ambiguity about sources of data collection
Social media, emails, CRM applications generate a lot of data. To begin with, focus on smaller data sets from these data sources.  Try to understand customer behavior patterns.
While company's own sources of data serve the purpose to a larger extent, it is equally important to engage channel partners.
Channel partners can aggregate and manage data from sources which SMEs can't. Their expertise about vertical and market segments do a major contribution towards value addition for customers.
The way ahead
It is the right time for SMEs to harness the power of Big Data Analytics. Their focus should be to find the right solution. This will enable them to develop a unique image in the market and gain a competitive edge.
Affordability is a major concern for SMEs while delving into Big Data Analytics. However, with proper control of costs, execution, and resources; SMEs can surmount their fears.
They should focus on key problems and define quantitative methods to understand problems. Likewise, they can create a lot of value for their customers.
SMEs can hire external firms or interns to conduct big data analytics. However, it is vital to have a clearly defined question before you move forward. With the clarity of goal in mind, hiring the right person becomes a lot easier.
Subscribe to our Newsletter