back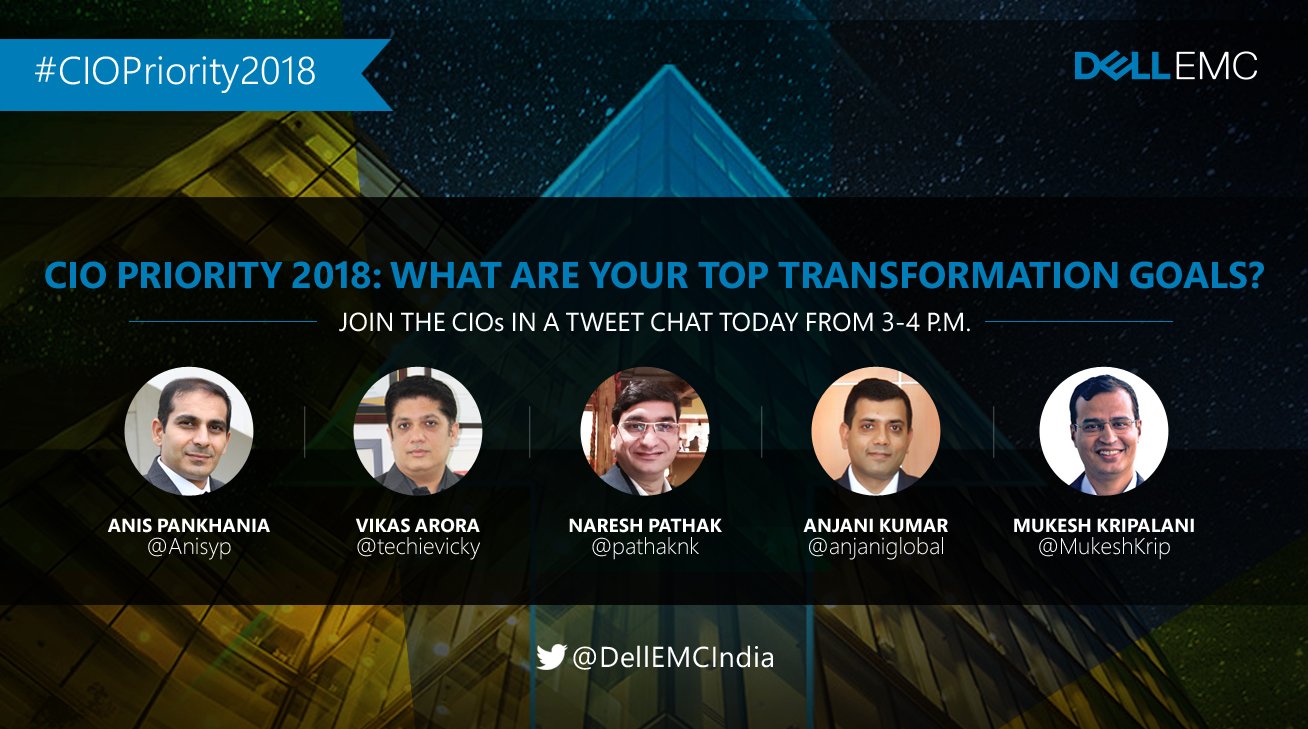 General
Technology
What Are The CIO's Top Priorities in 2018- Excerpts From A Twitter Chat by DellEMCIndia
An interesting and insightful chat session took place today on Twitter 3PM- 4PM (IST). It was a virtual panel discussion in which we had the Top CIOs of the country talking about the Top Transformation Goals for 2018. It was moderated by .  Let us walk you through!
The first question
He also added, "CIOs should also learn to make choices with limited knowledge & increase business benefits."
The second question put forward was
He further explaind that "We identify skills required to implement technology & the train accordingly. Also, being a global organization, we need to ensure the harmonization of technology across offices. Another major concern is compliance with GDPR".
The third question by the Dell EMC India team was,
He went on further to explain how for consumer-facing companies, VR based solutions can change and for manufacturing, robotics, IoT, & 3D can implement the changes which were not possible earlier. He agreed that CIOs are already experimenting with Blockchain. Mobility solutions & agility with the cloud is taken for granted for any services these days.
An interesting question asked to the panel was about CyberSecurity.
He highlighted that there is a need to have dedicated and skilled Information Security personnel in the organizations, which is currently missing and there is a huge requirement of Cyber Security awareness among employees.
Towards the end of the session the question put forward was
He highlighted the vulnerability in connected sensors, use of AI, Machine Learning in attacks are some of the challenges for CIOs that pose a threat to their organization.
The session was followed by Q&A  session where panelist took some questions and shared their thoughts.
This was one of the most power packed session where we had some great insights from Top CXOs of the country. We look forward to having more such conversations with you in the future.
Subscribe to our Newsletter