back

Emerging technologies
Modern Lifestyle
Technology
Usability
How Digital Transformation is Revolutionizing Offline Retail Experience
Before we go any further, allow us to declare that retail is here to stay. It is alive and kicking, and the boundaries between brick-and-mortar stores and online stores have already blurred, highlighting the importance of omnichannel marketing. Most online and offline resources discussed omnichannel experience as a novel concept in 2017, but conversations in 2018 will focus on the digital transformation that is already brewing in offline retail experience. With omnichannel experience taking centre stage, retailers and industry insiders have certain urgent priorities to focus on. These include, understanding technologies that are revolutionizing retail, setting up a budget for making changes, and promoting innovation within respective niche markets. With that in mind, digital transformation can be clubbed under these 3 categories which we shall discuss below.
Technologies to watch: Bluetooth beacons, Internet of Things, Artificial Intelligence and chatbots, in-store applications, in-store push notifications
Digitizing operations: Online access to inventory, communicating inventory needs before arrival, mobile wallets and digital checkouts, personalized recommendations, dynamic pricing
Bringing digital to the store: Creating a multisensory experience, data and predictive analysis, enhanced customer support, social media tools, focusing on in-store experience
Revving up the technology front at retail stores
It would be foolhardy to assume that everyone wants to simply order products online without ever visiting a store. In fact, most people would rather walk into a store, physically touch the product they want to purchase, see it with their own eyes, or try it on themselves, before making a purchase.
But they will use their mobile devices when they are inside your store.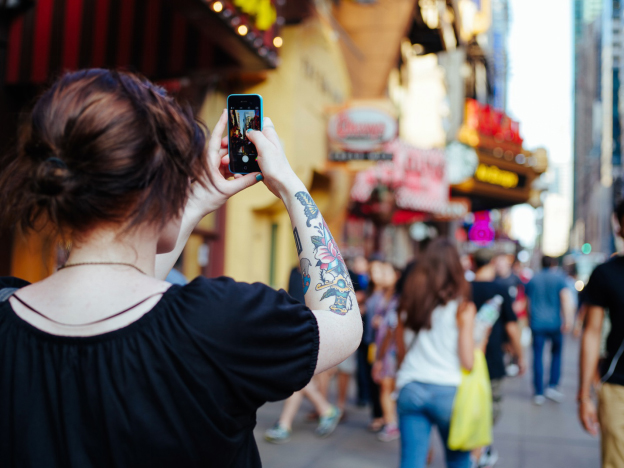 Using technology to create multi-sensory experiences for your customers is important to drive up sales. Retail stores across the world have begun to combine elements of Bluetooth, artificial intelligence, and the Internet of Things to create unique shopping experiences for customers who walk inside stores.
Conversations are no longer about which technology is better to use in a store, but the focus is more on how all technologies can be used to create a holistic shopping experience for the customer. In other words, we are in a retail situation where various digital technologies intersect at retail stores to provide unique shopping experiences that are omnichannel in nature.
Who is doing what: A number of retail chains began to experiment with Bluetooth beacons and internet of Things in 2017. While Sainsbury's toyed with Bluetooth beacons, Singapore-based A Better Florist began to offer chatbot experience to clients so that they can track their orders quickly and easily. Sainsbury's push notifications were delivered to customers when they arrived at the store, highlighting the importance of in-store applications and notifications.
Here is what you can take from this: Consider speaking to digital consultants to understand how various emerging and existing technologies can be used together to create unique omnichannel shopping experiences for your customers in-store.
Digitize your offline retail operations to deliver a friction-free shopping experience
What could be worse than visiting an online store and realizing a product that is listed is not available anymore? What could be more unfortunate than having something in stock but not displaying it on the website because of communication and technology errors? A customer walking into a retail store and realizing the exact product that they want is not available. Nothing hurts a brand more than a customer walking away in disappoint from a retail store because a product that they wanted and assumed was available, isn't.
To avoid such situations, digitizing operations is a boon to retailers. When customers have access to available inventory at each retail location, they can simply look up on their mobile phones and arrive at the store, knowing for sure that what they want is indeed available. in fact, they could even call up your store (or text your chatbot) to inform you what they want to try or take a look at so that the product in question is ready to be tried or observed as soon as they arrive at the store.
To ensure there are no literal abandoned shopping carts, you could urge them to pay via mobile wallets or ensure digital checkouts. Personalized recommendations based on various psychographic data will help you to cross-sell and upsell as well, right when they are at your store location. Want to tempt the reluctant customer who is looking at something longingly but is about to walk away? Deliver push notifications to their mobile phones and offer discounts and coupons, thanks to dynamic pricing.
Who is doing what: Decathlon, the French sports apparel chain, offers online access to its inventory so that people can check beforehand what is available at their store locations before venturing out. Those who don't want to try the products at a retail store can simply order them on the same website. Decathlon's unique marketing strategies have helped it to digitize its operations and become a world leader in sports apparel in a very short period.
Here is what you can take from this: understand how you can enhance the shopping experience by using technology and by digitizing your operations. A retail store that is efficient and that which operates flawlessly makes customers happier than anything else. Use the myriad technologies available to create a friction-free shopping experience for your customers.
An immersive shopping experience keeps your customers hooked
Another area that is transforming retail experience is the actual process of shopping. By providing a multisensory experience using technology, many retailers are making it cool to shop offline again. After all, it is a human tendency to rebel against what is the norm. If shopping online is the norm today, there is an equal number of people who would rather go to a store for a more immersive and sensual shopping experience.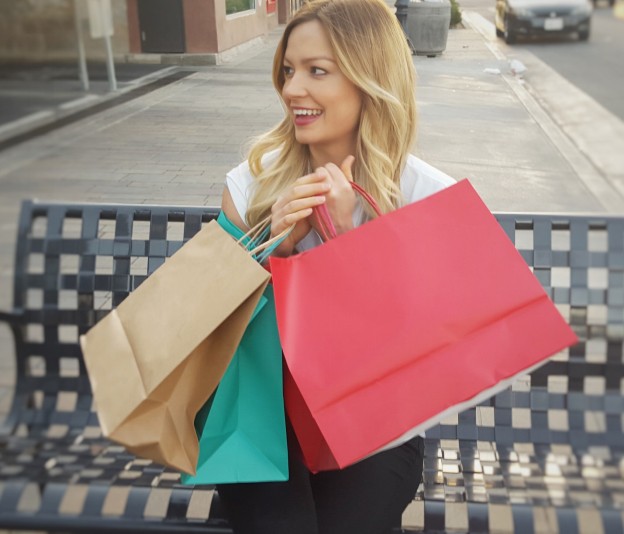 One way to enhance the shopping experience at retail stores is by understanding each customer personally, and by providing personal and customized attention to everyone that walks in. Let's face it. Everyone likes to be treated like a king or a queen. This is not possible online but is certainly possible offline.
Data related to the customer, their social media usage, predictive analysis, and other digital techniques can help you provide enhanced customer support, hyper-personal attention when a customer is at a physical retail location, and enhance shopping experience using augmented reality and other forms of technology. In fact, even Bluetooth beacons can be used to communicate better with retail customers.
Who is doing what: Real Canadian Superstore, a food retailer, launched its online click and collect service for its customers. Customers could simply click online to choose the product they wanted, and physically walk into a store and collect it. In fact, customers sometimes didn't even have to walk inside the store. Store representatives simply recognized the arrival of the customer and handed the baggage while they were still in their cars. Consider how well prepared you can be if a customer turns on his Bluetooth, and you know exactly how to please that customer even before he walked in!
Here is what you can take from this: Shopping is an immersive experience, to begin with. People take time off to visit a store and to enjoy the experience of shopping. As a retailer, you have the responsibility to provide the excellent experience that your customer expects from you. Use the opportunity of a customer at your door to prove what a great company you are.
Case Study: Amazon Go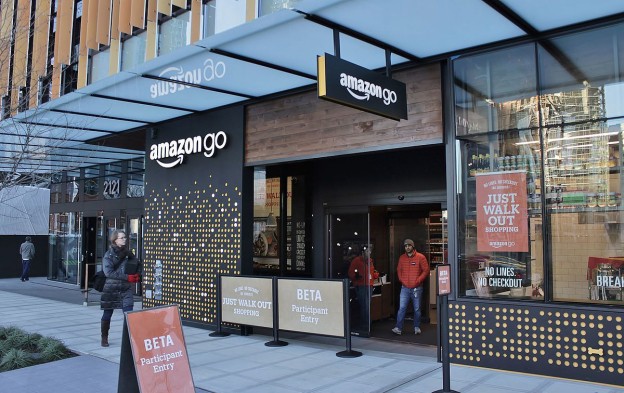 Amazon Go retail location in Seattle, USA. Image Courtesy: SounderBruce
The best example of the retail industry undergoing a sea change is Amazon's new retail effort, "Amazon Go". This grocery store makes use of technologies such as computer vision, sensors, deep learning, and artificial intelligence to make sure that much of the buying process is automated. Amazon Go's retail experience focuses on the use of smartphones while being physically present at its retail locations.
To purchase at Amazon go, customers first need to download Amazon Go app on their Android or iOS devices. Each Amazon Go store has cameras and sensors fit across the ceiling so that when users pick up physical goods, they are registered automatically. The checkout process is smoother, quicker, and more efficient. If a customer places groceries back on the shelf, that is recorded too and is removed from the virtual cart.
The app is particularly useful for families if they are shopping with kids, as multiple users can be added to a single Amazon Go account, ensuring that duplicity of bills is eliminated. While most stores are set to open in Seattle, Los Angeles will likely see many Amazon Go stores as well. This is yet another example of how digital technologies are transforming the retail space.
Immersive shopping experience fueled by digital transformation is here to stay
Close to 90% of stores have decided to increase or maintain their mobile technology investment. More than 40% of retailers are training their associates to use mobile technology better, and close to 92% of retailers have some sort of social strategy in place. These trends point toward a near-universal awareness about digital technologies.
However, for you to gain the competitive edge that others do not have, you will need to move beyond mobile and social strategies. You will need to actively look towards emerging and newer technologies such as Bluetooth beacons, chatbots, predictive analysis, and data science to provide the immersive shopping experience that your customers truly deserve.
After all, retail has always been at the forefront of adopting novel methods to keeping customers that walk inside stores for a longer time. The more time they spend at your store, the more they are likely to shop. This can only happen when you provide value to their visit. Value to a customer's presence at offline retail stores can be provided with the help of technologies we already discussed, and by providing a cross-platform omnichannel experience, where they either end up ordering online after seeing something they like at a physical store (from your website), or they come and pick up something that they liked after checking it out on your website.
At the end of the day, digital transformation isn't killing offline store like people assumed last year. Instead, they are growing more in popularity simply because people have come to value an immersive, efficient, and enjoyable shopping experience.
Subscribe to our Newsletter