back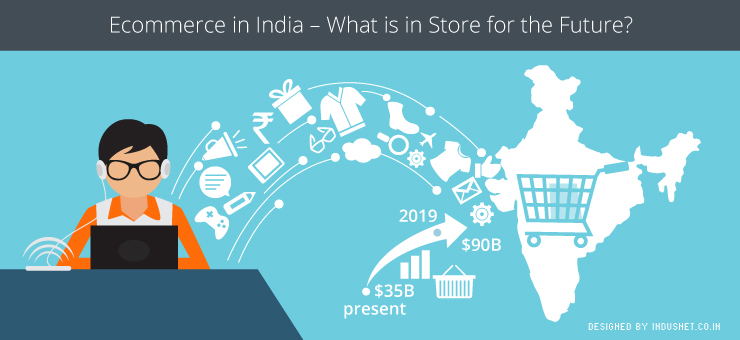 E-commerce
Ecommerce in India – What is in Store for the Future?
Ecommerce is thriving in India. All thanks to the booming online retail industry that defies the slow economic growth and spiraling inflation. Advanced technologies and web applications with safe transaction assurance are giving enough reasons to the new age Indian buyers to shop online. According to eTailing India research, 'Indian Ecommerce Market will reach $90 billion by 2019. Gartner predicts that by 2016, online shopper base will grow almost three times to 100 million compared to 35 million at present, and over half of the new buyers would be from Tier I and Tier II cities. Besides, the growing middle class and the purchasing power of young consumers are driving the growth of the online retail industry like never before. This makes India one of the fastest- growing eCommerce markets in Asia-pacific region.
Big Retailers are going Online
The partnership between Amazon and Future Group owned by Big Bazaar or Snapdeal and Croma is no more a partnership between two retailers but has expanded to a vendor or technology partner aiming to offer logistics and technological services. Besides, both Reliance retail and Shoppers Stop are also planning to launch their eCommerce sites and revamp their digital platform to reach as many as their target group.
Retail Ecommerce Sale in India from 2012-2018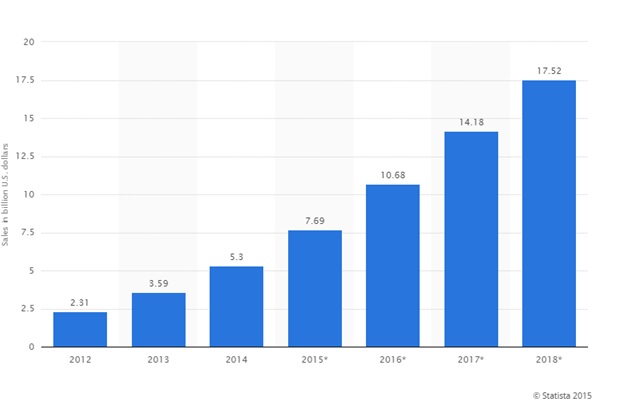 The competition is getting fired up with almost all online businesses trying to discover and promote something new every now and then. So the question arises as 'How do all of them survive?' Is it through variation in products or through sales and coupons? Undoubtedly, these are significant part of the business; however, the future holds something more creative than these.
7 out of 10 Consumers will Shop via Mobile
Percent of Internet Users in India from 2011-2018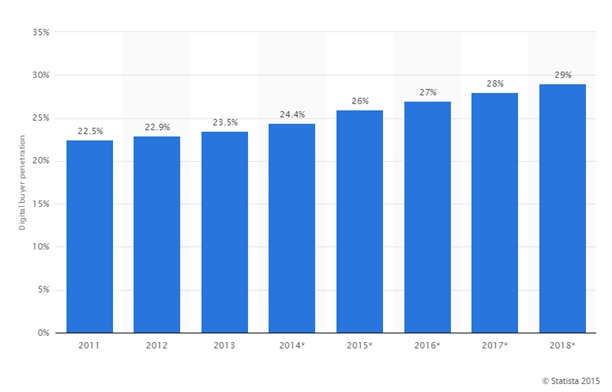 Needless to say that internet and mobile devices are changing the way we engage with our daily lives. The change is now visible in the online shopping behavior. With 975 million mobile phone connections in India and penetration at 140 per cent in urban areas, eCommerce businesses are seeing apps as the way to push sales, with some even planning to make it a delivery platform. Smart devices account for approximately 50% of traffic for all marketplaces. A year ago, mobile traffic accounted for less than 10% of the entire traffic to FlipKart, however, the figure rose to 50% in recent times. Similarly, Snapdeal is the market leader with nearly 65% of its total orders coming through mobile devices.
The increasing affordability and accessibility of internet connections is drastically boosting mCommerce.
Innovation at its Best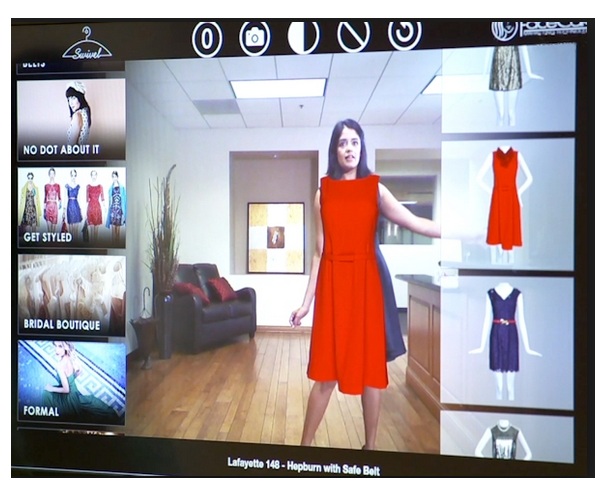 P.C. Ispr.info
The time is not so far when eCommerce technology will enable us to see, touch and feel online products. Online businesses in India will soon have their virtual fitting rooms where customers can try on outfits and see whether it fits them well or not. Many companies claimed that such a feature can severely reduce the return and refunds and increases the sale massively. Not only this, a few retailers are also investing in developing 3D shopping experience to enable visitors walk through the passageway, converse to a sale representative while choosing products and also make the payment at the virtual cash desk just like offline shopping. Well! ECommerce in India has something more in store for the future. It promises to deliver the products on time based on the customer's GPS location.
Enhanced Logistics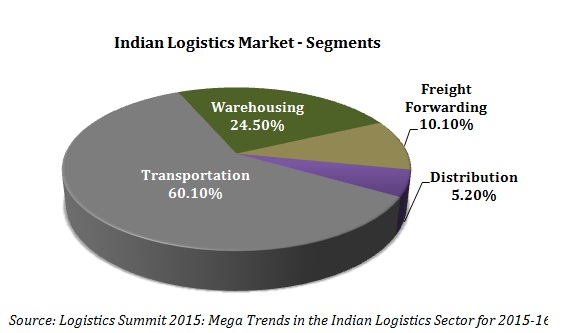 P.C. sanasecurities.com
More companies will streamline or re-invent logistics for their eCommerce portals to thrive. Large eCommerce players are focusing on hyper local delivery network or last mile delivery network to boost the product delivery speed. Some of them have already filed exclusive rights for an anticipatory delivery model, which aims at dispatching products to customers even before they've ordered for it, thereby reducing shipping time. They would even start using new delivery model which will use the highly technically embedded drones or helicopters for instant delivery of items. Many other eCommerce companies are also thinking of using crowdsourced delivery services. Although expensive, crowdsourced models can be an excellent facility when it comes to delivering products as it can alert a pre qualified driver of a pending delivery through the use of smartphone app. The supply chain has improved significantly and e-tailers are even leveraging on the services of Indian Post for greater reach across the country.
Besides, online ventures are also trying their best to overcome one of the biggest drawbacks of being unable to collect the delivery if buyers are not at home. Ecommerce companies are installing personalized lockers just like your own mailboxes. This locker will be electronically locked with a password along with camera surveillance.
Some more Apps Awaiting
P.C. Scanova.io
QR Code shopping culture is gaining momentum. Online merchants with an aim to make the most crowded places like bus stops, metro stations or trade centers convert into shop windows with paper copies of the actual store products are using this machine readable code in their advertisements. This enables prospective buyers to scan them and reach the relevant landing page to place an order.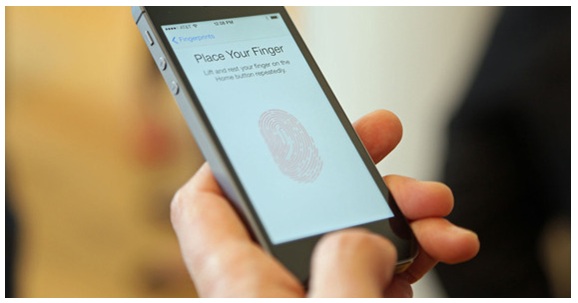 P.C. passcomms.com
While QR codes will allow for immediate purchasing decisions, biometric sensor will allow for immediate payment for the chosen items. This will become a fast and secured one-tap purchasing mode making biometric shopping go mainstream in the near future.

P.C. addontechnologies.net
Decision made via QR code and payment done with a finger touch, soon products will get delivered based on the GPS location tracking. This is going to drive a demand for GPS tracking apps to allow easy delivery of ordered products at any location.
Don't be surprised if you find varieties of pickles getting sold online. The growing popularity of online shopping is encouraging retailers to be in a much larger and more competitive landscape to sell their products. With innovation becoming the new strength, entrepreneurs are coming up with clutter-breaking ideas to create new verticals. No wonder, the cost of building eCommerce sites will drop, but the cost of branding and marketing such sites will shoot up drastically.
Seeing the current behavior of the Indian buyers, eCommerce experts estimated that the trend of e-shopping would become the basic phenomenon in the arriving years.
Subscribe to our Newsletter