back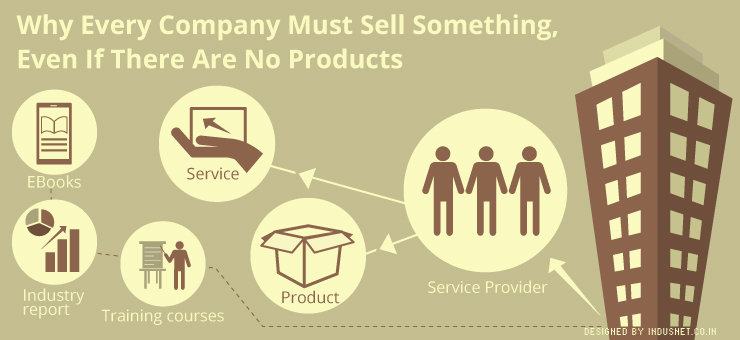 Marketing
Strategy
Why Every Company Must Sell Something, Even If There Are No Products
Every business exists for the purpose of generating profits. A business either sells a product or a service. In both cases, money is generated when the product/service is delivered to the customer. Thus, it is important to understand that selling is crucial for the success of business.
Looking at it from a different perspective, most businesses don't want to associate with the word "selling" as it portrays an image of a self-centered business entity whose only interest is to sell and not customer welfare. For the same reason, most businesses have a strong affinity towards the word "marketing". It is obvious that marketing and selling are entirely different concepts. In selling, you are earning money while in marketing you are spending money and resources to reach the selling stage.
Now as we know that service is not a tangible industry unlike products.  The service experience can vary from customer to customer, while it is easier to find homogenous experience across product users. What should a service business do? The following article will discuss the importance of selling a product even if you are only a service provider.
Importance of selling a product for a service provider
From customers' point of view, it is easier to associate with a brand if there is some symbolism attached to it. There is no doubt that providing a good service contributes towards building a brand for your company. But with growing competition in the market, marketers are trying to woo their customers in unique ways. There are a number of ways in which service companies can sell a product not with the core agenda of making money, but doing something extra to build personal relationship with the customers.
It is used to attract new customers to the company. Even if a customer is not utilizing your services currently, he is still associated with your brand mascots. The money thus generated by selling these products or merchandises can be utilized to fund a cause or an awareness program.
Product companies offer service too
If we look the other way round, product companies are already engaged in providing some or the other kind of service. It is just that customers don't realize it. For instance, pharmaceutical giant Merck in its French subsidiary has been including delivery in its product price for customers. Since specialty chemicals are high in value and low in volume, Merck always made sure that they assume transportation and insurance costs. While there were no shipping costs included in the bill, customers were unaware of the extra value provided by Merck.
Those services are provided to win over the customers, and retain customers. Though services provided by product sellers are not intended to earn money directly but indirectly they are increasing their probability by fetching a bigger order from the customer. Thus, such services do help in earning more money and adding value to product sellers.
Similarly, following an unusual way will definitely help your company to grow further and establish your image as a welfare-oriented and customer-friendly organization. It will add scores to your corporate social responsibility initiatives.
Options, choices and deliberations
Creating a product does not happen randomly. The key to selecting and providing the right product for the customers starts with understanding how to create an excellent customer experience. In order to conquer that, you can move backwards to deliver great experience and also earn money. This is not just about making the product available to them but involves knowledge and expertise application to useful purposes that addresses needs of your customers.
For instance, a software development company often approaches their client highlighting about their previous software development projects and how they helped their previous clients. Even if your first meeting with the client is just the beginning of conversation, care to leave a product or two with them. Such products in case of software companies can be small, creative and utility software that can be given for free. You can also gift them company merchandise on your first meeting. Such encounters go a long way. The client may not be using your services till now but he will certainly remember you in future as you have given them a reason to remind them of you.
Gifting company merchandise is a good way of starting this practice. Thus, providing company merchandise like a pen, key ring, wall clock, cap, calendar, diary, writing pad or any other branded souvenir or customer outfit is a common way utilized by most service/product companies for a number of years. Such products though are a good reminder of your company name; they do not somehow add value to the customer and obviously you are not earning any money out of it.
Today, customers look for valuable products that enable them to learn something new. They are ready to pay for it if they are served valuable, high-quality, and relevant content. It is interesting to note that service-oriented companies have a very good chance of utilizing content marketing to their benefit.
Taking the example of the software company forward, the company can provide its customers with paid eBooks, paid training courses, research papers, industry reports and any other downloadable content suitable to your customers. If your customers feel enlightened by your content, they will demand for more. You must remember whatever initiative you take; you should pursue it with a lot of perseverance keeping the customers' needs in mind. It will assist you in content designing.
Some of the options are:
1.    EBooks
Ebooks provide a great medium for creating interesting content. For instance, if you are a cloud service provider, you can create an eBook emphasizing upon the need for acceleration towards cloud computing. If you are a mobile application developer, you can create an eBook on best practices in mobile application testing. If you are an outsourcing service provider, you can create an eBook around a topic say 50 ways to make the most of your virtual team. Similarly, if you are an HRMS service provider, you can create an eBook on the subject of automating your HR requirements. Thus, in all the cases above, we observe that the content created is highly relevant to your target customers.
2.    Industry report
Industry report or market research paper is the acquisition of corporate intelligence on various issues. It needs a lot of hard work to create an accurate report, but it significantly helps your customers. For instance, if you are a digital publishing company, it is interesting to provide an industry analysis report on digital publishing. If you are an ERP service provider, it is a wise thing to do a research on ERP implementation: Success and failure in small companies.
 3.    Training courses
To design a training course, you must know what problems are faced by customers and their employees in a B2B context. Accordingly, you can design and release the course module wise. For a complex software development company, training course is often provided by the company itself to facilitate the implementation of the project. But there can be many other courses that help the company improve their other software-related processes. You can even classify the courses as basic, medium and advanced and charge a different fee for different levels.
Selling a product keeps your company alive
It is important to sell a product as products serve as the first step in getting closer to the customers and achieving a bigger goal. Consider product selling as a part of your marketing strategy. This is a win-win case for your company as you are simultaneously recovering money otherwise accounted in your marketing budget. There are multiple ways to get your customers into buying your product. It depends what kind of service you provide.
For a software development and management consultancies, selling quality content is the best way to earn money though not limited to this. Though most of the custom-made software are copyrighted by the customer, the ones which are not should be made available to your other customers at a price. You are apparently selling ancillary software to the customer, to mould their focus towards a bigger picture i.e. custom software development.
A good experience is always remembered by the customer. Put in all your efforts to enrich your customers' experience through products. Organizing a conference and inviting renowned speakers at the forum is another interesting way of earning money through paid entries. Here, tangibly you are selling a ticket to your customers to attend the conference.
Subscribe to our Newsletter