back

FinTech
Fintech And Open Banking- Phygitalization
Digital evolution has increased digital engagement. People will demand more advanced services across various sectors, and banking is also not an exception. Though digitization has been a buzzword, the pandemic has made it a necessity. When we think of the banking sector for two decades back, it was more like sailing through a calm and well-known sea. Strategizing then was more straightforward than today.
With the technological revolution, consumers are demanding more engaging experiences; thus, the concept of "Experience Banking" has become popular. Phygitalization means to take a phygital leap towards a new structure to add value to the customer through experience. Phygitalization is essential for the banking sector as physical touchpoints are crucial for banking survival. Thus, in another #DigitalSuccess Dialogue episode, we invited Bruno Macedo, Head of Delivery Implementations at five°degrees, Speaker, Lecturer, and Fintech Evangelist with more than 19 years of international experience to talk on the phygital model and how banking sectors and fintech are adapting it for survival.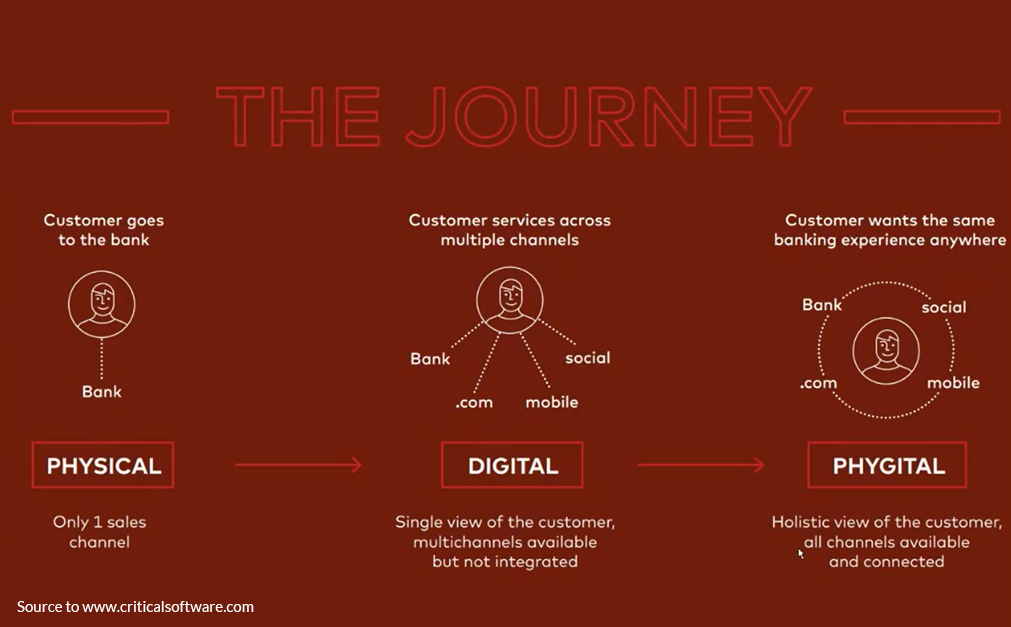 The Storm
The Digital-first approach is the only strategy that BFSI can look up to where digital can be an enabler to move from offline to online. The Fintech revolution took place when reacting to the long term planning seemed hard without the right strategy backing up with the right team support. Bruno added, "There was an increasing demand for going digital, but the sudden outbreak of COVID-19 has worsened the situation"". Today there is more than 12,000 fintech with various departments.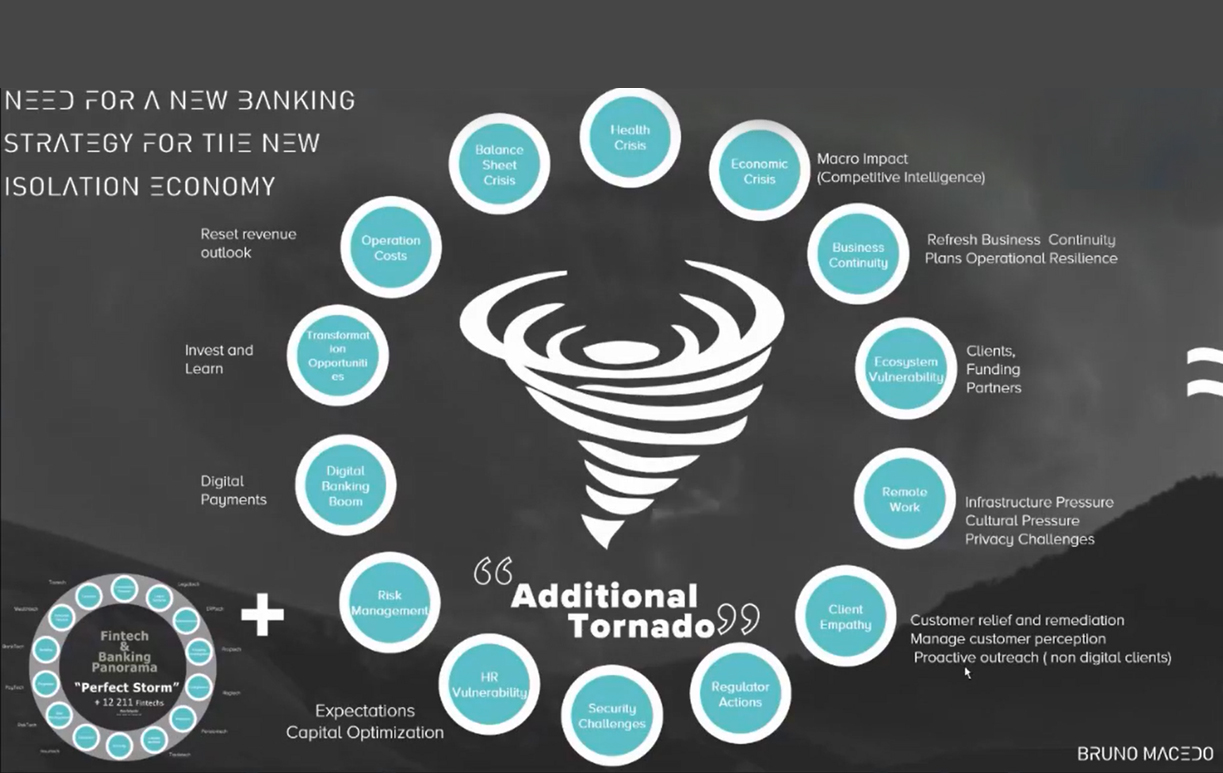 The need for a new banking strategy for the new isolation economy arose for the various crises. Bruno considers different technology as a "perfect storm" as companies face technological hurdles while adopting it. However, the pandemic crisis has posed a "tornado" for the banking sector as it worsened the situation.
The Phygital Journey
Big tech companies are pampering consumers with advanced technology by providing seamless interaction where everything is super fast, immersive, and quick responses with personalization. So how is the fintech holding off the storm in the middle of all these?
"Fintechs need to go beyond simple digitization by adopting physical architecture to leap to a new productivity frontier," Bruno advised. Phygital is a process that cannot occur within a few weeks; it is a step by step process—becoming phygital starts with becoming agile to respond to the changes besides the technical side of things. Robust infrastructure provides information to forecast the future and a feedback card of each interaction gives a holistic view of the overall experience.
BI, Analytics, Quantum Computing, AI, ML, IoT are the processes and methods used in the omnichannel of banking interaction to have an "intelligent context-aware conversation" with customers.
Phygital Architecture
We have seen more affinity towards technology among the millennials, and the pandemic has pushed the older generation to start using digital channels to ease their daily chores. Bruno advised banks to start adopting phygital for both generations.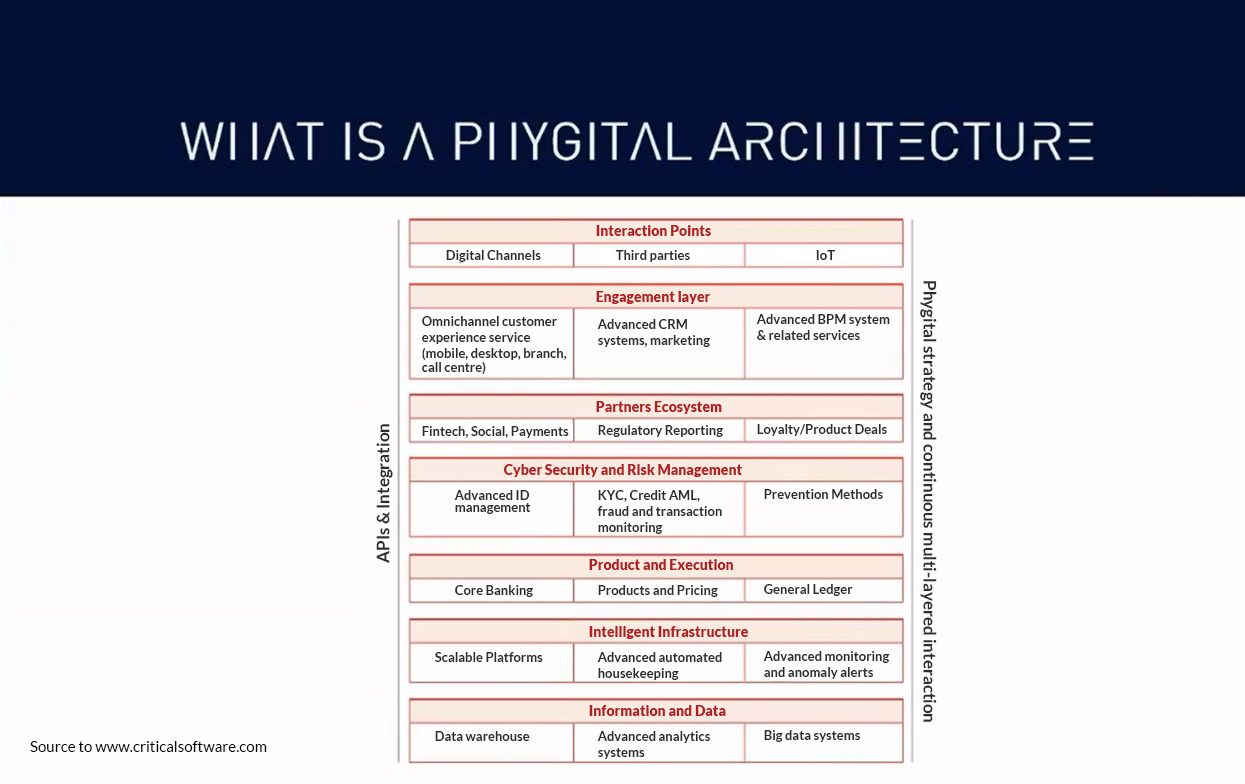 Phygital architecture is setting up an ecosystem where customer value will increase throughout the journey by reducing cost. Better customer experience needs to understand the hurdles they face while using it. "Reimagine the bank with more human contact but at the same time becoming more digital," says Bruno.
Challenges
According to Bruno, there are few challenges that financial institutions are facing recently. Data protection is the first challenge. The bank is a sector where trust is a crucial factor, and the amount of data shared posed as a constraint for banks to go phygital. GDPR compliance has incorporated data privacy in the data handling procedures, but it is also a costly affair, and banks are struggling to comply with it. Banks have also shown reluctance in integrating data with APIs. Open banking is demanding secured APIs, along with customer consent and authorization. Bypassing all the hurdles, banks must take advantage of it to get a significant ROI.
Open banking API can interconnect the data with other financial departments such as Insurance. Now, imagine a loan journey experience. A customer will refer to the aggregator website to compare interest rate details. Hence APIs can leverage this data, and as soon as you walk into the bank, your banker will delight you by serving your purpose in advance of your briefing. This process will cut down the operational cycle time for the bank and make the customer's life easy.
Cultural Reshaping
Digital transformation is reshaping the culture of banks. Banks are adopting agile methodology as data becomes a pivotal role. "Cultural change will happen in the confluence of advanced technology, regulated industries, and banking industries," confirmed Bruno. Banks need to adapt to the reality of changing bank culture. If we want to become digitally significant, we need to transform for the future.
The benefits of going phygital have a multiplier effect. Even the central banks are taking initiatives for open banking. They are also providing consulting services to the younger banks on advanced technology. Central banks adopting digital transformation are believed to have a trustable impact among bankers and clients.
When Bruno asked about innovation that banks are adopting, he shared, "A bank that translated all of its processing into smart contracts and put them into all internal chains the cost came super down, but the human necessity also became minimum. I can work with 12 people and serve 1000 people because all my processes are in the bank in a smart contract. That is a giant leap of innovation by 5 to 10 years.
Take Away
The Phygital model, which is a confluence of digital and physical, helped in various ways by increasing the customer base, improving customer bank relationships, providing an engaging experience, and increasing customer value. Phygital provides a 360-degree view of life stages, customer relationships, and life-cycle. Phygital means fundamentally changing the banking business structure, and it is a bold step that businesses are taking to increase customer value, simultaneously reducing the cost.
Subscribe to our Newsletter