back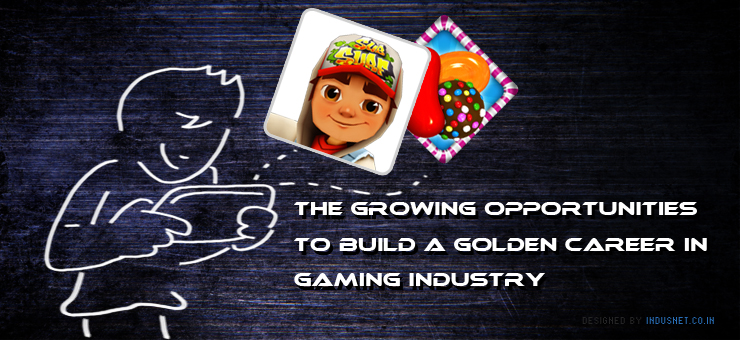 HRD
Mobile
Technology
The Growing Opportunities to Build a Golden Career in Gaming Industry
Have you ever thought of making JAKE run in the street of Kolkata and a cop running after it? Or how good are you at making people wide awake till 3 am to cross level 83 in their Candy Crush Saga? Well, you can only imagine this if you are a born game developer and a gamer? Indus Net Technologies aims at putting all your hard work and imagination culminate into something that people will enjoy. The company helps unveiling your creative ideas in gaming and gain an extra edge to stay ahead of your competitors.
Statistics highlighting the growth of gaming industry in India
The Indian gaming industry, which was USD 171.66 million in 2010, is expected to grow at a compound annual growth rate of 32.1% through 2015 ( source – FICCI-KPMG)
Analysis says that console gaming will have the largest market share of 62% while mobile gaming will account to 23% by 2019
Ken Research report shows India's video game industry will grow at a considerable CAGR rate exceeding INR 180 billion by 2018.
This shows the magnificent career growth opportunities in this sector.
India, being a very competent nation, is equipped with all the technological expertise and has an edge over others in terms of talent engaged in online game development. The focus is solely on leveraging cost-competitiveness. The country has already offered a significant cost advantage in animation and game development compared to any other outsourcing destinations. Games developed in India are internationally recognized, and therefore, are enhancing India's image as a nation with the best technical & infrastructural capabilities to provide gaming services that easily meet international standard.
Not ONE but MULTIPLE career options
Developing a game entails coming up with new concepts, programming, scripting and animation, designing characters & testing. It is not only creative and fun-filled, but also offers attractive global employment prospects. Tons of careers are available as a –
Concept Artist
Designer
Developer
Technical Instructor
Content Developer
Sound Engineer
Voice Artist
Tester
Marketer.
INT, in no way, is behind the competition; it works on world's number one gaming engine – Unity 3D
According to Unite 2013, Unite 2014, and in another Unity Conference- by 2018 all iOS, Windows, Android or Blackberry developers will soon be merged as Unity developers. They will work on a single platform – Unity 3D Gaming Engine. Its cross-platform technology enables delivering games to 14 different platforms with a single click. The platforms include:
Web Player
PC Mac Linux
iOS
Android
Blackberry
Flash Player
Google Native Client
Xbox360
PS3
Wii
Windows Store App
Windows Phone 8
xbox One
PS4
Gaming business – the ever-growing exciting industry
With new games and technologies rolling in everyday, working in gaming industry will have you on your toes. INT, with its 3+ years of experiences in the gaming sector, gives you countless opportunities to club all your ingenious ideas together to create something unique and extraordinary. How?
Learn the gaming trends and create interactive games for all age groups
Enough liberty to incorporate ideas to make your games addictive
Inspire curiosity, exploration, irresistible challenges and game rewards through your games
Work on 2D and 3D technology
Work on the world's largest gaming engine – Unity 3D
No stringent rules to follow
With the growing penetration of internet, adoption of Smart devices and bigger screen sizes, gaming industry is booming. There is no place for saturation.
For instance, take a look at the growing percentage of Android gamers in India by categories:
Arcade & Action – 67%
Casual – 50%
Brain & Puzzle – 12%
Cards & Casinos – 17%
Sports Games – 14%
(Source: Flurry Analytics, 60,000 device sample, January, 2014.)
The basic skill sets required for game development
Professionals who have a unique combination of technological knowledge and creativity & focus on innovative thinking can easily achieve perfection in their work. The motivation to create the finest and versatile online game & the ability to adapt to changes and meet strict deadlines are some of the fundamental skills looked for in this industry. Developing games and creating animated characters demand meticulous observation skills along with the zeal to achieve what is desired.
The gaming industry has been changing at a rapid rate. The gaming diffusion across all ages as well as the competitive pressure has been significantly changing the entire gaming market.
So, are you ready to take the plunge and explore your potentials as a game developer?
Subscribe to our Newsletter