back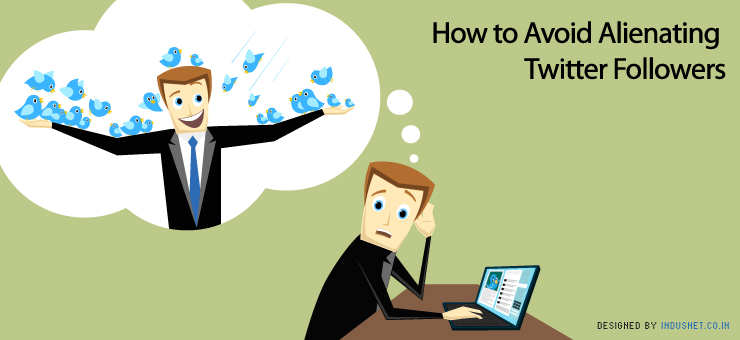 Digital Marketing
Marketing
How to Avoid Alienating Twitter Followers
Customers form the very backbone of businesses and they constitute the very essence of a flourishing business. Indeed, they should be treated well so that it paves the way to a prospering business. With over 175 million registered users, Twitter is a place where small businesses thrive by connecting with a huge number of followers. The main goal of small businesses should be to get acquainted with their followers and retain them. If you neglect your followers, you could lose them. This exodus of people to greener territories can be more or less attributed to a host of factors- as we see in the next section.
5 Tips to Avoid Alienating Twitter Followers
1. Never Stop Connecting and Building a Relationships with Followers
There is nothing worse than having an official Twitter account and constantly churning out marketing tweets. It is important to engage with your consumers for they are people and not just a Twitter statistic. Offer discounts, seek feedback for your products and services and indulge followers when they speak highly about your business. Offer a discount, retweet when they have something personal and happy about themselves to say and basically, be cordial. Sometimes, you could share some anecdotes, comment on celebrities, news material and other news items trending on Twitter.
2. Build a Specific Target Audience and Nurture It
For example, if teenagers or college students are targeted, the posts need to have an amount of 'coolness quotient'. On the other hand, Twitter uses SMS lingo for sure, but that does not mean there can be mistakes in the lingo. It doesn't go well with most followers and you will not be taken seriously. You need to groom your brand to meet some specific requirements. Understand your target audience and limit tweets that can come across as off-putting.
3. Stop Being Offensive
Never Engage in offensive comments, ridiculing people or rude behavior: This can get you mired in a controversy. Be outspoken but do not be nasty, which can shun followers and kick up a storm, as it can be detrimental to your brand. It is also wise to refrain from posting sensitive information which can offend certain groups.
Recently, Olivia Wilde was at the receiving end of numerous hate tweets from Justin Bieber's beliebers. The trigger, according to her, was a harmless suggestion to her 'brother' to stop roaming topless on the streets, as seen in a recent picture of him on the internet. In another incident, a comment made by a boy on Twitter did not go down well with an emir, who awarded him a 5 year jail term for insulting him, in the neighboring country of Kuwait. Make sure you live in a safe place if you want to extend your freedom to your Twitter channel.
4. Be Grateful
Write a few congratulatory tweets when required. If someone retweets something about you in admiration or is in awe of you, saying that you have done a great thing do reply with a thanks. This, if not done, can end up with you being typecast as arrogant or rude. This could be less than amusing to your consumers/followers and they will eventually click on the 'Unfollow' button. Be respectful of the time and attention showered upon you by your followers, as they surely deserve it from you. Spare them a thought. Not doing so is a sure way of alienating your followers.
5. Do Not Be an Automaton
While automating some amount of social posts is unavoidable, do not do it flagrantly. Too much of automation can be a big turn-off to your consumers. You should be communicating a lot with your consumers for that is what a social platform is all about. If you rely a lot on timed tweets, other than in emergency or on weekends, your followers will eventually desert you. You must also not send automated tweets such as "Let's see how many likes for this pic". This won't do any good. Such begging of likes and comments can alienate your followers.
If you really want to retain your followers, keep a tab on the statistical data accumulated over a period of time. This can tell you a lot about consumer behavior. Being nice, polite and courteous and finally, being real will ensure that you will not alienate your followers. Anything that seems to sale-sy or unreal will alienate your followers and that is not what we want from a successful digital marketing campaign.
Subscribe to our Newsletter