back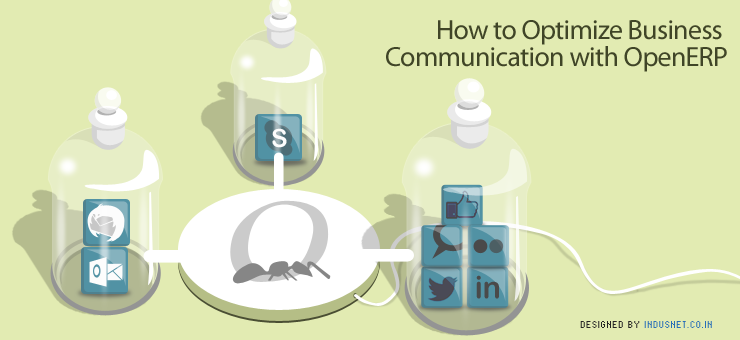 Design
Web Development
How to Optimize Business Communication with OpenERP
There are many reasons why you should have some of the best tools of communication in place. They help you to make contact with your leads and convert them to opportunities. The very same communication tools help you to convert opportunities into customers and increase your company's profitability. With that in mind, it is important to have an excellent enterprise resources planning system in place, which is not only affordable but also easily customizable.
OpenERP and Business Communication Go Hand In Hand
OpenERP meets all these requirements and according to us, it is one of the best ERP tools to manage communication with various kinds of people. OpenERP is one of the best ERP tools to pursue your company's business opportunities effectively. However, some of us may be more attuned to using certain email programs more than the new ones and learning a new email program may decrease efficiency. For this reason alone, OpenERP allows you to use normal communication tools by interfacing them with OpenERP. Nothing is lost, and you will only increase your productivity and efficiency in communication.
Integration of Email Tools in Enterprise Resource Planning Systems
OpenERP is one of the most versatile ERP solutions available at the moment. It effectively integrates all your email programs without you having to go through a steep learning curve. The two most used email platforms, Outlook and Thunderbird, can be effectively interfaced with OpenERP and you will not have to learn a new software program. OpenERP itself requires a little bit of learning and there are professionals who help you to learn the basics or they extend their own services to help you achieve your targets. However, by reducing the number of modules that you need to learn, you will directly increase your growth and productivity, which means, your profitability increases as well.
Various Forms of Business Media Brought Under a Single Software
Business communication often deals with social media, email, telephone and video conferencing. OpenERP allows you to use all these forms of communication effectively when you interface it with these different media. Let us take a look at how it will help you to integrate existing modes of communication with its ERP solutions.
Using Social Media with Enterprise Resource Planning
OpenERP effectively integrates social media into your existing system and allows you to share documents, files and media with people all around the world. OpenERP understands the importance of social links and social feeds, which is why it can now be customized to enter social network details of your contacts and partners. With that in mind, it becomes easier to contact them through Skype, instant messaging, email, and other forms of communication.
When social communication is boosted, business naturally improves. It is no secret that social media has taken over the business world and businesses cannot simply use an ERP system without using social media. Twitter, LinkedIn, Facebook and other social networks can be integrated into OpenERP and when combined together, you will have a very powerful enterprise resource planning system in place. You will not only be able to contact your business partners and clients but will also be able to track their conversations which are public.
It is always easier to know what they like beforehand so that your communication is more effective. For instance, when you have access to a lead's Twitter feed, you will know the likes and dislikes of that particular person. You can change your sales pitch to suit their tastes and effectively convert them into opportunities or better still, customers.
Business communication is often taken for granted even when companies assume they are taking it seriously. There is no way one can shift through various social feeds and contact details when your business grows. Using an ERP system like OpenERP becomes extremely important when it comes to business communication. With that in mind, OpenERP can be an effective tool to bring your email tools, social media, marketing campaigns, sales programs and client communication under a single umbrella. The resulting communication will be holistic and will satisfy not only you but also your prospective clients and customers.
If you were looking for more information about ERP systems or how best you can increase the level of business communication that exists within your organization, do not hesitate to contact our professionals who are well versed with OpenERP and other enterprise resource planning systems.
Subscribe to our Newsletter