back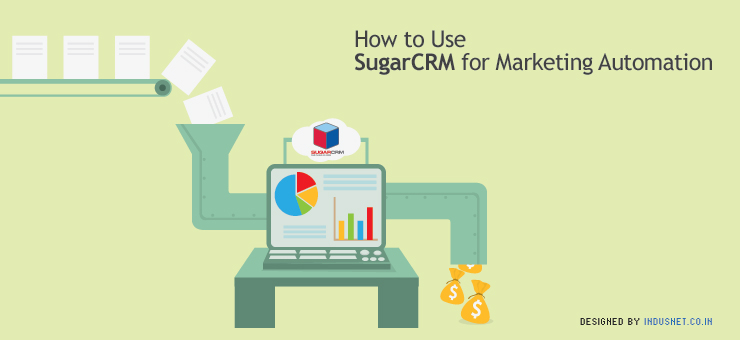 Design
Web Development
How to Use SugarCRM for Marketing Automation
When it comes to marketing things are no simpler and it is not just about targeting the right audience at the right time. It goes further and the world itself has become a lot more complex. With a diverse market that is both native and foreign, and with the introduction of online platforms, marketing has completely changed in the way it used to work. It is simply not possible to hold a ledger and a book and then view pie charts on the screen anymore.
SugarCRM Helps Automating Marketing
Many of the operations need to be automated, and a CRM tool is absolutely necessary to ensure that marketing strategies are successful and also to monitor if they were successful. Thus, by using a CRM tool like SugarCRM, you will be able to include customer relationship management tools in your marketing strategy. In this article, let us take a look at how SugarCRM can help you to automate your marketing processes and how best you could generate demand. In fact, it is really simple to increase leads and to generate revenue with the help of a top notch CRM tool like SugarCRM. Let us take a look at how it does what it does.
Bridging Gap between Sales and Marketing
SugarCRM is one of the best CRM tools around to help you to close the gap between sales and marketing. It allows you to create campaigns and also to execute and track the results later on. By allowing you to develop great email marketing programs and helping you to capture leads directly into Sugar, you will be able to address many issues that previously plagued your marketing management. Web to lead forms help you to augment your marketing automation as well.
Streamlining Marketing Activities and Consolidating Strategies
SugarCRM comes with the unique facility to manage and assign leads directly to sales reps who can later on track marketing ROI. You will be able to monitor it without depending on expensive reports that had to be outsourced earlier. At the end of the day, SugarCRM is a great tool to automate many marketing activities and also bring back profits and revenue to the company. It consolidates and establishes your marketing strategy across the organization and enables you to stay in touch with customers so that further marketing campaigns can be directed towards them. It is one of the best CRM tools that can help you to automate marketing.
SugarCRM Propels Email Marketing to a New Level
When we look at the specifics, SugarCRM helps you to channelize your strategies related to marketing, sales and customer support. Thanks to its email integration, you will be able to integrate Outlook, Gmail, IBM Lotus Notes, Yahoo and other IMAP based email servers. Emails can be archived in Sugar and they can be retrieved when necessary. One may also sync one's email calendars and track activities or go ahead and schedule them as well.
It would be a great way to manage projects and work online or offline. You could choose to work from a desktop or a mobile device. The best feature of SugarCRM is that integrates email so well that common tasks are streamlined and effective communication between customers and staff is streamlined. On top of all this, if you need more, SugarCRM offers an email archiving system that is uniquely useful to companies that are huge and that which receive a lot of email. Email is one of the key aspects of SugarCRM and the makers of this CRM program very well know how important emails are to automate marketing.
SugarCRM will leave you with a number of positive impacts. By choosing to use Sugar for marketing automation requirements, you will be able to create and manage marketing campaigns easily. You will also be able to channelize these campaigns across channels. Leads can be directly captured into SugarCRM and return on investment can be measured easily. All this and more makes SugarCRM one of the most revered CRM platforms to automate marketing. If you wish to learn more about CRM platforms, do not hesitate to contact us. Our professionals will be able to guide you which CRM platform is best suited for your business needs.
Subscribe to our Newsletter