back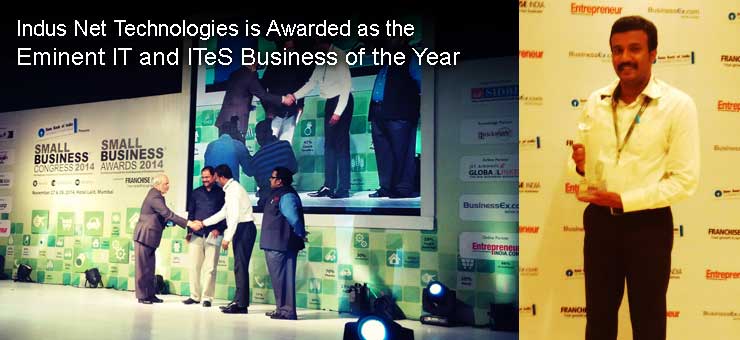 Inside Indus Net
News @ Indus
Indus Net Technologies(INT.) gets Awarded as the Eminent IT and ITeS Business of the Year
Indus Net Technologies(INT.) has always visualized business opportunities by creatively identifying market demands and analysing competitors. With it's more than 17 years of experiences in digital marketing, cloud and web application development and enterprise mobility, the company has established that it has all the expertise to stand out of the crowd and create history in every steps of its success.
Yet another great tale gets added in the success story of INT. on November 27th, 2014. The company serving more than 10,000 clients from over 40 countries has been awarded the 'IT and ITeS Business of the Year' by Franchise India Small Business Award, 2014 at The Lalit, Mumbai. This highlights the company's potential to evolve as an expert in business leadership. Mr. Prithvi Uchil, our Manager- business development on behalf of the entire INT. team received this high-esteemed award from Mr. C.K. Kumaravel, the Founder and Director of Naturals Beauty Salon Pvt. Ltd. and Mr. Ashwin Sanghi, the Entrepreneur and Author of books including Rozabal Line and Chanakya's Chant.
The company's immense belief in enhancing business efficiency and solving every intricate challenge by using its innovative technological solutions has been truly acknowledged through this award. The identity of the best 'IT and ITeS business of the year' is certainly prestigious for the company. The award has added more prominence to the company's ability to enhance its national recognition as the best business in the country. In this glorious context, to quote Mr. Abhishek Rungta, the CEO and Founder of Indus Net Technologies, 'Today, I feel extremely gratified for the fact that we have been able to successfully make our organization redefine the mantra to success – Save smarter, Serve better, Grow Faster'.
The award has not only amplified the company's image on the global platform once again, but will also serve as an encouragement to streamline the business processes to make it run more efficiently in the near future.
Subscribe to our Newsletter