back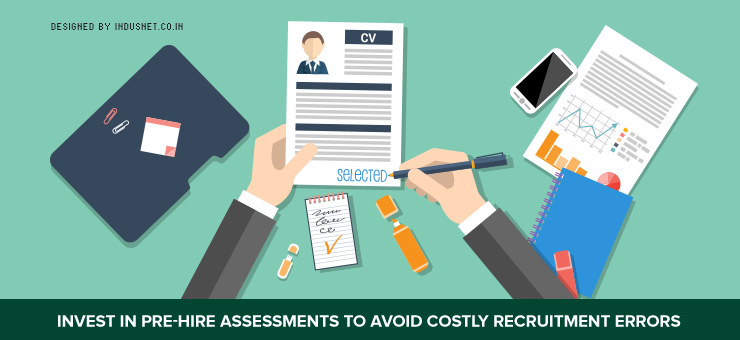 HRD
Invest in Pre-Hire Assessments to Avoid Costly Recruitment Errors
Recruitment errors may cost dearly to an organization. According to HR trade association, bad recruitment can cost five times higher to the organization than the annual salary of a new recruit. Recruitment is a lengthy and tedious process. It consumes significant time, energy and resources of the organization.
The purpose of recruitment could be to bring new talent, new skills, fill up vacancies, or to expand the organization. However, the whole exercise of recruitment goes in vain when you end up hiring a wrong candidate.
Many organizations have started using recruitment applications to simplify recruitment process including sorting of applicants, screening candidates, organizing interviews, till the time candidates are hired. On the contrary, the mere use of such applications does not warranty high-quality recruitments.
Consequences of wrong recruitment
Wrong recruitments may lead to poor performance, waste of time and energy of managers to train recruits, poor learning, low productivity, client dissatisfaction and low morale among employees. In the worst case scenario, an organization may be charged with conspiracy or recommendation favors by unsuccessful and more deserving applicants. To avoid this farcical scenario, it is recommended to invest in pre-hire assessments to hire the most deserving and suitable candidate.
[php snippet=1]
What are pre-hire assessments?
Pre-hire assessments are utilized to screen job applicants. These assessments help an organization to hire the most suitable candidate, save time, generate a better return on investment, minimize employee turnover, and boost employee morale.  It may include:
Assessment of cognitive abilities through a popular test like the Wonderlic test that measures aptitude, learning and problem-solving abilities of candidates
Assessment of knowledge and work skills
Assessment of physical well-being and abilities
Behavioral assessment or predictive index that measures personality to predict candidate's willingness to perform a particular job function
Emotional intelligence tests to assess self-awareness, self-motivation, empathy, managing emotions and handling relationships
Language proficiency test in terms of speaking and writing capabilities
Caliper and Myers-Briggs behavioral assessment to measure general behavioral tendencies
Similarly, there may be assessment tests to check honesty traits, selling and negotiation skills.
Understanding the usability of pre-hire assessments
Validity and reliability of assessment
Pre-hire assessments hold immense potential for selection of the right candidate. However, the employer must ensure whether the test deployed actually meets the criterion used to measure the performance of candidate on the job. There has to be significant proof about the test's validity.
The test should not be biased towards certain candidates and should result in fair selection.  It should be reliable enough to measure candidate's score.  The repeated attempts of test should not change candidate's score. For instance, a test should not be biased towards a specific gender, religion or community.
To avoid any dispute regarding the validity and reliability of pre-hire assessments, employers should always use certified tests.  The tests should comply with employment laws and should not be overtly personal in nature.  Well-developed assessments lead to reduced employee turnover and improves the probability of job success.
Tests should be developed by organizational psychologists with prior experience of testing in the industry. Employers must explore a variety of tests available in the market to choose the ones that conform to their needs.  There are industry-specific tests available and employers should be well versed with them. Employers should know what assessments can be invalid for them. Some pre-hire assessments become conclusive only when coupled with other assessments. For instance, personality test alone is of no use, it should be coupled with at least one cognitive ability test.
Hire a specialist to interpret results
Hiring is done based on subjective & objective data and also on intuition. Employers don't have the expertise to interpret test results. If there are some external factors that are likely to affect test results, they must be taken into account to infer fair results. It is always advisable to hire a specialist who can evaluate all parameters and do justice to the job position at stake.
Clarity about job function
Pre-hire assessments are null and void when there is no lucidity about job position for which candidates are hired. Job profile should be given a lot of attention during an assessment. There is a need to revisit job profile to ensure that assessment is in compliance with it.  It should be tailored to the specific job profile.
If a candidate is hired for a customer-service oriented role, it is important that potential recruit is extrovert, gregarious, and talkative. Therefore, apart from quantitative aspects, HR managers should also focus on interpersonal behaviors and personality traits of candidates.
In-depth assessment required for C-class positions
Identify the top traits required for a particular job profile and use them as benchmarks while assessing candidates. Some job profiles require in-depth assessment especially C-class positions owing to the complexity of the role. In that case, assessments must include factors like motivation, assertiveness, accountability, decision-making, relationship, crisis-handling, critical thinking skills, brainstorming etc.
Correlation between pre-hire assessment and current employee performance
Investment in pre-hire assessments should give a big return on investment. And it can happen only when companies can realize the potential to grow with the candidate before they are hired. An appropriate way to go forward to is to correlate pre-hire assessments with ongoing employee performance to get better results. This helps employers to identify skills attributed to better performance. This approach is effective only when companies use rigorously profiling of employees to identify top performers.
Training managers are equipped better to design programs
Pre-hire assessments are quite beneficial from training perspective. Training managers can plan their learning approach for employees based on pre-hire assessment results. This enables them to build programs based on current skill level of new hires.
Pre-hiring assessments are an integral part of hiring process
Pre-hire assessments are a part of hiring process. It helps you to screen candidates before they reach the one-on-one interview stage. This saves you a lot of time in interviewing inapt candidates. Nonetheless, HR managers should always include other traditional measures like interviews, social networking sites, referrals while hiring. Finally, all measures put together yield great hiring results.
Subscribe to our Newsletter