back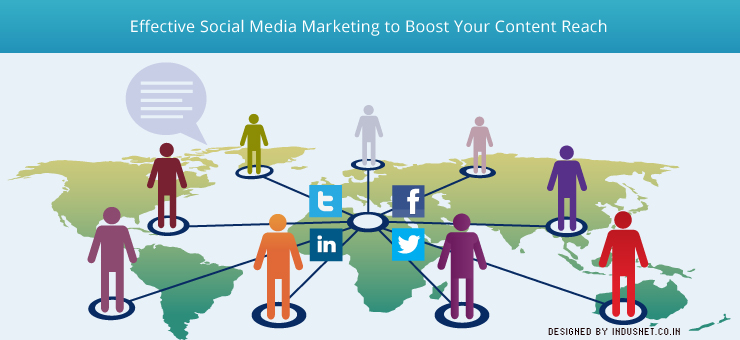 Content Marketing
Digital Marketing
Effective Social Media Marketing to Boost Your Content Reach
If you are looking for the best way to publicize your content and are looking for a greater social exposure, you need to try and exploit social media platforms more often. Using social media effectively helps you to build a larger audience and finally, disseminate your content to a larger audience.
The moment you publish a blog post, article, a video or podcast, there needs to be enough social signals for it to be picked up by search engines. For this to happen, you need to utilize your social media tools effectively. Though it might sound daunting initially, it is not very difficult. In this article, let us take a look at how to use existing social media tools to our benefit and create a wider reach for our content.
How to use Facebook
When we speak about Facebook, we are speaking about a very large and diverse audience. Anybody could have a Facebook account and anyone could be following your page. In order to fully utilize this platform, you need to share your post within 24 hours once. Do not post new content more than two or three times after your first one goes live. Also, try to keep your content diverse.
Your first piece of content could be a blog, then a video and then a link or an image & so on and so forth. This will help you to tap different kinds of audiences who like different forms of content. Ensure that your preview images are all different so that it does not look like you are duplicating your own posts. You can also ask your employees, friends and others to occasionally share your posts on their own wall.
How to use Twitter to boost content marketing?
With the first twenty four hours, you could share the same piece of content at least three or four times a day. Do not post the same content consequently. Instead, tweet other links, posts and statuses as well in between & respond to your followers' tweets. You could play around with different hashtags, words and mentions each time you share the same link, so that it looks & feels different.
If someone retweets or mentions you when you share an article, respond to them politely. Do not thank mechanically but try to engage them in a useful conversation. Twitter now provides useful tweets that were tweeted while your followers were away. Thus, it is quite possible that they will end up seeing your tweet in that list if your tweet becomes popular.
How to use LinkedIn for content marketing?
LinkedIn is a great way to reach your professional and business audience. It helps you to make new professional contacts, build client base and also interact with people who might prove to be useful to you later on. Within the first twenty four hours, you could either share your post as a status update or as a blog post within LinkedIn. Try and understand your audience & you can even share your content on a busy group that you are a member of.
LinkedIn has the advantage of being one of the more serious social platforms and thus, you do not have to beat around the bush when it comes to content marketing. You can get down to business straightaway and that will help you to market your content to a more niche and sophisticated audience.
Final thoughts
Ultimately, we are not only looking at increasing our audience but also trying to get a better SEO score organically. The only ethical and professional way to do this is to fully utilize social media to widen our content reach. As word spreads about your newly published content, you will probably receive more calls regarding your business and you might be able to clinch new deals.
Thus, in order to fully optimize your content marketing campaigns, you will need to fall back upon your social media marketing as well. In fact, both the techniques are tied to each other and the psychologists would say of a relationship, they are codependent. All that you need to ensure is that you have a formidable plan and strategy to combine both the techniques.
Subscribe to our Newsletter