back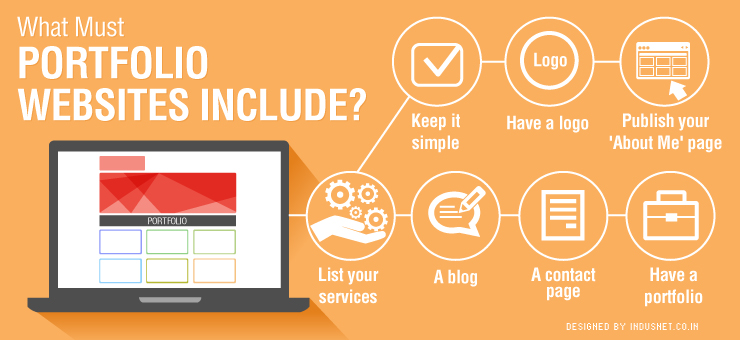 Design
Web design
What Must Portfolio Websites Include?
A personal portfolio website has been around for a long time now but now they are becoming ever more important. Whether you are a student, a freelancer or a small agency, a portfolio website is the best way to showcase to the world that you exist and upload some of your work for them to see.
A good portfolio website is sans distractions and does what it needs to do: tell that you are available for work. For this reason alone, most portfolio websites are the single page or sometimes even parallax websites.
A portfolio website may also contain a blog that will help you to showcase your knowledge in your chosen domain. If you are a creative professional, it is very important to have a portfolio website. In this article, let us take a look at some of the rules you need to follow while designing a portfolio website.
1. Keep it simple
A portfolio should most importantly be accessible to people and easy to understand. So, try and avoid anything that is not necessary or will make your site uncluttered. Use a template or design that is easy on the eyes, with a focus on text and your portfolio.
2. Have a logo
Most freelancers may think that a logo is not important but it is. It helps people to remember you and also to associate certain color schemes with your website, which again helps them to keep you in mind. If you cannot get it designed by professionals, at least, hire another freelancer to do it.
3. Publish your 'About Me' page
Use a story like narrative, that which will help your audience to form a bond with you. This page should list your achievements, your scope and also why you are good at what you do, in a narrative style. Hire a professional writer if you are unable to write it yourself.
4. Have a portfolio
It is always a good idea to publish a portfolio. This helps your audience to understand what you are good at, what your caliber is and how you can finish the projects that will be assigned to you.
5. List your services
Just because you have an About Me page or a portfolio published does not mean you should not have your services listed. Mention all the services you can offer and that will likely help you gain clients in ways you possibly don't imagine.
6. A blog
This is very crucial to a portfolio page. When you have a blog, you will be able to tell the world in your own voice why you should be hired and what makes you so special from the rest of them. If you are unable to write great posts yourself, you can hire professional writers for this. However, help them know the real you so that it is still your voice.
7. A contact page
A contact page should include ways to contact and list your email, telephone number and if possible, an address. List your social networking profiles either in button forms or as links that will take them to a third party website.
Important takeaways
Portfolio websites are very important to make sure that you are available online and easily accessible. They help you to gain an edge over others with the help of SEO and also with the help of content marketing that you may engage in. Ensure that your blog is regularly updated and that your portfolio is published with the best of your projects. All this will help you to gain better clients as you move forward in your professional life.
Subscribe to our Newsletter