back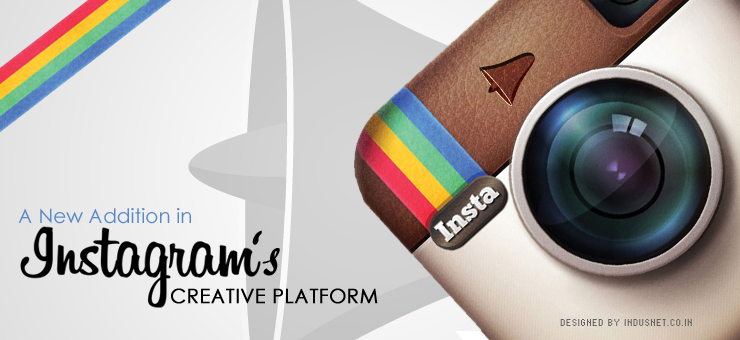 Digital Marketing
Social Networking
A New Addition in Instagram's Creative Platform
With 300 million people using Instagram satisfactorily, it is time for the advertisers to experience the same on this powerful social media platform. Instagram has always been a creative platform for visual content for business. To add to this, Instagram in this week, announced the expansion of its new ad system for brands to tell their 'deeper stories'. Although advertising on social networks is commonplace now, the trick of using this new Instagram ad platform is to ensure that the ads are well targeted. Also it offers enough visually appealing content to prompt positive engagement from users.
The News in Town
Seeing Instagram having a younger audience than any other social media platforms, brands saw an excellent response in terms of brand awareness and reach, especially, among the 18-34 age groups. Keeping this in mind, Instagram, the well known photo sharing social media site, has recently rolled out its carousal ad platform worldwide to help brands become more ingenious and reach their target audience with their ads. The ad format is designed to serve advertisers drive business results across variety of objectives – from website visit to brand awareness or offline sales. According to Instagram's global head of business and brand development, James Quarles 'the quality of ad experience remains a very important point of differentiation for us'.
The new ad system will enable advertisers reach people on Instagram based on demographics and interests, as well as information businesses have about their customers. Besides, the platform will have feedback system within the network to allow people greater control and improve the relevancy of the ads they see.
Instagram will increase the ad frequency up from 1-2 ads per user per day. Also the ads will soon be layered into Power Editor as well as available through partners.
Control over Creativity
With Instagram allowing ads on its platform, it has also offered advertisers more creative control over their assets. The Instagram users will have control over what advertising gets placed in areas they frequent. However, the call-to-action buttons will be beta tested before fully implementing it. The ads will look like regular Instagram post with only difference being the usual time stamp, which used to appear on a post will be replaced  by the word 'sponsored' marked above the top right corner of the photo, thereby, indicating to the users that they're looking at a paid-for post.
The Ad Platform to Empower Large and Small Businesses
People want to connect with brands of all sizes on Instagram – from restaurants to their favourite local clothing store. Brands who have access to Instagram's Sponsored posts are the ones who can incorporate ad content into the user's Home Feeds as non-intrusively as possible. Instagram advertising will be available through an Instagram API and Facebook ad buying interface. With two million advertisers using Facebook to market their businesses, they can leverage the best of Facebook's infrastructure for managing, purchasing and measuring the success of ads on Instagram.  The advertisers can link the ads to the external websites or app stores with button as 'sign up', 'shop now', 'install now' or 'learn more'.
This is, indeed, a golden opportunity for businesses to reach the right people through expanded targeting options.
Not Anyone or Everyone can Advertise on Instagram
It is not that any brand can pay to appear in the user's Home feeds. Only brands with existing Instagram followers are chosen to advertise their posts. Advertisers of big brands including American Express, Starbucks, Stella Artois and Mercedes Benz are the first ones to get selected by Instagram to advertise on the platform. It aims at making any advertising look as natural as Instagram photos that are enjoyed by the followers from their favourite brands.
Strategies to Use Advertisements on Instagram
Instagram Giveaways
Whether it's a partnered or solo-branded giveaway, conducting giveaway is a popular option for businesses, especially, those who wants to invest for creating brand awareness on Instagram. To drive maximum awareness, host contests that require users to tag a friend in the post's comment section. Even contests that require entrants to post photos or video on their personal Instagram profile and that tag the business or their contest Hashtag in their posts ideally get great exposures.
Brand's Instagram Account Takeover by Influencer
When a brand invites a popular guest instagrammer who has a huge following to post on their account for a certain period of time, the process is called Instagram account takeover. This enables your business to get exposed to a unique group of followers and leads to an increase in followers, clicks and post likes on the bio's URL. The influencer posts on their accounts whenever an Instagram takeover happens. This is done to let their followers know that they're taking over a brand's account.
Pay the Influencers to Post for Your Brand
In addition to hosting alluring giveaways, paying the influencers can do wonders. You'll find that every time a paid influencer posts about your brand, there is a certain increase in the number of followers following your account. For instance, if you have fitness products, team up with fitness experts on Instagram and see the benefits.
Business Partnership and Instagram
If your business is planning for a partnership agreement with an influencer, it is always advantageous to include posting stipulations in your partnership contract. Both the partners can decide on a number of brand-related Instagram posts within a specific period of time. Also you may specify that influencer must use particular call-to-action and tag your brand's Instagram account on their post's copy.
This would also help you to promote new products or promote your giveaways.
A Great Go for the Followers
It will be, indeed, exciting to see photo of Lebron's newest sneakers in the Instagram feeds for those who're following James, the NBA or any other sport-related account. Also, anyone searching for the nearest cafe on Facebook can have the advantage of seeing Starbuck photo in the Instagram feed provided the user have connected their Facebook account with Instagram.
It is all about picking a theme or themes in line with the brand and then using appropriate imagery to promote it.
With this latest update, Instagram has presented marketers a new opportunity to enhance and improve brand awareness and digital ROI. No wonder every business should have an Instagram account in the near future.
Subscribe to our Newsletter