back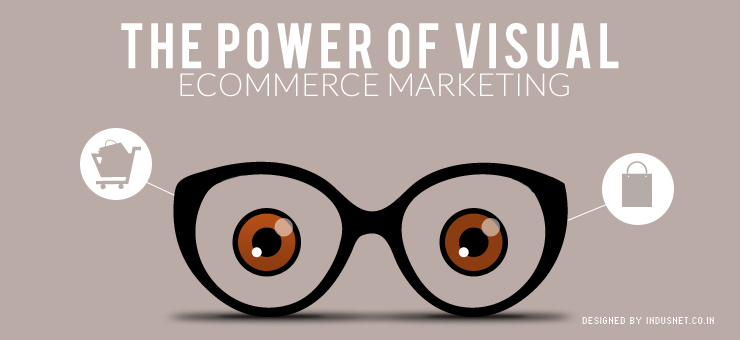 Digital Marketing
E-commerce
Internet Marketing
The Power of Visual eCommerce Marketing
Visual elements are powerful in this internet-savvy world. They can tell a story, inspire and persuade. Although sale is the primary goal, fostering an emotional connection through visuals can ensure repeat business. And that is why most of the online ventures wish to create an environment that invokes relevancy and attention between the customers and the brands. With social web going visual, eCommerce merchants are surely on Cloud 9.
Visual marketing is significant for invigorating the right sense of sight for your online visitors. Not only this, social networks including Snapchat, Pinterest and Instagram also involves social elements as commenting, following and sharing. It is time to empower your fans to shop with a single click and eliminate their guess work. Here's how you can make a buzz with the top three visual-rich marketing tools for your eCommerce business.
Snapchat
With 100 million active Snapchat users, this mobile app has gained popularity with people of all ages and retailers for driving in more business. Moreover, with its recent addition of text messaging and video calling features, this social media app has become influential in gaining audience's attention. With its three most powerful attributes, you are sure to gain access to your customer's heart and mind:
Sense of urgency: Snaps encourage quick purchase decisions with either a 'YES' or 'MISS OUT' opportunity. Users are left with seconds to jot down the discount code or take a screenshot of any exciting voucher, thereby, building a sense of urgency.
Storytelling experience: With 'My Story' platform, you can add series of videos, photos and doodles into one story and share it with your Snapchat circle. Moreover, with the chance of viewing multiple times over 24 hours, stories can have a longer life and impression.
Type messages back and forth: The 'chat' feature of Snapchat allows users to click and hold on individual messages and save what's important. The rest of the messages disappear. Even the video chat feature enables quick sharing of videos along with the ability to chat with your customers.
Statistics to Support its Usage
1 billion number of Snapchat stories are viewed per day
400 million Snapchat snaps are sent every day
70% of Snapchat users are women
Pinterest
With its 70 million users, not only is Pinterest one of the fastest growing social networks but also the number of sales through Pinterest typically exceeds Facebook and Twitter. Some of its super beneficial features provide great business opportunities for the online marketers:
Promotional and rich pins: Promoted pins allow brands to reach the best targeted audience and enable you to pay Pinterest only if users click through and read the content. Rich pins, on the other hand, contain valuable information within the pin itself. You can use five types of rich pins including movie, article, place, recipe and product.
Pinterest boards: You can create boards to narrate the stories of your brand besides pinning your products. It is an effective way to keep consumers coming back to you.
'Pin It' button: With 'Pin It' button integrated on each product pages, visitors finds it easy to click through various items and easily take the next steps to share it with other followers.
Buy button: Companies will soon enable users to buy various items through a 'BUY NOW' button. Merchants can drive purchase of their products from the site to increase sales conversions.
Kosei app: The app drives business by making personalized and powerful product recommendation. The app also helps brands to improve its content.
Statistics to Support its Usage
70% users use Pinterest to get inspiration on what to buy
67% uses Pinterest to keep up with the latest trends they like
50% conversion comes from Pinterest traffic
53% makes online purchases after they see items in Pinterest
39% uses Pinterest to receive special offers from brands
Instagram
With 300 million user base, retailers are flocking into Instagram site in hopes of garnering the attention of their target audience. By incorporating Instagram photos onto your website, you can engage the users with your brand on this happening social network platform and also provide them additional useful information. With its ability to increase the visibility of your brand, Instagram is a brilliant database to promote your upcoming products. This open social network also encourages the creation of user-generated content. Here's how you can effectively engage with Instagram audience:
Instagram Direct: Merchants can send messages containing photos or 15 seconds videos to their target groups. This is similar to Twitter's direct message functionality.
Instagram video: 15 seconds highly engaging video on new products and services or customer test imonials are effective on this popular channel.
Insider program: Make announcements of sales, special events or new products and ask for feedbacks on desired features, prospective products, customer service or shipping related issues.
Instagram ads: Ads get carousel treatment with links on it. You can now place multiple photos in one sponsored post allowing users the option to click on other content. The carousal allows for sequential storytelling, over multiple images.
Statistics to Support its Usage
70 million photos are posted via Instagram on an average day
70% of Instagram users log in at least once a day
20% of global internet users between ages 16-24 have Instagram account
23% of teens consider Instagram their favorite social network channel
Visuals Communicate and Connect with Your Target Audience
The whole idea behind creating visual marketing is to get your viewers excited about your brand. Visuals are processed much faster in the brain than the texts. However, make your graphics and videos error free. Make sure that they communicate unambiguously. Great visuals always speak the right language.
Subscribe to our Newsletter