back

AI & MI
Transforming Customer Feedback Management with GenAI
Customer feedback management and customer service are steadily being transformed with the use of GenAI or generative AI is a huge buzzword today. This transformation in customer support functions has naturally led to GenAI being a tool for business growth and empowerment. There are several aspects that clearly indicate the increasing adoption of GenAI amongst businesses.
There are several aspects that clearly indicate the increasing adoption of GenAI amongst businesses. 51% of marketers, as per reports, presently use GenAI while 22% of them plan to use the same soon.
76% of marketers in copy and content writing are already using GenAI while 53% call it a game changer for data analysis, user messaging personalisation, marketing campaign creation, and optimisation/envisioning of SEO strategies.
Generative AI has a direct impact on overall productivity, potentially adding innumerable value to the economy worldwide.
75% of GenAI value may be delivered in four categories, namely marketing and sales, customer operations, R&D, and software engineering.
Banking, life sciences, and high tech will be industries that will witness the most impact. Here's looking at the effect of GenAI on feedback management and customer service.
How is generative AI used in customer service?
GenAI is highly effective in terms of streamlining customer feedback management and service alike. Here are a few aspects that should be understood in terms of how it can bring about a transformation in the segment.
From business empowerment to value-enhancing insights, GenAI has several roles to play in boosting customer service and feedback management.
Conversational search is one area where GenAI will help immensely. Customers can swiftly find their answers with responses akin to human beings that are generated from language-based models deriving from company knowledge repositories. It can enable relevant search query-based information in the language chosen by users.
Customer support agents can easily leverage generative AI for boosting productivity and immediately empowering representatives to answer questions with responses that are automatically generated. This can be done across multiple channels. Auto-summarisation enables summary-creation to help employees provide product, service, or other recommendations.
Chatbots and other tools can leverage generative AI for creating content and offering support for service requests. They can take care of response generation, while offering suggestions on the basis of customer and company information.
GenAI boosts the overall loop of customer feedback. It can easily analyse and summarise customer journeys, complaints, performance of agents, and a lot more.
GenAI will take customer interaction histories into account across multiple platforms. This will help them provide information specific to customers.
Through the addition of LLMs (language learning models) to automated conversations, customers can be welcomed in a friendlier manner. Replies will sound more natural while engagement will improve greatly as a result.
Customer service teams can swiftly automate various tasks while reducing support timelines.
Generative AI will quickly summarise, auto-populate, and structure support tickets. From predicting categories to message sentiment analysis, agents can get insights to help them respond better to customers.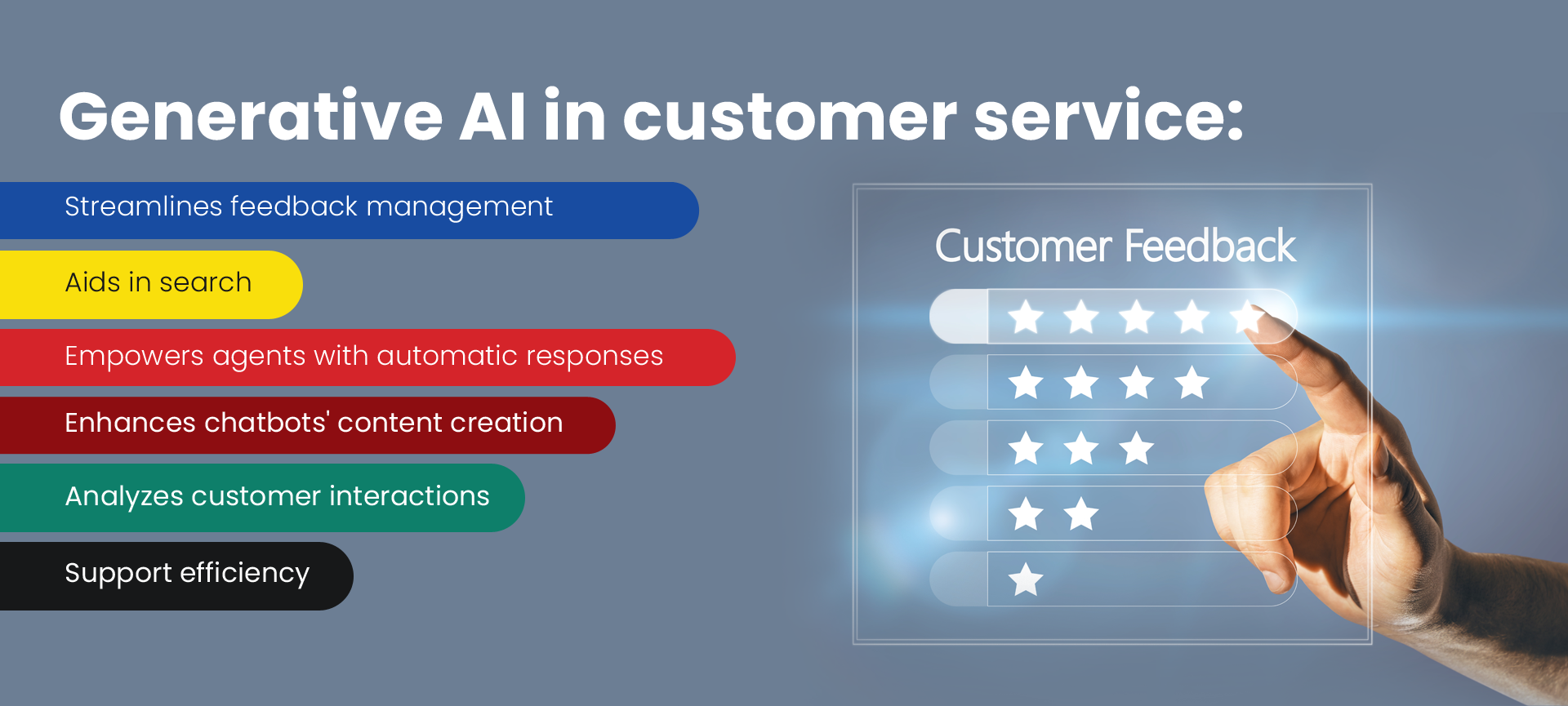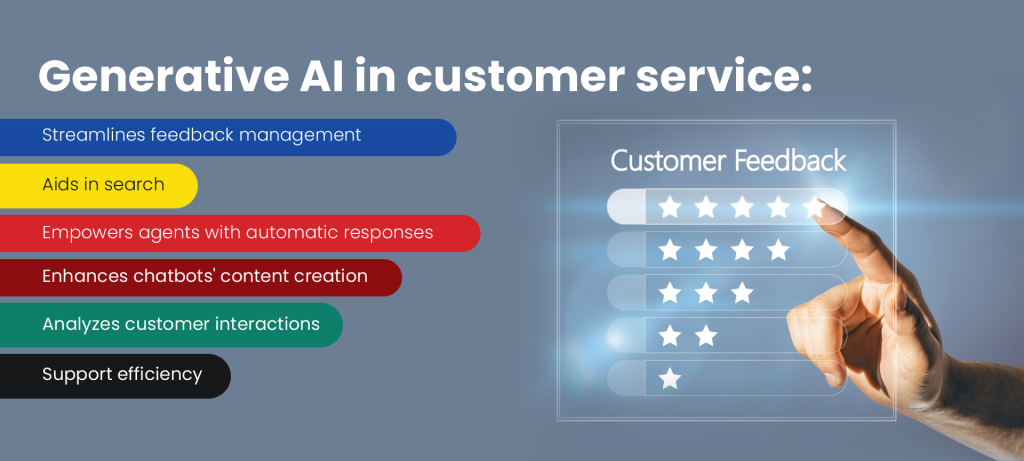 How GenAI Can Help You Collect and Analyse Customer Feedback
GenAI is a great tool to collect and evaluate customer feedback. Here are some major points to keep in mind in this regard:
Customer feedback can be gathered from multiple sources including social media, reviews, and emails.
Generative AI will help identify emotional cues and understand sentiments behind customer inputs and messaging.
With machine learning and natural language processing, GenAI can enable the better interpretation of customer sentiments. They can be classified as neutral, positive, or negative.
Through the analysis of these aspects, companies can tailor their responses and messaging to satisfy customers better.
They can also detect patterns and trends in customer sentiments over a specific duration. This enables better responses to issues or changes in customer perceptions.
GenAI can thus enable better insights for businesses to build personalised, unique, and more meaningful responses and experiences for customers.
Analysis of big data sets will also be possible with the help of GenAI. Marketing and sales teams can analyse feedback accordingly. This will help them find patterns that may help them tackle issues thereafter.
They can also classify feedback and act on the insights generated through the usage of GenAI. This also improves overall business positioning.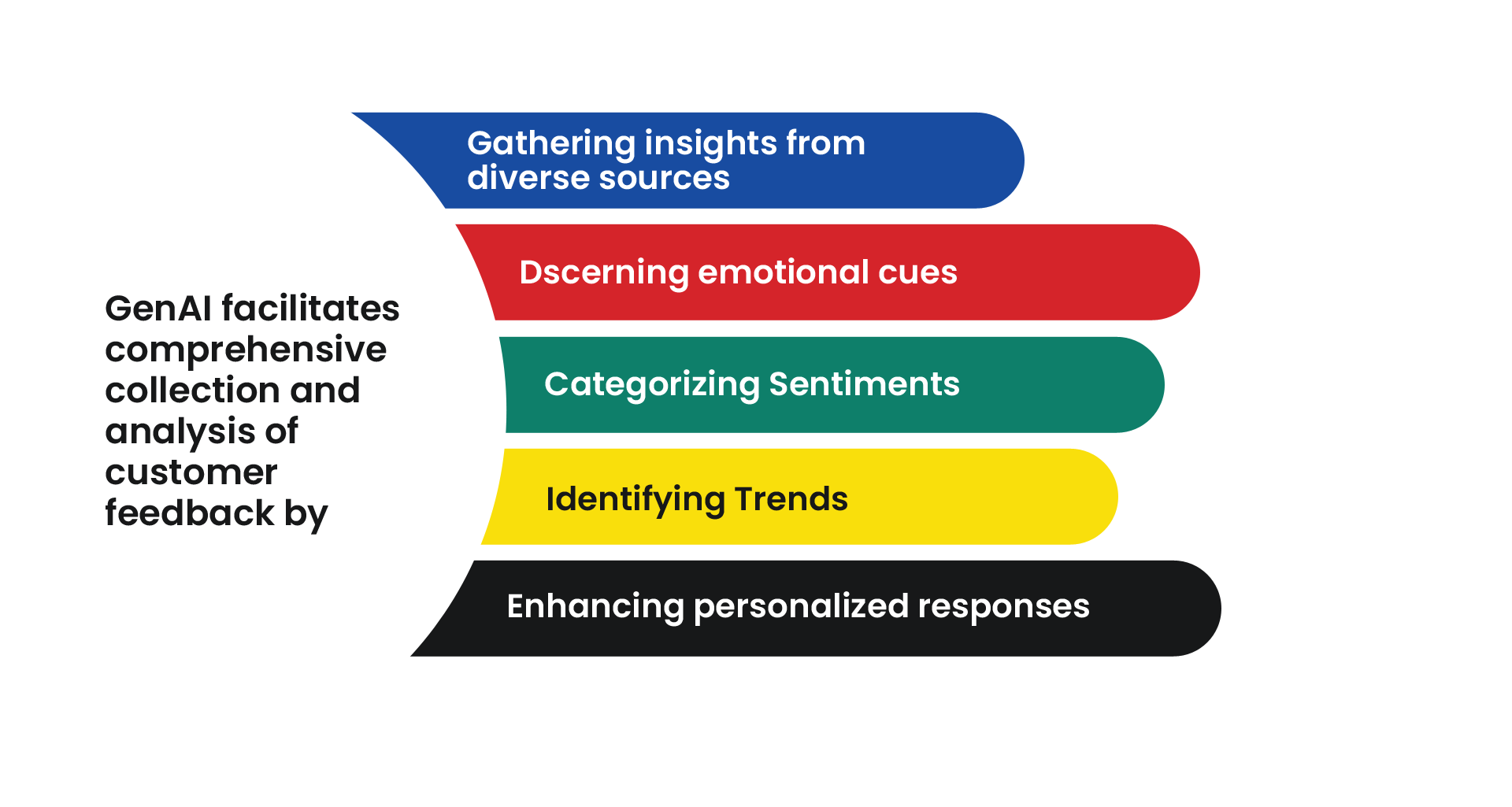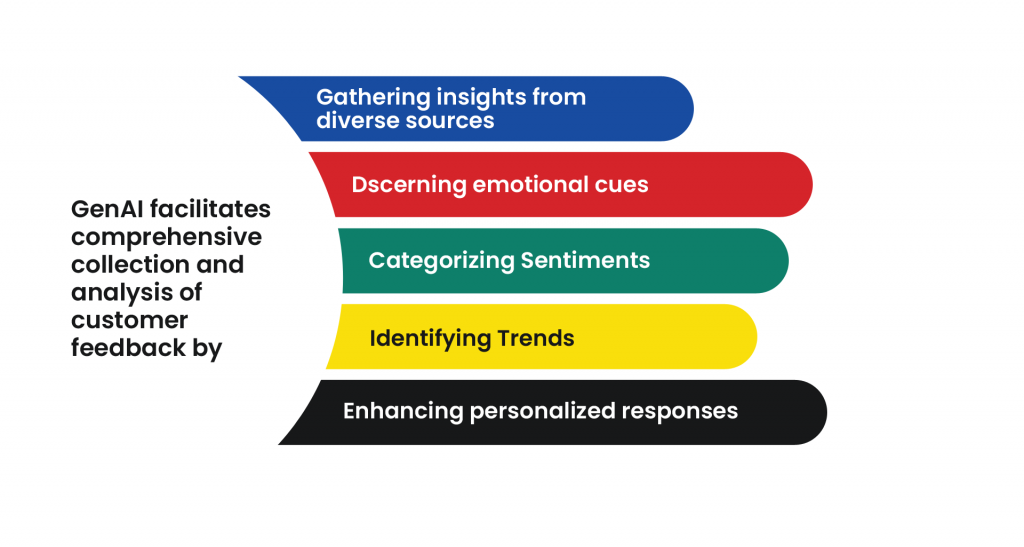 The Future of Customer Feedback Management with GenAI
Customer feedback management will undergo a huge transformation with GenAI in the near future. Here are some aspects that will become mainstream for companies.
Generative AI will help in swiftly processing and analysing huge volumes of feedback information. This will save resources and time greatly for companies.
Businesses can quickly detect patterns and trends in customer feedback while instantly getting insights on customer sentiments.
GenAI will ensure data-based insights and recommendations that will help companies take better decisions. They can improve their products and services on the basis of customer requirements and preferences.
Advanced tools will help gather and classify feedback while prioritising feedback areas to focus on first.
Customer support teams can thus respond better to customers and personalise their responses for better experiences.
To sign off, it can be said that GenAI will completely reshape customer feedback management and service functions in the future. More businesses will find greater value in leveraging generative AI to enhance customer journeys, tackle issues, and plug gaps. This will naturally put them on course towards achieving steady growth and their objectives.
FAQs
How does GenAI revolutionise feedback management?
GenAI can transform feedback management through helping companies swiftly gather feedback from multiple channels and analysing the same. This results in helpful insights for companies to take better decisions. They can understand customer preferences and pain points while taking steps to address the same.
Can GenAI accommodate diverse feedback sources?
GenAI can easily accommodate diverse sources of feedback. These may include social media platforms and communities, emails, reviews, and direct interactions with the company. These can be easily gathered and analysed to generate valuable insights.
Is GenAI customisable to different industries?
GenAI can be customised to various industries including life sciences, healthcare, technology, banking and financial services, and many more. Language learning models and generative AI-based algorithms can be customised to analyse and gather specific data and churn out insights accordingly.
How does GenAI ensure data security and privacy?
There are concerns related to data privacy and security as far as the usage of GenAI is concerned. The analysis and training of input data has led to these concerns. However, with advanced encryption and other security measures, businesses can resolve the same seamlessly. At the same time, consent gathering and management is another solution in this regard.
Subscribe to our Newsletter