back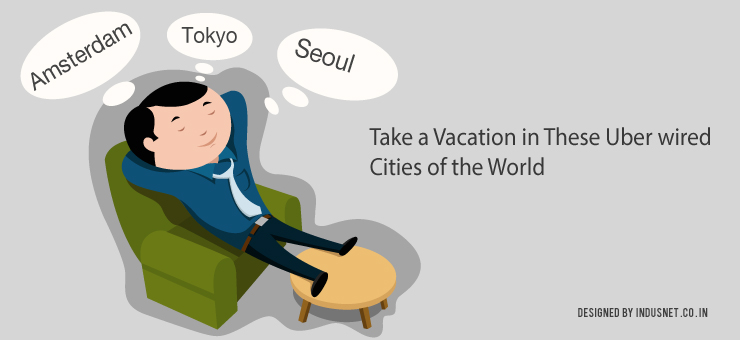 Strategy
Take a Vacation in These Uber-wired Cities of the World
In 1878, Alexander Graham Bell demonstrated the use of a telephone to Queen Victoria. Subsequently, the Telephone Company Ltd was set up with a capital of £100,000. There were only 7 or 8 subscribers initially. Queen Victoria, certainly, would have found the telephone a novelty, something remarkable designed by human beings, where a wire could transmit voice to another person who was nowhere close by. Telephone lines were quickly set up in Europe, North America and colonies of European powers, including India.
If Queen Victoria suddenly appears today in our hyper-connected world, she would wonder at the nonchalance with which we look at the prospects of sending gigabytes to someone in a different corner of the globe. Indeed, the world is wired. It is so wired that it is hardly possible to be away from the Internet for too long. Yet, there are degrees of 'wiredness' and certain cities & countries are more wired than the others.
10 wired cities of the world
If we are to go to 10 of the most wired cities, you would probably consider the Internet speed, availability of citywide Wi-Fi, openness to innovation, support of public data and the importance given to security & data privacy. Future Cities, a website that is dedicated to talking about global urbanization, published a list of 10 cities that are most wired in the world and we couldn't agree more.
In the top 3 positions, we find the economic powerhouses of Seoul, Hong Kong and Tokyo. The rest of the 7 spots are occupied mostly by European cities except Montreal and Seattle, at numbers 6 and 7 respectively. The European cities include Prague, Amsterdam, Geneva, Stockholm and Vienna. In this article, let us take a look at what it is like to take a vacation in these uber-wired cities, if you happen to visit them for business reasons and we do believe, one day or another, you will.
The capital of South Korea, Seoul is a gigantic city that is the symbol of capitalism's success. While its northern neighbor is wallowing in a warped sense of communism and tyrannical regime, South Korea adopted capitalist policies after the Korean War & grew to be one of the richest cities in the world.
The city is one of the data hubs of the world and it is here that you can learn more about the Korean War, the mistakes that human beings made during World War II & take a few sips of rice liquor. While you are never disconnected from the Internet when you are in Seoul, it is still possible to find moments of peace and relaxation at its monasteries & temples.
Before it became an autonomous region of China, it was a British protectorate helping it to be a modern, capitalist and tolerant city. It grew to rival European and North American cities & today, thanks to the influx of global finance companies and IT, Hong Kong could easily give London, Paris, Tokyo & New York a run for their money. When in Hong Kong, you need to discover the war memorials, the rich museums and ancient alleys, which still exist amidst skyscrapers.
The city needs no introduction and has been one of the 4 major cities of the world, with the other 3 being London, Paris & New York. Tokyo continues to retain its importance in the fields of finance, technology, politics and culture. The retail hub that it is, one can never get enough of strolling around the Ginza shopping district. It is an example of human determination and discipline, with which it was rebuilt after the World War II.
Sometimes, you might find it difficult to find a moment of calmness amidst all the technology but fret not. Tokyo has a number of traditional bars where you can taste saki and speak to people from other countries. A journey to Tokyo is very important, if you are the owner of a business. It is the city where you can learn what discipline does to people.
The ancient city of Prague was immortalized in Bertolt Brecht's 'The Ballad of Soldier's Wife'. In that song, the wife of a soldier receives a pair of high-heeled shoes along with other gifts from other European cities. Finally, she receives the widow's veil from Russia, an obvious reference to the number of young soldiers that have continued to die in the many wars that humans have fought.
A visit to Prague will never allow you to forget wars and the damages that they have caused to civilization. When you visit Prague, do not spend your time texting people and 'Instagramming' pictures. Take time to discover its ancient streets, museums and learn more about the World Wars & the soviet incursion, when it was still part of Czechoslovakia. Prague might be the 4th most wired city in the world, surpassed by only Tokyo, Hong Kong and Seoul but it retains its old-world charm intact.
The capital of Netherlands and one of the most important cities of the European Union, Amsterdam lives up to its reputation as an uber-wired city. Apart from marveling how wired this city is, you can also take time to rent a bicycle and bike around the town.
It is one of the safest cities for bikers and is a charming little big city. Its compactness and uber-urbanization have earned it the title of being a 'little big city'. Amsterdam is one of the most liberal cities in the world and you could probably bring back some of that attitude to your own company, when you return from your vacation.
The 3rd largest French speaking city in the world (after Paris and Kinshasa), Montreal is known for its unique culture. Along with Quebec City, Montreal is the centre of French culture in Canada, where French is an official language along with English. If you have a company that deals with French speaking countries, you could probably understand Francophone culture when you are in Montreal. Also, do not forget to eat those famous bagels when you are in Montreal.
Seattle is often ignored when we speak about the Silicon Valley in California. Located in the state of Washington, Seattle hosts a number of IT companies and consequently, is the only American city to be listed in Future Cities' list of the world's most wired cities.
When you are in Seattle for business or vacation, switch off your tablets and cellphones & head to its wonderful museums and discover art. When the night falls, make sure that you discover its grunge history and attend a few concerts in order to understand a Seattle that you did not know existed, amidst all the 'wires'.
When you visit Geneva for work or for vacation, you cannot ignore the fact that there is a lot more to discover in the mountains and villages of Switzerland than in its cities. The pastoral landscape and the beauty of the Alps are enough to make you forget Geneva's glamour & wiredness. Leave your cellphones and tablets in the hotel & leave to the mountains!
Stockholm is probably one of the least spoken-about cities in Europe, unless you are from Europe. This European gem is a city that offers something for everyone. Its beauty lies not only in its buildings and culture but also in its natural landscapes. This uber-wired and high-tech city will amaze you with the number of bars, restaurants, museums, concert venues and markets.
The aristocratic city of Austria, probably, has more descendants of the Hapsburg Empire than any other European city; and that is also because it was the capital of the Hapsburg dynasty. The city enthralls its visitors with its classical music festivals, art and culture. It might be one of the most wired cities in the world but you can enjoy Vienna only when you leave your electronic gadgets behind.
All the cities listed above are centers of technology and science. However, if you truly wish to enjoy vacationing in these cities and soak in their cultures, leave your gadgets behind, except for a camera. You need to visit these cities and enjoy them not because they are the most wired cities in the world but because they are also some of the most beautiful, historic & cultured cities man has ever known.
Subscribe to our Newsletter