back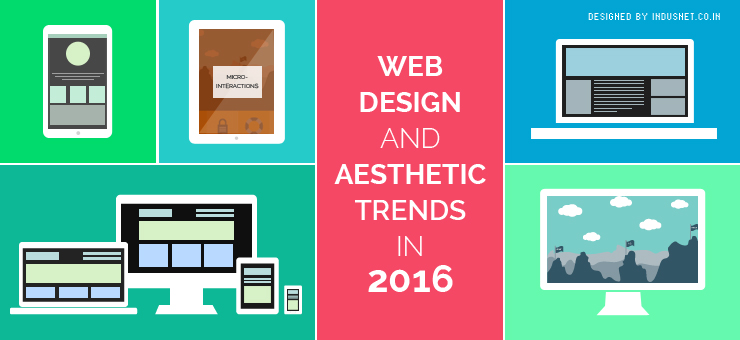 Design
Web design
Web Design and Aesthetic Trends in 2016
Web design has come a long way in recent years. With the advent of the mobile internet and wearable technology, the way we imagined websites has completely changed. Now, people are designing websites with a mobile-first approach. Yet, each season and each year, the way we design websites changes. These design and aesthetic trends are influenced by a number of things, including pop culture. They are also influenced by the context in which the website shall be used. Yet, it is common to see certain trends that will be followed by most designers in a certain period.
In this article, let us take a look at some of the design and aesthetic trends that will be popular in 2016.
1. Being different
One of the most important trends in 2016 will be to scamper and try to be different. There will be a lot of requests from clients to make their websites different from the rest of them. The search for authenticity will continue in the web design space as well. While technology has not changed much in the last few months, the requests for making websites appear different will increase.
2. Graphic illustrations
While images and videos ruled the roost in 2015, there will be a trend to create graphically rich illustrations. Hand drawn or painting based illustrations may be used instead of stock photos. There is already a tendency to revile stock photos and these images will be replaced by paintings and art.
3. Micro-interactions
The point of designing websites in 2016 is to create web pages that are as interactive as possible. There could be mini pop-ups that are not really pop-ups. They are just micro-interactive. There could be many interactions within mobile and desktop spaces that they will all add up to the final experience.
4. Flat design
Minimalism, simplicity, and flat design are here to stay for a long time. This was a trend seen in 2015 but will continue to be popular in 2016 as well. More clients will continue to request for simple websites that focus on typography instead of a lot of features that may end up confusing visitors.
5. Responsiveness
There is no denying the fact that mobile devices and wearable technology are moving ahead. With this in mind, responsiveness and omnichannel business models will continue to increase in popularity. Responsiveness allows users to view websites that automatically adjust to the screen size of their devices. This enhances user experience and will not limit a user's processing of information even if the screen size is small.
Looking forward
Certainly, there are quite a few design and aesthetic trends that will be carried forward from 2015. Responsive technology and flat design are two of the trends that will continue to remain popular in 2016. However, there will be an increasing focus on being different, introducing art and paintings into illustrations and enhancing micro-interactions, within websites. These are the trends that will likely dominate this year when it comes to designing websites.
Subscribe to our Newsletter