back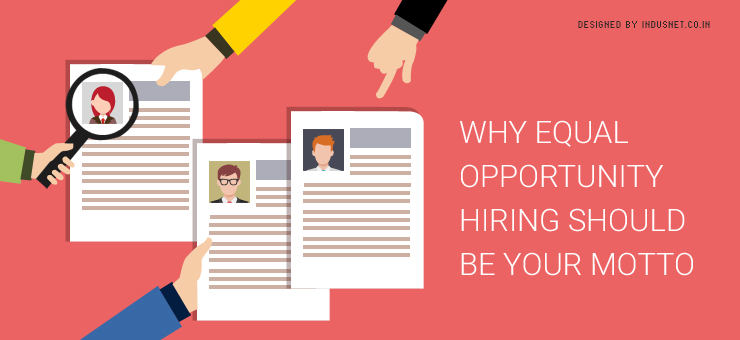 HRD
Why Equal Opportunity Hiring Should Be Your Motto
Lately, companies are beginning to realize that being fair is not only expected of them but is also part of regulations. Equal opportunity hiring is increasingly common across countries. Whether it is about hiring army veterans or the disabled, equal opportunity hiring is going to get more important in the coming years. While this may seem like a daunting task, to diversify the workplace and also ensure that there is quality all around, one needs to add that there are far too many socio-political aspects attached to this idea.
Overcome biases and prejudices
Hiring has always been biased by interviewers' prejudices and existing notions, often leading to a distorted sense of efficiency. In fact, by not eagerly adopting equal opportunity hiring, companies are losing out on quality and efficiency. Sociological research shows that diverse environments help employees to foster positive relationships with each other, leading to more productivity and a better work culture.
Studies have also shown that diversity brings in a sense of equality and harmony that is difficult to create artificially. In all respects, equal opportunity hiring is good not only for the company but also for the staff.
To give you an example, company ABC, which was part of the establishment, did not have a very diverse staff. The staff were often found to be discussing things that were not really compatible with existing norms of the society. When the CEO of the company decided to hire people from different backgrounds, the company's culture began to change. People no longer made remarks that were unseemly and instead, they began to learn about one another.
Reflect real world's diversity at work
In a globalized world where different cultures interact with each other all the time, it is important to ensure that our own workplaces reflect this diversity. Special considerations need to be given to disadvantaged groups so that they have an equal opportunity while being hired. Disabled people may not be able to endure rigorous interviewing and recruitment processes. You can set aside a different day to interview them.
One must remember that while being interviewed along with everyone else may turn out to be stressful to certain people, they may work very efficiently when they are at work. It is all really about making each others lives easier and being fair to those who may not be in a position to compete with everyone else equally. By bringing opportunities to them, a company will not end up hiring those who are less skilled. Instead, it will diversify and will be able to look for gold where it is usually not searched for.
These days, people hold a more positive opinion about companies that stress on equal opportunities and rights. It is important as a branding exercise too, while also ensuring that you are being fair. After all, being fair and nice helps you to not only be a better company for your employees but also be a better brand for your customers.
Subscribe to our Newsletter